PC Games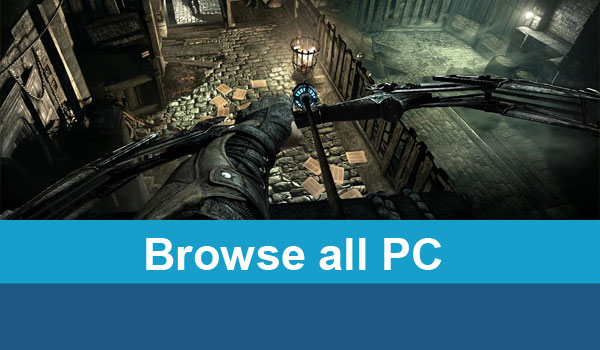 Published on September 25th, 2013 | by Admin
PC Game Reviews
The first "official" PC Game was Microsoft Adventure in 1981 and since then, the evolution of PC Gaming has grown exponentially in terms of gameplay and developers have literally reached for the stars, sped along dangerous raceways, entered parallel universes and places beyond our imaginations to deliver some fantastic titles such as The Witcher 3: Blood and Wine (2016), Mass Effect 2 (2010) and The Outer Worlds (2019).
So sit back and check out our comprehensive PC Game Reviews that have been written by gamers for gamers!

New PC Reviews
The Dragoness Command Of The Flame
Destroy All Humans 2 – Reprobed
Starship Troopers – Terran Command
AI: THE SOMNIUM FILES – nirvanA Initiative
Vampire: The Masquerade – Swansong
Lumote: The Mastermote Chronicles
Assassin's Creed Valhalla: Dawn of Ragnarök
OlliOlli World Review – The Essence Of Skating
The King of Fighters '98: Ultimate Match Final Edition
Sam & Max: Beyond Time and Space Remastered
Rainbow Billy: The Curse of the Leviathan
Victrix Gambit Dual Core Tournament Controller
Assassin's Creed Discovery Tour: Viking Age
Neo Geo Pocket Color Selection V1 (Steam)
Pathfinder: Wrath of the Righteous
Warhammer 40,000: Battlesector
F1 2021 Review: Dangerous drama at the highest speed!
Planet Zoo: Southeast Asia Animal Pack DLC
Fallout 76 Locked and Loaded Update
Cyanide & Happiness – Freakpocalypse
Ryte – The Eye of Atlantis PC Review (Quest 2 via Link)
World of Warcraft: Shadowlands
Power Beats VR PC Review (HTC Vive)
American Truck Simulator: Colorado DLC
Destiny 2 Beyond Light Review – Go Beyond!
The Outer Worlds + Peril on Gorgon DLC
Leisure Suit Larry: Wet Dreams Dry Twice
Blair Witch: Oculus Quest 2 Review
The Uncertain: Light At The End
Walkabout Mini Golf: Oculus Quest 2 Review
Walking Dead Saints and Sinners (Tourist Edition): Oculus Quest 2 Review
Balder's Gate 3 Early Access Preview
Age Of Empires 3 Definitive Edition
The Dungeon of Naheulbeuk: Amulet of Chaos
Fall Guys Mid Season Update and Review
The Sims 4 Star Wars: Journey to Batuu
Final Fantasy XIV Patch 5.3 Reflections in Crystal
Willy Morgan: And the curse of Bone Town
Halo 3: Master Chief Collection
Trover Saves the Universe: Oculus Quest
Pro Putt by Topgolf: Oculus Quest
Sword Art Online Alicization Lycoris
Borderlands 3 Bounty of Blood DLC
White Day: A Labyrinth Named School
Civilization VI Maya and Gran Columbia

Tropico 6 DLC: Spitter
Slinger VR PC Game Review (HTC Vive)
Soundself A Technodelic PC Game Review (HTC Vive)
Cast VR PC Game Review (HTC Vive)
Planet Zoo South America Pack DLC
Deep Sky Derelicts: Definitive Edition
Romance of the Three Kingdoms 14
The Suicide Of Rachel Foster PC
The Sims 4: Tiny Living Stuff Pack
Pinball FX 3 – Williams Pinball: Volume 5 DLC
Euro Truck Simulator 2: Road to the Black Sea
Vampire The Masquerade: Coteries Of New York
Ni No Kuni: Wrath of the White Witch Remastered
Halo: Reach PC Review – Remember Reach (Remastered)
Groundhog Day: Like Father Like Son (HTC Vive)
Doctor Who: Edge of Time Review (VR VIVE)
Men Of War: Assault Squad 2 Cold War
Sudden Strike 4: Complete Collection
Angelo & Deemon: One Hell of a Quest
Ancestors: The Humankind Odyssey
American Truck Simulator: Washington DLC & Forest Machinery DLC
Wolfenstein: Cyberpilot (HTC Vive)
Kingdom Come: Deliverance – A Woman's Lot DLC
Irony Curtain: From Matryoshka with love
Fall Of Light: Darkest Edition
Civilization VI: Gathering Storm
Mage's Initiation: Reign of the Elements
Fallout 76 BETA: First Impressions
Life is Strange 2: Episode One – Roads
Hellblade: Senua's Sacrifice VR Edition (HTC Vive)
Archangel Hellfire: Fully Loaded PC Game (HTC Vive)
The Awesome Adventures Of Captain Spirit
Carly and the Reaperman PC Game Review (HTC Vive)
Arizona Sunshine DLC Dead Man (VR Oculus Rift)
Block'hood VR PC Game Review (HTC Vive)
Pillars of Eternity II: Deadfire
Guard Of Wonderland Review (HTC Vive)
Total War Saga: Thrones Of Brittania

Island Time (HTC Vive)
Final Fantasy XV Windows Edition
Where The Water Tastes Like Wine
Civilization VI: Rise and Fall
The Exorcist: Legion VR Chapter 3 Skin Deep HTC Vive
Batman The Enemy Within – The Telltale Series: Episode 4 What Ails You
American Truck Simulator: New Mexico DLC
The Exorcist: Legion VR – Chapter 2: Idle Hands PC Game (HTC Vive)
Batman: The Enemy Within – The Telltale Series: Episode 2 The Pact
Guns'n'Stories: Bulletproof VR
Ken Follett's The Pillars of the Earth
Batman: The Enemy Within – The Telltale series: The Enigma
Wilson's Heart for Oculus Rift
American Truck Simulator: Heavy Cargo Pack DLC
The Walking Dead: A New Frontier Episode #5
The Elder Scrolls Online: Morrowind
The Walking Dead: A New Frontier – Episodes 3 and 4
Warhammer 40,000: Dawn of War 3
The Butterfly Sign: Chapter 1 and 2
Adventures on the Polluted Islands
Holy Potatoes! We're in Space?!
The Walking Dead: A New Frontier Episode 2
The Walking Dead: A New Frontier Episode 1
Batman The Telltale Game: Chapter 5 City Of Light
Eurotruck Simulator Viva La France DLC

Realm of the Wood Elves – Total War: Warhammer
Ultimate General: American Civil War
Batman: The Telltale Series: Guardian Of Gotham
Batman The Telltale Series Episode 3: New World Order
Warhammer 40,000: Eternal Crusade
StarCraft II: Nova Covert Ops – Mission Pack 2
Batman – The Telltale Series: Episode 2 Children of Arkham
Batman The Telltale Series, Episode 1
Total War Warhammer Call of the Beastmen
Starcraft II: Co-op Missions Abathur
Everybody's Gone To The Rapture
Riders of Icarus: Early Access PC Preview
Sherlock Holmes: The Devil's Daughter
Demetrios The Big Cynical Adventure
Subnautica Early Access Review
Ori And The Blind Forest Definitive Edition
American Truck Simulator Wheel Tuning Pack DLC
StarCraft 2 Nova Covert Ops Mission Pack 1
Block'hood PC Review (Steam Early Access)
Master of Orion: Conquer the Stars – An Early Access Game Review
Agatha Christie – The ABC Murders
Resident Evil Zero/Biohazard 0 HD Remaster
Hatoful Boyfriend: Holiday Star
Game of Thrones A TellTale Games Series Season 1
Darius Burst: Chronicle Saviours
StarCraft II Legacy of the Void
Tales from the Borderlands Complete Season
Grandia II Anniversary Edition
The Talos Principle: Road To Gehenna
The Detail Episode 2: From The Ashes
Basketball Pro Management 2015
Company of Heroes 2 Ardennes Assault
The Detail Ep. 1: Where the Dead Lie
Sid Meier's Civilization: Beyond Earth
Dead Rising 3 Apocalypse Edition
Killer is Dead Nightmare Edition
Magic 2015 Duels of the Planeswalkers
Company of Heroes 2 Western Front Armies
The Incredible Adventures of Van Helsing II
Zombie Tycoon: Brainhov's Revenge
The Walking Dead Season Two from Tell Tale Games
Reviews
32nd America's Cup / Virtual Skipper 5
Agatha Christie and then there were none
Agatha Christie: Murder on the Orient Express
Age of Conan Hyborian Adventures
Ancient Mysteries King Tut's Tomb
Bang! The Spaghetti-Western Board Game
Battle of Britain II Wings of Victory 2
Battlefield 3 Close Quarters DLC
Battlefield 3 DLC Armored Kill
Blitzkrieg 2: Fall of the Reich
Call of Duty 2: Collector's Edition
City of Heroes Architect Edition
Civilization 4: Warlords (Expansion Pack)
Civilization V (Sid Meier's Civilization 5)
Civilization V Gods & Kings Expansion Pack
Clifford the Big Red Dog Musical Memory Games
Clifford the Big Red Dog Phonics
Clifford the Big Red Dog Reading
Clifford the Big Red Dog Thinking Advenures
Cognition – An Erica Reed Thriller (Episode 1)
Cognition, An Erica Reed Thriller Episode 2 The Wise Monkey
Command & Conquer 4 Tiberian Twilight
Command & Conquer: Red Alert 3
Command and Conquer 3: Tiberium Wars
Diner Dash 2: Restaurant Rescue
Disciples II: Servants of the Dark
Disciples II: Servants of the Light
Doc Clock: The Toasted Sandwich of Time
East Vs. West A Hearts of Iron Game (Preview)
Europa Universalis III Collector's Edition
Europa Universalis IV (Preview)
Freedom Force Vs. The Third Reich
G.H.O.S.T Chronicles Phantom of the Renaissance Fair
Galactic Civilizations 2: Dread Lords
Galactic Civilizations 2: Dread Lords (Gold Edition) Includes Dark Avatar Expansion
Galactic Civilizations the Altarian Prophecy
Ghost Recon Advanced Warfighter
Hidden Expedition – Devil's Triangle
International Cricket Captain 2009 – Ashes Edition
International Cricket Captain Ashes Year 2005
King Arthur II the Role Playing War Game
King Arthur the Role Playing War Game
King's Bounty: Armored Princess
King's Quest III: To Heir is Human
Lord of the Rings Online – Shadows of Angmar
Magic the Gathering Duels of the Planeswalkers 2013
Mark Leung Revenge of the Bitch
Medieval II Total War Kingdoms
Midnight Mysteries – The Salem Witch Trials
Midnight Mysteries: The Edgar Allan Poe Conspiracy
Mystery Case Files – Dire Grove
Mystery Case Files Ravenhearst
Mystery Case Files: 13th Skull
Mystery P.I. the Lottery Ticket
Nancy Drew and the Phantom of Venice
Nancy Drew the White Wolf of Icicle Creek
Nancy Drew: The Legend of the Crystal Skull
Naval War Arctic Circle (Preview)
Neighbours from Hell 2 On Vacation
Nickelodeon Toon Twister 3D (Kids)
Numbers Up 2 Baggin' the Dragon
OOTP 13 (Out of the Park Baseball 13)
Operation Flashpoint Dragon Rising
Princess Isabella: A Witch's Curse
QuickCraft Dinosaur Activities
Rider's World – I want to Jump
Rider's World – I want to Race
Rider's World – I want to Ride
Rise & Fall: Civilizations at War
Risen 2: Dark Waters (Preview)
Runaway 2: The Dream of the Turtle
S.T.A.L.K.E.R Shadow of Chernobyl
SBK 09 Superbike World Championship
Sherlock Holmes versus Arsene Lupin
Sherlock Holmes vs Jack the Ripper
Silent Hunter 5: Battle of the Atlantic
Silent Hunter Wolves of the Pacific
Sins of a Solar Empire: Trinity
Stalingrad: Great Battles of World War II
Star Trek Online Revisit Review
Starcraft II Heart of the Swarm
Starcraft II: Wings of Liberty
Strange Cases – The Lighthouse Mystery
Stubbs the Zombie in Rebel without a Pulse
SWAT 4: Special Weapons & Tactics
SWAT 4: The Stetchkov Syndicate
The Battle for Middle Earth 2: The Rise of the Witch-King
The Chronicles of Riddick Assault on Dark Athena
The Incredible Adventures of Van Helsing
The Lost Crown: A Ghost Hunting Adventure
The Movies Stunts & Effects Expansion Pack
The Silver Lining: Episode 1 – What is decreed must be
The Sims 2 Seasons (Expansion)
The Sims 3 70s 80s 90s Stuff (Add-on)
The Sims 3 Showtime Expansion Pack
The Witcher 2: Assassins of Kings
Tin Soldiers: Alexander the Great
TNMT: Teenage Ninja Mutant Turtles
Total War Shogun 2 Fall of the Samurai
Trainz Railroad Simulator 2006
Warhammer 40,000: Dawn of War – Soulstorm
Warhammer Online: Age of Reckoning
Where in the world is Carmen Sandiego? 3
World of Warcraft Mists of Pandaria
World of Warcraft: The Burning Crusade
Zoo Tycoon 2: Endangered Species
Archived Reviews
– A –
Aliens Vs Predator 2 – Primal Hunt
Arcanum of Steamworks & Magick Obscura
– B –
Baldurs Gate II: Throne of Bhaal
– C –
– D –
Dungeon Siege: Legends of Aranna (Addon)
– E –
Empires: Dawn of the Modern World
Emperor: Rise of the Middle Kingdom
Empire Earth the Art of War (Expansion Pack)
Entente: Battlefieds of WW1, The
– F –
– G –
– H –
– I –
– J –
– K –
– L –
Lord of the Rings: War of the Ring
– M –
Microsoft Combat Flight Simulator 3: Battle for Europe
Microsoft Flight Simulator 2002 Professional Edition
Microsoft Flight Simulator 2004 A Century of Flight
– N –
– O –
– P –
– R –
Rise of Nations: Throne & Patriots
Robin Hood: The Legend of Sherwood
Rollercoaster Tycoon 2: Whacky Worlds Expansion Pack
– S –
Soldier of Fortune II: Double Helix
– T –
Tom Clancy's Ghost Recon Collector's Pack
Tortuga: Pirates of the new world
– U –
– V –
– W –
– Z –