PC Games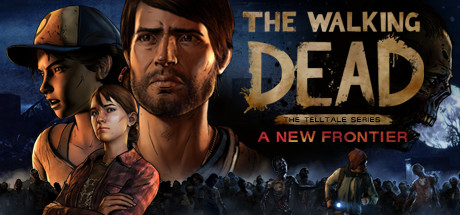 Published on January 10th, 2017 | by Lyla Saudi
The Walking Dead: A New Frontier Episode 1 PC Review
Summary: When family is all you have left, how far will you go to protect it?
Biters, creepers, monsters, walkers, are just some of many names given to the shambling zombies that have ripped apart society and overrun the world. Emerging from the chaos and struggling to survive in these post-apocalyptic times are pockets of civilisation, including Javier and his family. But when they accidently cross paths with a dangerous rival group, a simple misunderstanding quickly spirals out of control in The Walking Dead: A New Frontier developed by Telltale Games.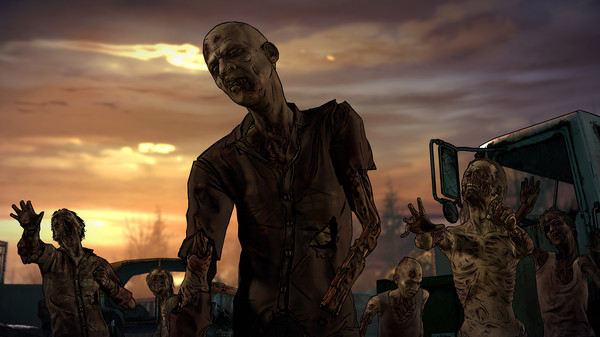 This episodic point-and-click graphic adventure game, set in the world of Robert Kirkman's award-winning comic books, The Walking Dead: A New Frontier is the third season of this Telltale series. Previous knowledge and gameplay of seasons one and two are not necessary as you are given options to ether start a brand new story or import your previous decisions that will come into play later on.
Starting with a brand new set of characters, you play the game as the main leading character – Javier 'Javi' (voiced by Jeff Schine). Travelling together with your sister-in-law (who you might have a small crush on) and your niece and nephew (who will often struggle with the emotions of being typical teenagers) you navigate the streets and abandoned buildings in search of more gas and supplies after a herd of zombies destroyed your last campsite.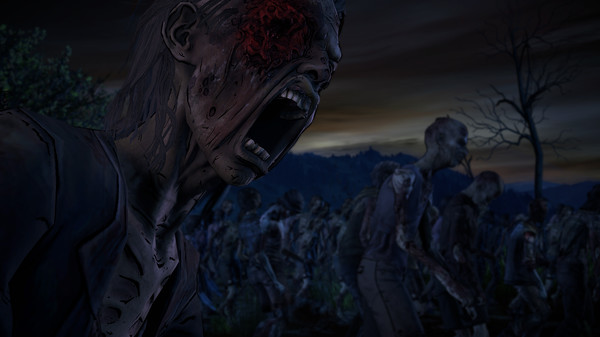 Arriving at what seems to be an abandoned junkyard you eventually come across a trailer full of useful supplies. However, the decision to either stay the night or take what you need and leave is cut short when the occupants of the trailer return, and they are armed, hostile and don't like strangers messing with their stuff.
Flashbacks help to develop the characters and their relationships with each other, providing the backstory from the time of the initial virus outbreak years ago. The beloved heroine from the previous seasons Clementine (voiced by Melissa Hutchison) is introduced about midway into the game. She is now older, wiser, and comes complete with a badass attitude that during rare occasions will soften a little the more she gets to know Javi.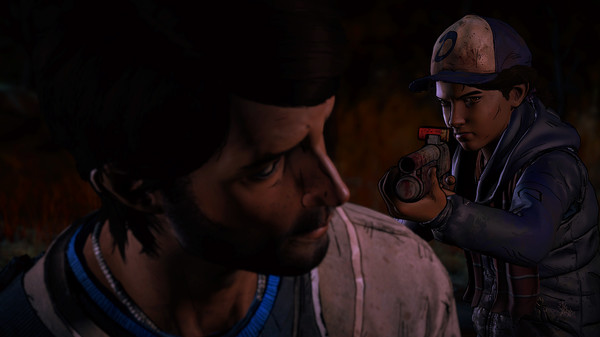 Throughout the story you will interact with other non-playing characters by choosing a word, sentence or action of pre-written dialogue from a menu that will trigger a response (or consequence) from that character. A small issue I had with this was at times the dialogue from my character didn't mirror the option I chose for them to say, leading to different responses or actions from that I was after. The QTE (Quick Time Events) during the action scenes boldly stand out and are impressively responsive and easy to use (but you do really need to be quick).
There is one main environmental exploration sequence for you to walk around and interact with objects. In this items are not clearly indicated allowing you more control to move the pointer to click and see what is around you while navigating your character around the screen. Sometimes your character will walk past the object you want to engage with but then cut to it a second later standing in front of it which was a little bit frustrating.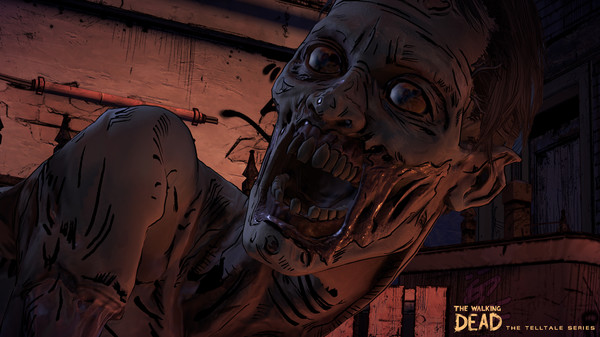 I found this episode a little bit on the short side averaging around an hour of gameplay that seemed more story than consequence driven, as the choices you make don't really seem to have a huge effect on the outcome of the story. Yes, your character may die which means having to restart the current sequence all over again, but you will still end up more or less with the same result.
The story overall is great and engaging with a big cliff-hanger at the end to wrap up part one of this episode. Javi is an enjoyable and likeable character that has developed a lot so far. Clementine may not of had a lot of air time (yet), but I feel we will see a lot more of her in the next upcoming episodes, and I sense we have only just seen a glimpse of what the bad guys are getting us into.
Graphics & Audio
The initial loading time is long (at first I thought there may be something wrong with my computer) with a couple of minutes of just staring at a blackness, but I really liked how much detail when into creating the background and sound effects of the menu screen. The scripts are well written and suit the personalities of the characters and although at times sounding like they were recorded in a studio, the voice acting overall is really good.
Final Thoughts?
If you were a fan of the previous two seasons and enjoyed playing as Clementine then you may be slightly disappointed as she is not the main playable character, at least not in this episode. But if you are open to a new story, characters and a fresh take to the series then you should give this a go. New players to the series will also enjoy it as long as you are aware that it is more story driven and your choices will not have a huge effect on the outcome of the episode (so far).
Game Details
Title: The Walking Dead: A New Frontier
Episode: Episode 1: Ties That Bind Part 1
Developer: Telltale Games
Publisher: Telltale Games
Genre: Violent, Gore, Adventure
Rating: Mature 17
Platform: PC –Steam (also available on Consoles and Mobile)
Release Date: December, 2016