March of the Eagles
March of the Eagles is an upcoming strategy game from Paradox Studios and was one of three games previewed at the "Strategy is Our Game" Tour. Each of the games is still in development, but Impulse Gamer was invited to attend and preview the games to see how they are currently looking. This was the first time March of the Eagles has been shown, so this truly is a first look!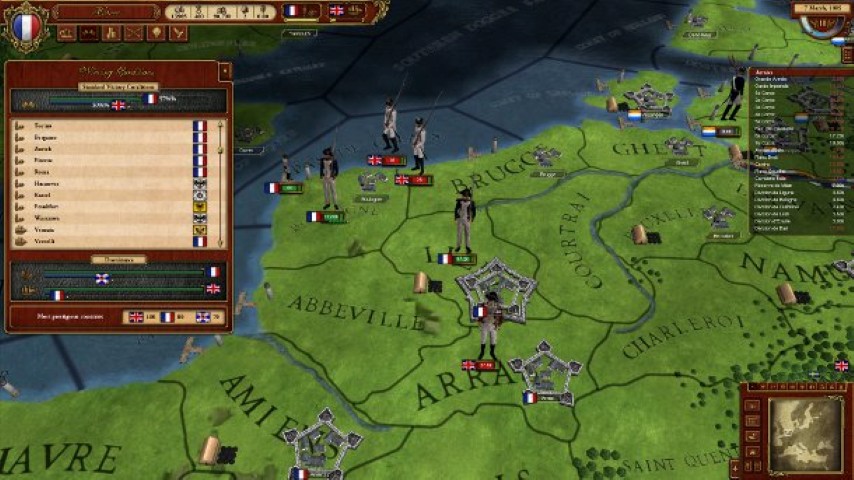 March of the Eagles takes place during the fifteen years of the Napoleonic Wars and puts players in charge of their own country to play in this time frame. Players aren't limited to just Britain or France, but are free to pick and choose between any European country that existed at that time, each one with their own generals, goals, and victory conditions for the eight major countries. Each country has pros and cons to it and with each one having different goals it means that a player can start in those countries without handicapping themselves and finding themselves being overshadowed.
One of the most impressive things about March of the Eagles was seeing all the work that Paradox put into the history of the game. Little pop-ups will detail historical events as they happen, various countries will shift allegiance back and forth, and the generals and leaders of each of the countries are accurate for the time. History fans will be able to recognize many names as they play through and move around their troops.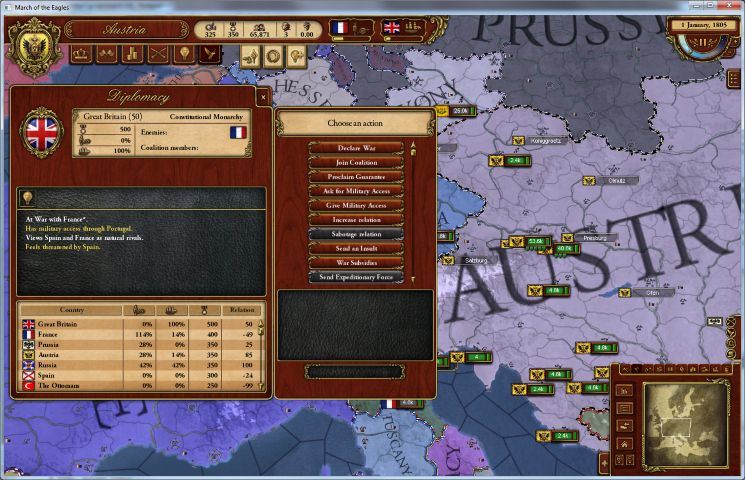 Speaking of troops, March of the Eagles features a very large unit choice each with their own benefits and downsides. Some troops move faster than others, some are better versus other troops, and each is categorized into a type of unit to help new players not get overwhelmed. Between various types of infantry, cavalry, guards, and more players who love detail and choices will enjoy the many options while those that like it simple will be able to pick a category and grab whichever troops.
Like previous Paradox games, March of the Eagles features many options in how to play ranging from forming peace treaties, to annexing nations, and more. Players can force peace through military power, send diplomats, and more. The many options for diplomacy allow for a different way to play each time and mixed with the many countries the game will allow a lot of replays.
At first the large map and many choices seemed chaotic and complex due to how much there was to manage, but overall the large maps and many units were handled very nicely. Tooltips and looking at your countries goals really helps to handle and manage the things. In addition to the tooltips, the maps can be displayed in various formats ranging from terrain, to allegiance, and others so that players can view the map in different ways based on preferences or graphics power.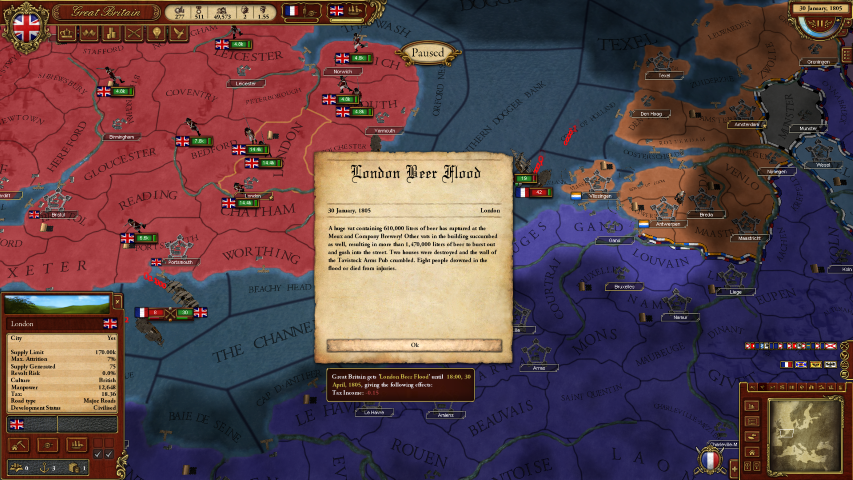 While the multiplayer wasn't previewed and obviously mods were not out since the game is still in development, the developers assured me that the game would be completely moddable like their other games and the multiplayer would feature up to 32 players.
All in all March of the Eagles seems a very promising game that differs slightly from their previous games by focusing directly on a war, but still holds to a lot of the many valuable features of their previous games. It doesn't look like it is going to reinvent the wheel, but that doesn't take away from the game itself. The formula works wonders and new details should appeal to old fans of both Paradox and the Napoleonic Wars. If you're looking for a strategy game that allows you to play almost any country and see how you'd do during the Napoleonic Wars, look no further than March of the Eagles