International Cricket Captain 2009 - Ashes Edition
For the most part, there are two types of cricket fans. There are the fans that adore a good Twenty/20 while sitting around a mates lounge room enjoying some drinks. Then there is the cricket purist, the one who will quietly watch and scrutinise over every shot and each bowl for a entire test season. This game is targeted at the latter.
International Cricket Captain 2009 is a cricketing simulator, putting you in a management role much the same as games such as Pro Evolution Soccer did for football. You as a coach, need to choose every single detail in your team to achieve one of many tournament wins, from local county, to international tours, to the Ashes series or T20 World Cup.
Once you have chosen your side and competition, you can go into the sort of immaculate detail you would expect from a good sim manager. You have the ability to choose your sides contracts, import or export player, or even recruit from your youth team. Each player has a current form rating and fitness rating where things such as physio or training rationing can impair their match performance. When you eventually get to a satisfied level with your team and make it to the pitch, there are a mind boggling amount of options available for each ball. Which shows the level of detail that is put into this database. You can literally chose each ball, each shot, exactly how you wish you player to attempt it. Obviously doing this for every ball would be a extremely tiresome experience, which is why the 'Auto' button has now been introduced to keep the action flowing. Once the game is complete you can go through the maze of statistical data and graphs available from each match and find exactly where your weak spots are.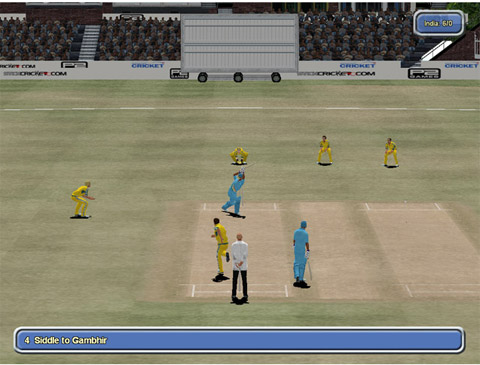 As with all games of this genre, player management is what it's all about. Ensuring you side all well rested enough to get through a full game at peak performance, while making sure they're also performing hard enough to make a impact, and it's a fine balancing act. That same balancing act can be completely rattled when your higher end players are selected for internationals, leaving you to pick through the Youth league for the next Punter or Pup to fill your batting order.
There has been a massive amount of time spent on getting the player database for this game current and completely detailed. Featuring the entire International competition and full English County sides to date, you have the ability to pick and search from a plethora of players to improve any missing talent.
The main fresh introduction to this year's title is the Twenty20 World Cup and 2009 Ashes series being available for the first time. As well as a revamped Highlights viewing package, online play mode, and much improved AI to bring a greater challenge to each match.
Unfortunately, the amount of time spent getting all the statistical data sharp and improving the AI factor has left a bit of a void. It has brought the challenge of winning the matches to a new level and it will immerse you in trawling every avenue possible to find that next edge you need, but it's at the expense of general enjoyment and replay ability. Good Sims have a varying degree of layers so that if you start to find one layer becoming mundane, you can move onto the next and focus on that until your interest returns. ICC 2009 doesn't have those levels, instead of introducing a complex franchise management system it's got three spending options, yet I can bowl a medium-fast ball into one of sixteen different possible ways. The International Cricket Captain series has been evolving, very very slowly, but it's evolving. This instalment is not a big leap from the past few titles, but hopefully is setting up for something a bit bigger.