LEGO History
The history of LEGO can be traced back to the village of Billund Denmark where master carpenter and joiner Ole Kirk Christiansen established his own business in 1932 to manufacture a variety of house old equipment such as ladders, ironing boards and more importantly... wooden toys. As the popularity of Christiansen grew, he soon decided to name his business LEGO in 1934 which means "play well" in Danish and ironically "put together" in ancient Latin. After a few tragic incidents, the company soon discards their primary ingredient wood and emphasise on plastic building blocks that were the building blocks of the LEGO empire that we all know and love today.
One just has to look in just about every toy store in the world to know how popular LEGO is with kids and fortunately for those advocates of LEGO, it has finally hit the computer world with a variety of children orientated games that include chess, car racing and also some creator games that lets children build their own unique and entertaining LEGO worlds.
LEGO Chess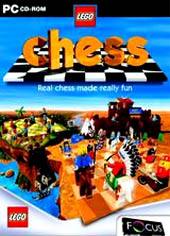 The first game on our agenda is LEGO chess that is distributed by Red Ant Enterprises in Australia and teaches children from as little as 3 years old to play one of the oldest games in existence. The installation of LEGO chess was a breeze and it simply auto-installed when the CD-ROM was detected and the beauty of all LEGO software is that it requires the minimalist computer to run the software. This is great news for parents who may have an old computer lying around because LEGO software only requires Windows 95 or higher, a Pentium 166Mhz or higher, 4MB of onboard graphics and around 200MB per game of hard drive space.
Once the software was installed, we were greeted to an extremely user friendly interface that offered younger gamers a variety of options from learning how to play chess to also challenging friends over the modem, LAN or internet. The LEGO chess board is brilliant with rather impressive graphics considering that everything in the gaming environment is created from LEGO. Gamers also have the option of playing the traditional LEGO chess board or with various different themes such as pirates or the wild wild west.
Graphically, LEGO chess is a true wonderland on the PC and actually looks like what a LEGO chess board would look like in real life with also 3D animated characters for that extra touch of realism. Apart from the amazingly cute graphics, the title also contains various sound effects that goes hand-in-hand with the title that cannot be missed.
LEGO creator: Harry Potter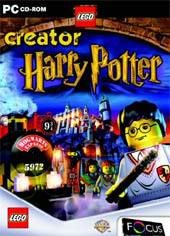 Our second LEGO review title was LEGO creator Harry Potter that allows young gamers to basically recreate the Harry Potter universe that includes famous landmarks such as Hogwarts University, Diagon Alley and even Hagrid's hidden house. The beauty of this title is that children have a plethora of building blocks to create their own magical worlds and it is ideal for helping a child's imagination. Once their worlds have been created, children can then explore the cities and landmarks that they have created and what more do parents want because not only is this title educational, helps with imagination but also assists with computer skills.
As with LEGO chess, LEGO creator Harry Potter features the same style of graphics that almost looks like you are playing with real LEGO blocks. Even the characters in the game such as Harry Potter or Hagrid look like their movie counterparts. There is also a variety of different sound effects to help young gamers create their magical universes. My nephew simply couldn't get enough of this title and I must say that some of the creations he created were rather impressive.
LEGOLAND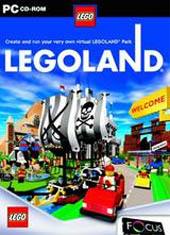 LEGOLAND was probably our favourite title from the series because not only does it allow gamers to create their own LEGO inspired theme parks but it also requires them to manage them. LEGOLAND also contains a variety of different mini-games and rewards for players who manage their theme parks correctly because if the customer is kept happy, then the gamer is also kept happy. Although younger gamers would have problems with the micromanagement of the title, gamers around 10 years of age should have no problems with this.
Graphically, LEGOLAND looks fantastic and once again almost looks like you are actually playing with LEGO. The beauty of LEGOLAND is that the game is a true 3D game that allows players to actually get close to the action that almost makes you feel like you are walking through a real LEGO theme park and truly brought back memories from our youths when MYER use to have LEGO exhibitions. The sounds and music from the theme park matches this title perfectly and I could not fault this title. The only downside to this title was trying to pry my seven year old nephew away from the computer in order to write these reviews.
LEGO Racers 2
Last but not least is LEGO Racers 2 which is the sequel to the extremely popular LEGO Racers. Ironically, I use to play the original game around 5 years ago and even though I was 28, it was still an extremely entertaining game. However this time the developers have decided to up the ante and have included 5 new LEGO worlds with over 24 tracks that will basically have young and old alike hooked. A new instalment to the series is the introduction of boss characters that the player must defeat in order to proceed to the next country. Another impressive feature is that players can also upgrade their cars and there are also a variety of different hidden games that litter this title.
Graphically, LEGO Racers 2 is easily the most impressive title of the series and features some state-of-the-art graphics with a variety of special effects and awesome use of lighting. As with the previous titles, the world's look like real LEGO and match that with some exciting sound effects and a great musical score and you have one exciting game. Unlike the other games, this title requires a Pentium II 266Mhz or greater to run this title but I'm betting that most people own at least a Pentium III or greater these days.
Conclusion

In conclusion, the LEGO range of games is ideally suited for young children but games such as LEGO Racers 2 or LEGO Chess will still have appeal to some older gamers. These games are as close as you can get to LEGO without having to clean up the mess afterwards. Check them out now!