PC Games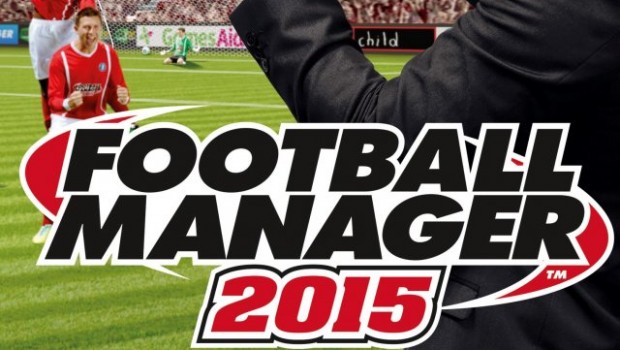 Published on November 6th, 2014 | by Dakoda Barker
Football Manager 2015 Review
Summary: Struggling to break into the first eleven, but has a few new tricks
Football Manager 2015
Games – PC Gaming
Genre – Simulation
Rating – G
Game Developer – Sports Interactive
Game Publisher – Sega
Reviewer – Dakoda Barker
I'm sitting at my computer desk. On the screen, miniature men scoot around a football pitch. A player arcs the ball between two defenders, past the goalkeeper, and into the net. The crowd erupts—strange, given the visible lack of fans for this minor-tier clash—and a muted groan escapes me. That Torquay goal has pushed this FA Trophy semi-final into extra time, something my fatigued and outclassed Whitehawk players will invariably struggle with. We'd need a miracle just to make the final now.
Then I look down at the clock and realise it's 6:27 in the morning and I haven't gone to bed.
Football Manager demands mastery. Even with 504 hours of play time split between the 2013 and 2014 iterations, I'm not prepared to rate myself as anything more than 'competent'. I've taken obscure low-league teams to dizzying heights, somehow helped the Cook Islands qualify for the Olympics, and been immortalised in the managerial hall of fame several times, but I still have much to learn.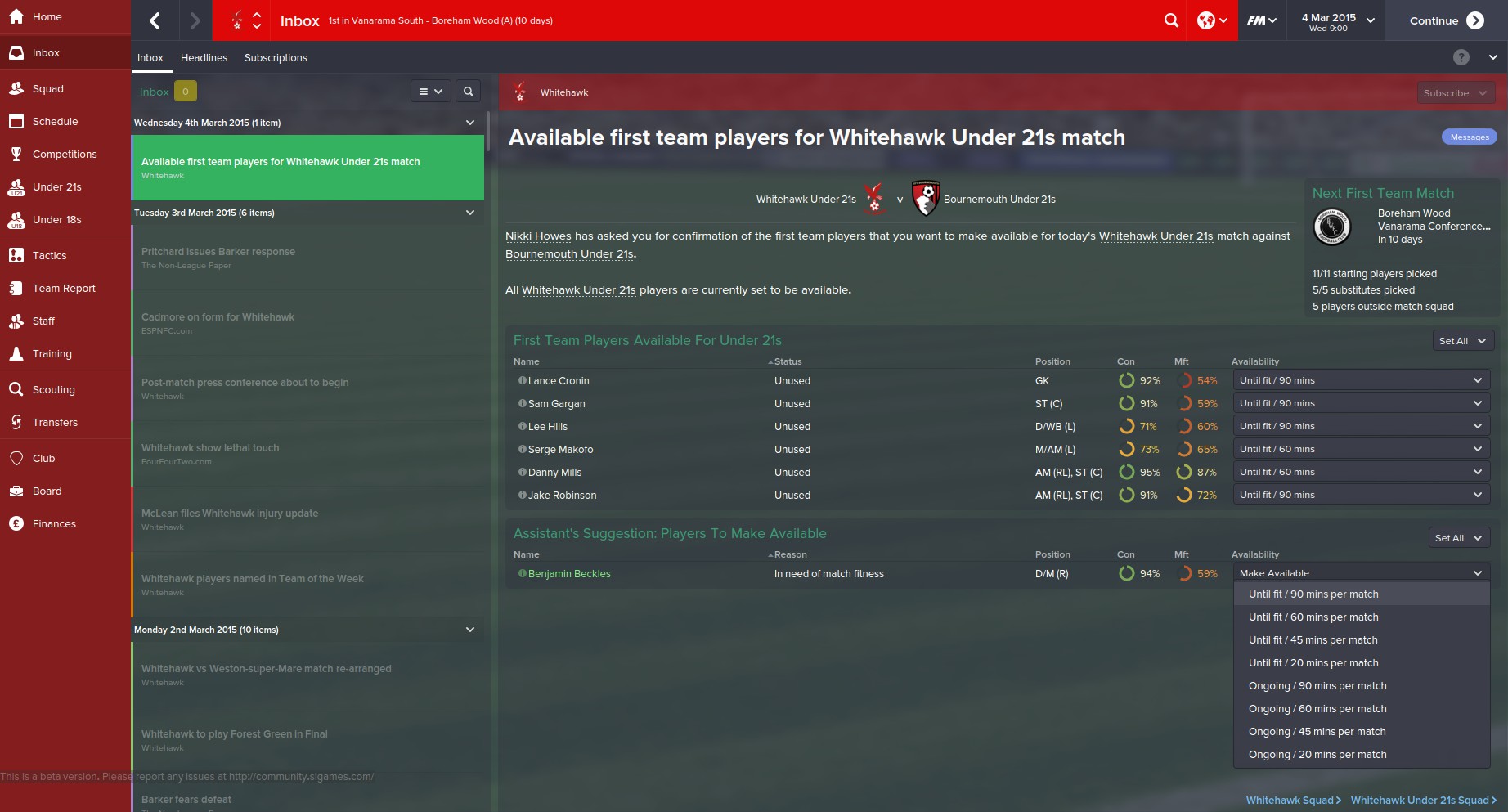 But let's start at the beginning: why would anybody want to play a game that is effectively a series of exceedingly complicated Excel spreadsheets with accompanying diminutive match animations?
For the thrill of being a manager, of course. The Football Manager series has a staggering amount of depth and complexity. Managers are responsible for a multitude of things—setting team training, signing players, and deciding match tactics to name a few—and Football Manager puts all of that responsibility in the player's hands. Football Manager allows a football fan to take control of their favourite club and lead them to glory (or into obscurity, as was the case when I first played Football Manager; fortunately, I was fired before anything irreversibly bad happened).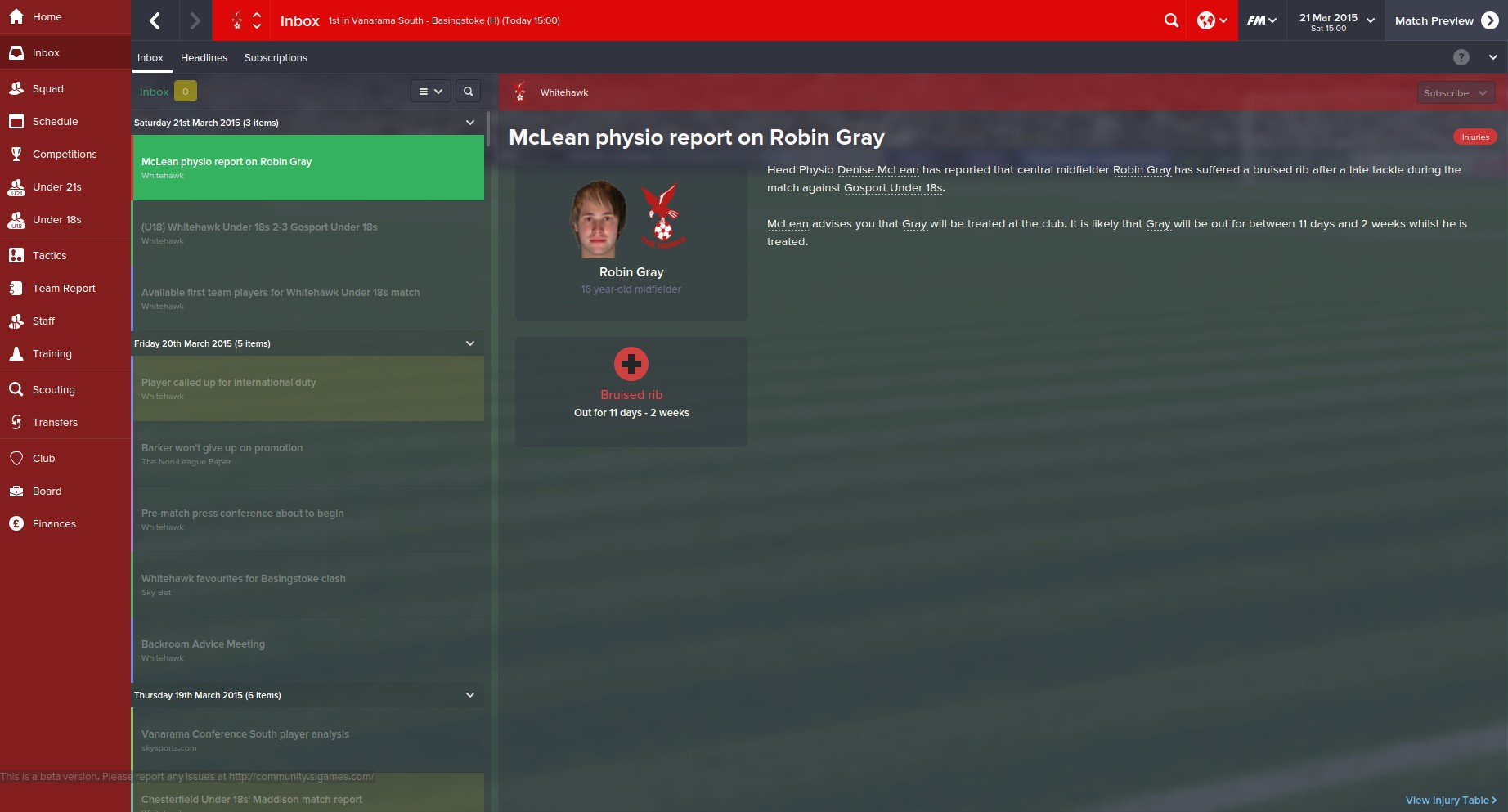 Football Manager 2015 provides even more options for managers. Tunnel interviews, sideline pep talks, and manager physical and mental stats are but a few of the new inclusions. Sports Interactive is truly dedicated to creating an authentic, comprehensive experience—just ask the English Premier League teams using the Football Manager player database to supplement their own scout reports.
There are some big changes from previous versions. FM15 has a completely overhauled user interface, which means I've struggled to overwrite hundreds of hours of habit in order to memorise where the various functions are now located. The new layout isn't terrible—I actually like how clean and clear the new sidebar is—but returning fans will have some adjusting to do.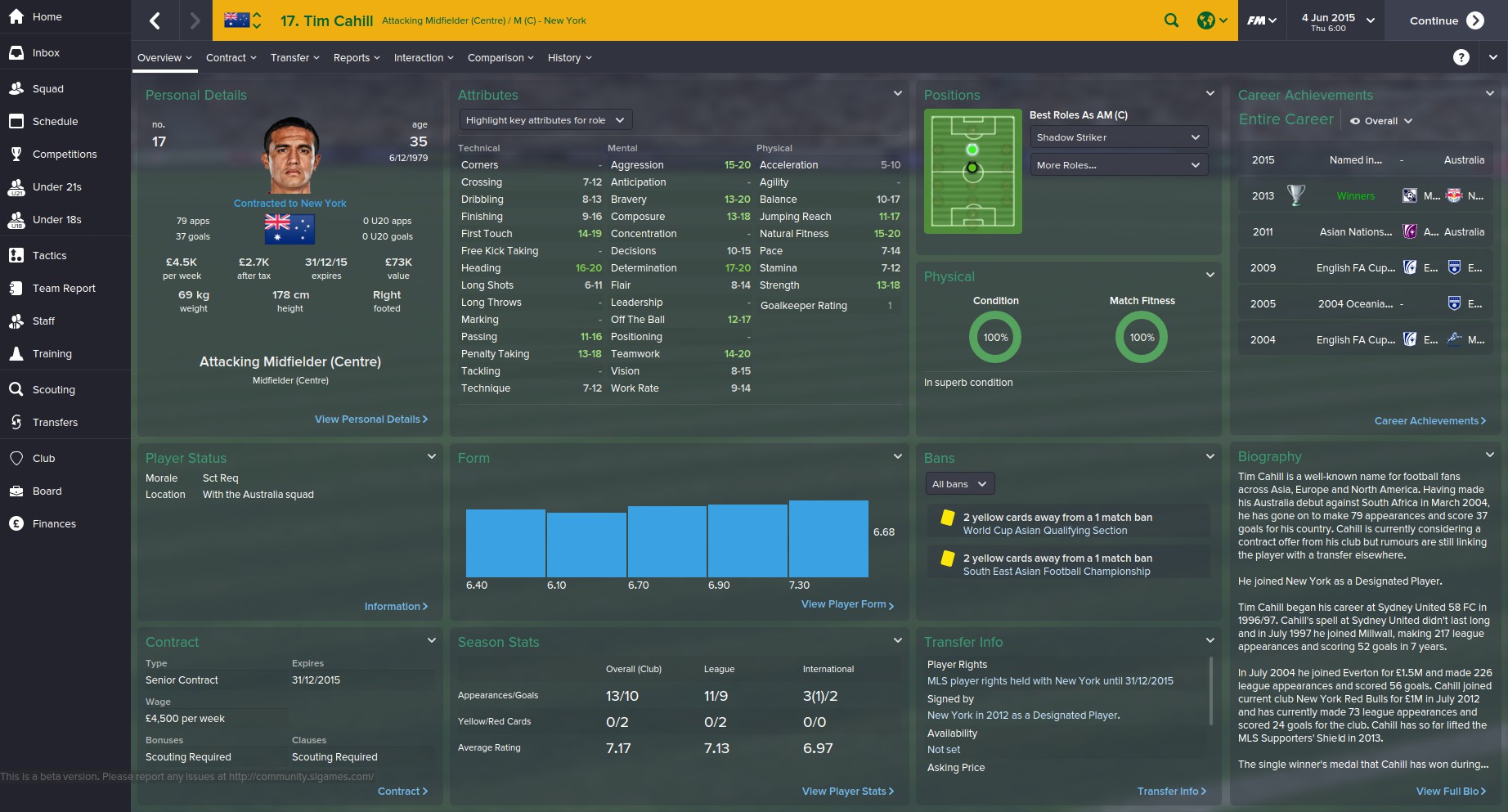 Managers have stats of their own now, which means I had to send my manager-self on training courses to get new qualifications, instead of starting out as a 20-something-year-old wonderkid with the highest qualifications possible. Managers can also take some of the coaching load, which was especially useful in the lowest playable English league when budget troubles forced me to fire coaches.
Setting unused or unfit players for other squads is a lot easier. Each player can be set to available—with substitution instructions—on the one screen. It makes managing the entire club, instead of just the first team, streamlined and plausible.
Other changes are less favourable. The handy 'ask staff for advice' option is gone—any suggestions from backroom staff require manual navigation to the Backroom Advice page. Opposition advice can no longer be applied to multiple opponents at once—setting my usual instructions for each position takes 88 individual clicks in FM15, far more than the two clicks and some scroll wheel action that the same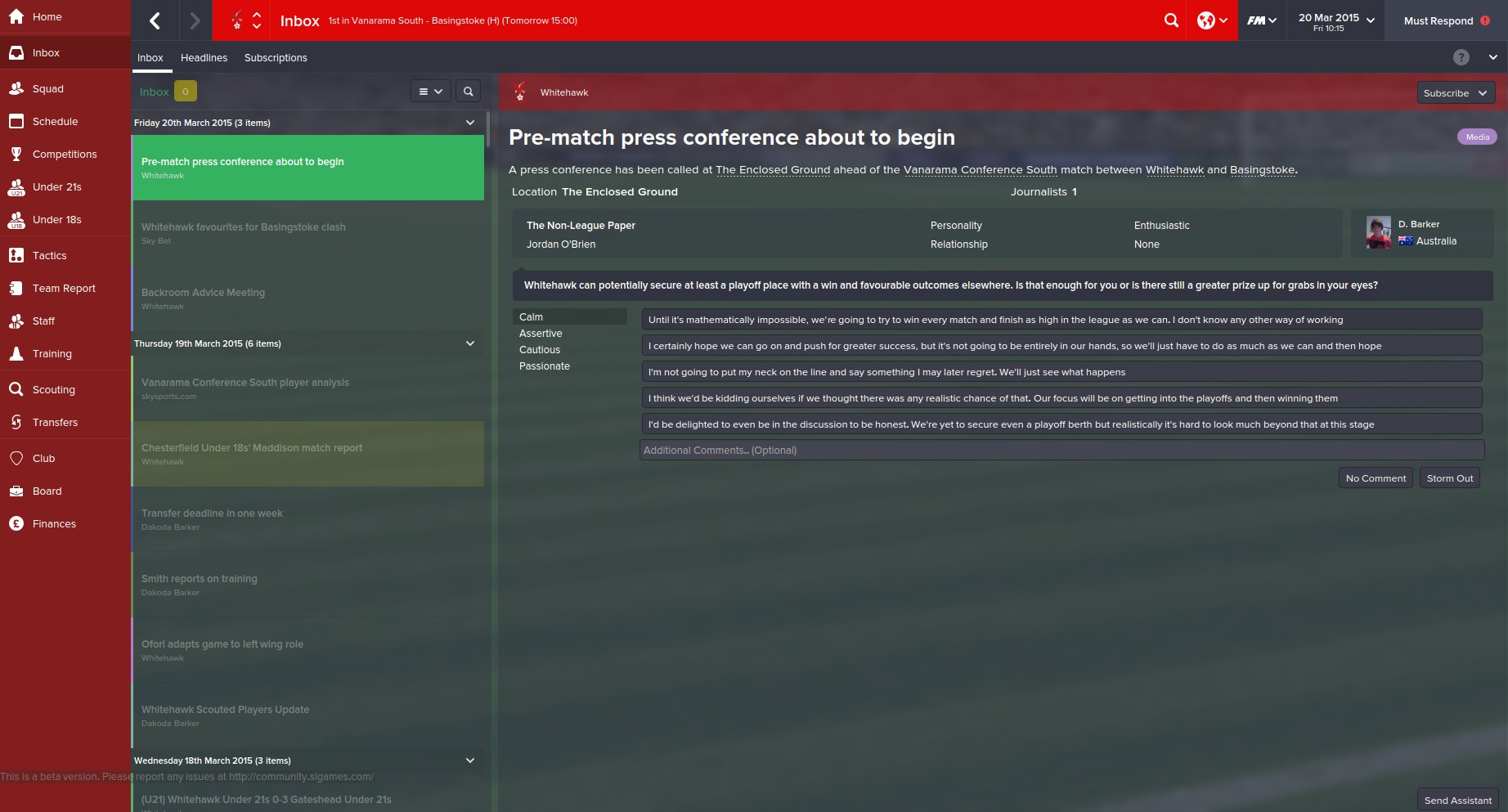 instructions took in FM14.
The spreadsheets—perhaps the core of the game—cannot be customised properly. In previous Football Manager games, I have added various stats—player potential, home grown status, contract expiry, match fitness—to the main squad view. In FM15 only a handful of these adjustments show up and all attempts to fix the issue only exacerbate the problem by making further categories disappear.
Some of the match animations are off. Players seem to slide along the grass, rather than running on it. But for the most part, the silly little guys behave and move more realistically, which is a pleasant surprise. I am entirely disinterested in the graphical quality of these animations—if I wanted stellar visuals, I would check out FIFA 15—but it's nice to see that effort is still being made (despite the bizarre sliding).
The most egregious issue is that match AI is utterly broken. Goalkeepers are almost ineffectual, defenders are astronomically prone to own goals, and free-kick-takers are unreasonably lethal from any range, resulting in excessive scores. My goalkeeper scored in his own net after kicking the ball into the back of a defender's head. My matches have an average of five goals scored, with six or seven goals per team not being unusual. These are serious problems—but ones that Sports Interactive have acknowledged and plan to fix.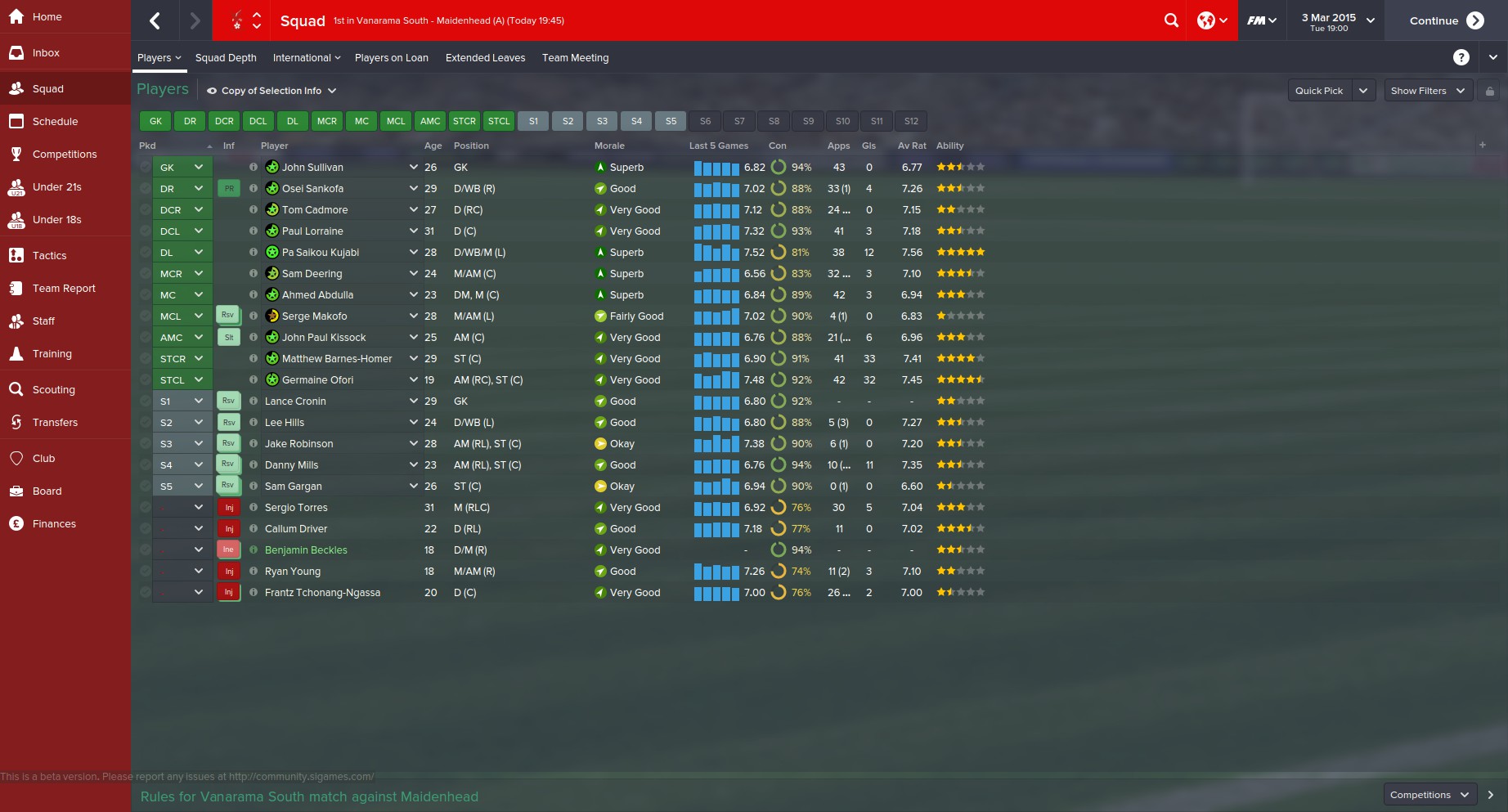 While match AI and other problems can be fixed before official launch (FM15 is, at the time of writing, still in beta) a few of my other issues are not on the fix-list. The problem with spreadsheet customisation is perhaps the most frustrating, as it forces me to navigate through several extra screens per player just to get information that would take fractions of a second in previous instalments.
I want to love FM15. I want to spend 500 hours mastering the intricate details and taking Whitehawk to the Premier League. But I don't want to spend 500 hours wrestling with a system that has given me no trouble in the past.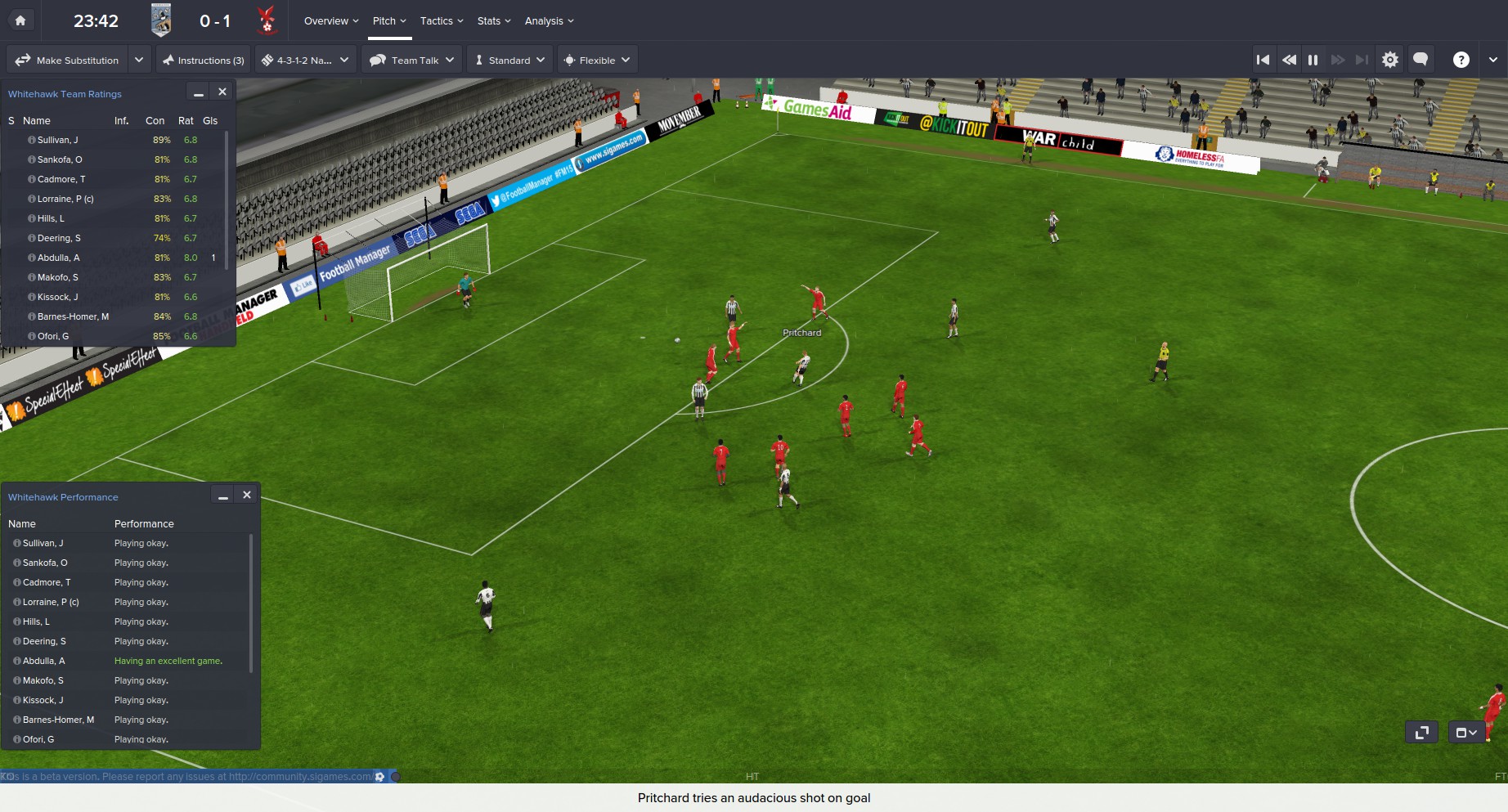 If the majority of these problems are resolved then I will happily recommend Football Manager 2015 to football aficionados. If not, then I will return to Football Manager 2014 and my previous obscure team, Stockport. But I have hope, because FM15 has enough new content and features to make it a worthwhile upgrade.
For what it's worth, Whitehawk beat Torquay on penalties to make the FA Trophy final. Maybe Sports Interactive can pull off a similar shock-win and iron out these issues before launch.