Clifford the Big Red Dog Phonics
Clifford Phonics brings children ages four to six to the Birdwell Island Carnival where they team up with the beloved characters from the top-rated PBS KIDS(r) TV series, Clifford the Big Red Dog. Players tour the carnival and participate in 12 entertaining activities and carnival games to build and reinforce important phonics skills such as letter and sound recognition, spelling and vocabulary. Throughout the game, children are rewarded with prizes that can be used to decorate a float for the BIG parade.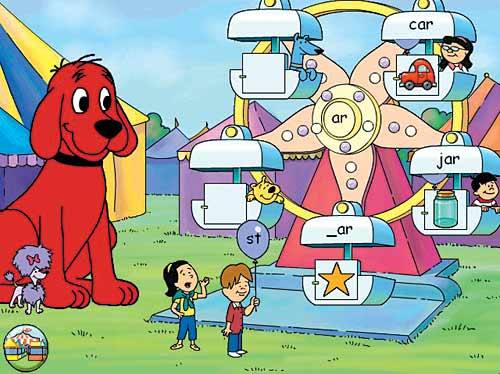 With that said, Clifford Phonics was a breeze to install on our test machine that simple auto-installed once the CD was detected by the computer which is great for parents who are somewhat computer illiterate. The beauty of many Scholastic titles is that the programs generally need a minimalist computer setup and with this incarnation of Clifford the Big Red Dog, it once again follows the basic attributes of Windows 95 as a bare minimum.
Once the installation was completed, we were ready to test this software package with our 4-year old volunteer Ella who simply adored this computer software package. Ella picked up the interface of this program in a matter of minutes, with a simple point and click. It should also be noted that Clifford Phonics is aimed at children aged 4 to 6 years of age.
Clifford Phonics has seven different activities, including tight-rope rhyming and silly stories. Kids can match pictures and words to blow up balloons or build words by matching them to pictures at the Ferris wheel or playing a Skee-Ball game that makes letters pop up. With each exercise they complete, they earn a prize they can redeem as a decoration for the float.
Apart from a myriad of different entertaining and educational games in this program, the software also assist children word and picture recognition that also include letter and number recognition. Even after a week of playing this title, Ella's reading skills have significantly improved. Although it is ideal to go through this program with your child, it can also be successfully used without adult supervision that ensures that your child will learn with only a minimal amount of assistance.
Graphically, Clifford Phonics is extremely colourful and looks like a Saturday morning cartoon that is filled with simple yet colourful shapes and of course that famous dog, Clifford himself. The only catch to Clifford Phonics is that the software was designed in North America, so the pronunciation is a little biased towards the Americans but needless to say, this will have very little impact on your child.
In conclusion, Clifford the Big Red Dog Phonics is an extremely affordable program, easy to install and extremely easy to master that I would recommend to all parents who wish to have a positive stake in their child's education. Highly Recommended!