Dubbed a hidden object adventure, Hidden Expedition - Devil's Triangle is reminiscent of those old point and click adventure games and involves around a 400-year old mystery as players embark on a game of puzzles and exotic locales. As you lead your expedition into the heart of the Bermuda Triangle, you need to find a member of your team who has gone missing as you explore a very colourful and interesting storyline that would give stories by Jules Vern's a a run for his money.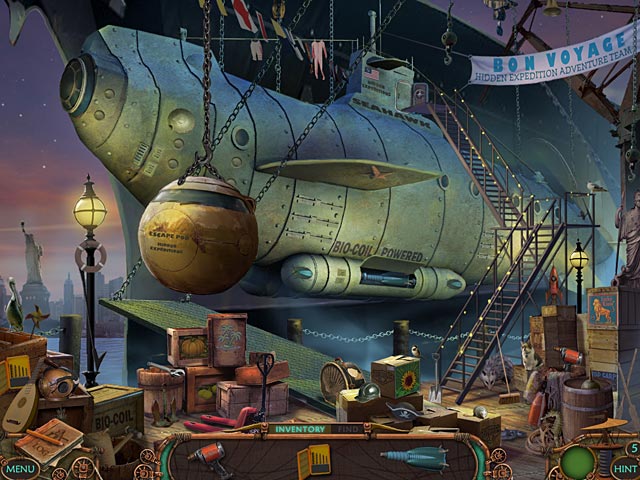 Targeting the casual gamer, it's these little games which have become so popular and to assist in the overall experience, it helps that it features a very interesting story as you search for your lost pilot. The gameplay basically displays an interactive picture where you must search for clues, pick up items and use them with your inventory to solve a variety of puzzles. Sometimes it's easier said than done but fortunately there is a hint system and a magnfying glass.
Apart from searching the environment for clues, you need to interact with other characters in order to uncover more clues and to progress the story. By speaking to the lively characters in the game, you will uncover more information and although you can skip through these dialogue scenes, it goes a long way in making the experience quite immersive. The menu system is also quite easy to use and is not too convoluted as some of these games.
Even though I'm not a casual gamer, I prefer to be called a hardcore gamer, the biggest issue with Devil's Triangle was the completion time which I managed to knock over in around three "casual" nights. Don't get me wrong, I had fun but once it finished, I was like what the? I want more! It's even created like a TV series because the ending doesn't answer all the questions and leaves the game open for a sequel. Another slight issue is that some of the clues were a little tricky to solve and even though they were in your face, it was sometimes a little too abstract. But then again, you have a hint system.
Graphically, the game is quite good with colourful, almost painted like environments that is a staple to these games. Personally, I would love to visit this world as 3D but then again, this is not a first person shooter. Add in some impressive musical scores and some sound effects and everything comes together quite well. Consider it game art for the 21st century.
At the end of the day, Hidden Expedition Devil's Triangle is an addictively entertaining game with relatively well thought out puzzles, gorgeous locales and an interesting storyline. It's just a shame that it ends so fast and the ending felt a little too much like a money making exercise than I liked. Even so, if you enjoyed the previous games from this developer, you'll definitely get a kick out of this.
Check it out!