Space Hack
Space Hack is a sci-fi RPG/action title with Diablo-inspired gameplay mechanics, presented in real-time 3D graphics. The story puts you on a quite peculiar space ship, full of convicted prisoners, that got trapped inside a cosmic anomaly known as Black Nebula. Playing role of a tough warrior you will be struggling to reach an emergency transporting module, hacking and slashing your way through hordes of alien creatures taking over your ship.
Space Hack is the latest Diablo style RPG epic that is set in the distance future which follows the adventures or exploits of Hack, a reluctant hero who finds himself on board a ship headed to a new colony. Unfortunately for our hero, the journey onboard this ship suddenly ends with this sojourn finishing in the middle of nowhere.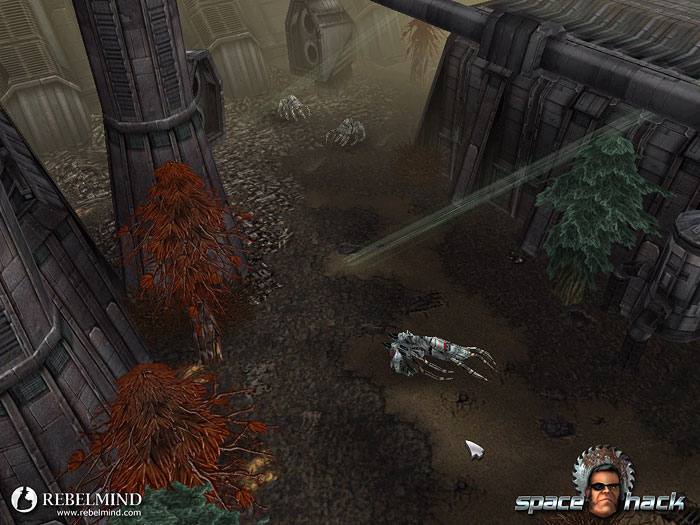 With that said, Space Hack is created by RebelMind, a humble little software company that doesn't have the budget of EA or Microsoft behind but unlike the other two companies, it doesn't need all the gimmicks and super graphics to make this title work, it's more so because of the extremely cheesy and thoroughly entertaining storyline... not to mention good solid gameplay.
Apart from your space ship, Hack must also fight his way through five different terrains and biospheres that are filled with just about every strange alien that you could possible imagine. RebelMind have really created an extremely enriching and varied gaming universe to help immerse you into this futuristic world of aliens.
Features
45 levels in 5 different sceneries - Earth-like environments, futuristic interiors, post-catastrophic locations, deserts and frozen lands

40 alien creatures from 3 different breeds

Dozens of weapons and hi-tech items

Diverse paths of character development - smash your way through problems, become quick and elusive or gain advantage with sophisticated technology

Amazing real-time 3D graphics and spectacular special effects

Atmospheric industrial ambient music
The gameplay of Space Hack is your traditional RPG title that basically has your character interacting with a plethora of characters in order to discover new quests and purchase a wide gamut of equipment. By fighting your way through the story of Space Hack, your character slowly builds up his abilities and weapons in order to become the bad ass character that he destined to become.
The control system of the game is relatively straight forward with the battles broken into two forms of combat, short range melee and long-range attacks with the player navigating through a variety of basic and complex gaming environments. The only downside to the combat in Space Hack is the artificial intelligence of your opponents that ranges from severely lacking to extremely difficulty.
The game also contains quite a wide variety of different weaponry that include your classic melee weapons to swords and clubs to your more futuristic items such as plasma and laser rifles that really lays waste to your enemies. Needless to say, the game contains dozens of extremely strange and clever items.
Graphically, Space Hack is quite an impressive game with some highly detailed background environments and great special effects. Unfortunately the character design of Space Hack is a little bland but bare in mind the price of this title and you could really have a bargain on your hands.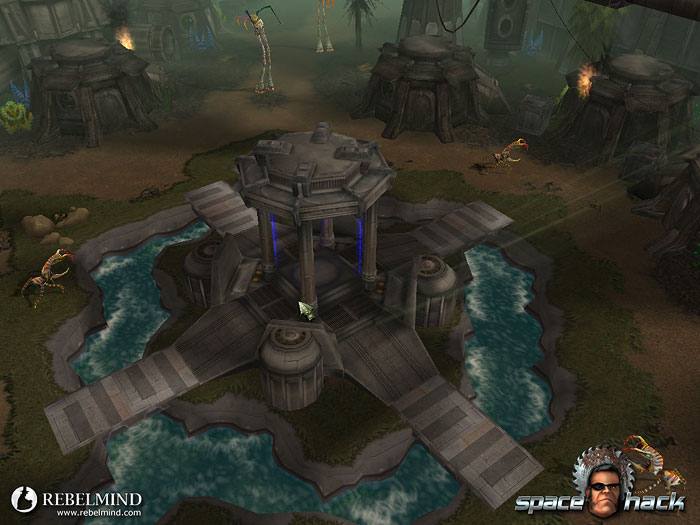 The soundtrack of Space Hack features your traditional science fiction theme that nicely becomes an ambient distraction as the in-game sound effects feature all the screams and shouts of strange otherworldly aliens. Interestingly enough, Space Hack features no real voice acting which is kind of odd for a game that is relatively new in the grand scheme of things.
In conclusion Space Hack is quite a novel game, especially for its price range that features some rather impressive graphics, an entertaining musical score and a rather clichéd but kind of cool storyline. Recommended to old school RPG fans that love the genre which is unfortunately a thing of the past now.