Similar in feel to games that have been molded from ones like Diablo, Dawn of Magic is a nice looking game that has thrown in a number of quirky elements that attempt to set it aside from others in the genre. Does it succeed? Well, yes and no.
Features
Highly detailed terrain, characters and building models
3 different attitudes offer 3 ways of playing the game: you can either be the knight in shining armour, be neutral or live through the story as a sinister villain.
More than 600 NPCs, more than 100 locations
12 different magic schools with 96 learnable spells
Over 1500 items with unique properties, plus runes, skill in wrought iron work and spells
Powerful engine with state-of-the-art shader application
One of the things that I liked about this game is that unlike the others before it, there is a lot more that can be done in terms of customizing your character and the way that it progresses. Often itís a case of picking your character class and that is it, everything else is predetermined in the spells you are going to get etc.
This is where Dawn of Magic is a tad different in that you can choose from a number of schools of magic and develop those powers that will eventually change your stock type character into something a great deal more different than what you started out as. Itís a nice touch and will keep players on the prowl looking to better themselves for quite some time.
Now getting back to the look of the game. As mentioned, itís a nice looking game though certainly not revolutionary in its approach. There are some good textures used in the game and it has the appearance of a thriving world. Once you get into the game and start interacting with npcís is when you start to notice the little faults that make the experience less believable.
A lot of dialogue is repeated throughout and interaction with various species of enemy leaves a bit to be desired as the different beasts although presumably enemies do not seem aggravated by each other.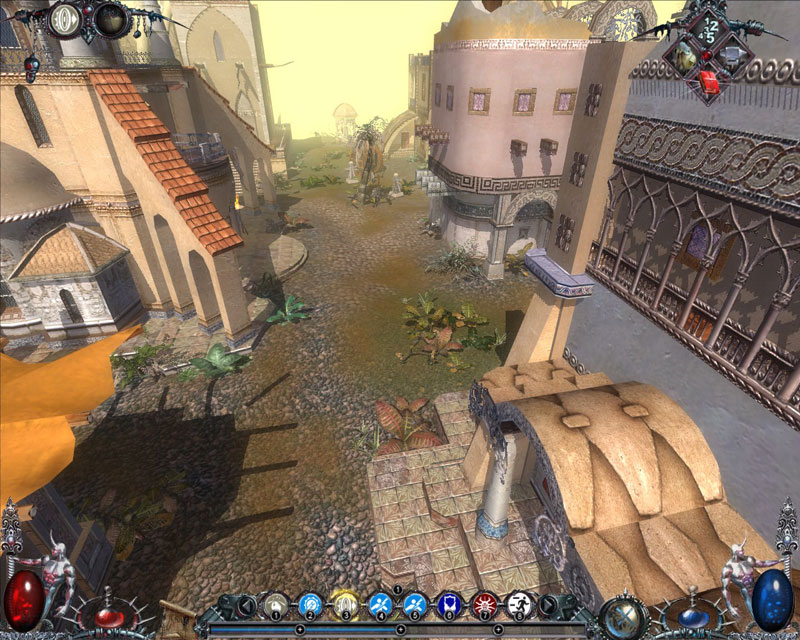 Whilst the game does attempt to break the mold set by Diablo, the amount of activity and fighting that takes place during the game pretty much makes any greater level of gaming quickly degenerate into a mouse clicking frenzy which personally I found fun however was aware that it was not the main purpose of the title.
This game is full of choices that you can make throughout and the paths that you take are interesting enough. There is never the true feeling of immersion however that would have really made Dawn of Magic shine and stand apart from others in the genre.
The game supports a very robust online mode that is well worth checking out for those of you brave enough to strut your stuff against other human players. Give it a shot for yourself and see what you think.
System Requirements

Windows 2000 / XP
Pentium 4 1.6 GHz or Athlon XP+ 1800 CPU (SSE support required)
512 MB RAM
1.5 GB Free Hard Drive Space (extra 0.5 GB for saved games)
64 MB Graphics Card with vertex and pixel shaders 1.1 support (for example, GeForce3 or Radeon 8500)
DirectX 9.0c (included)
4x CD-ROM Drive

Recommended system requirements:
Windows 2000 / XP
Pentium 4 2.0 GHz or Athlon XP+ 2500 CPU
1 GB RAM
1.5 GB Free Hard Drive Space (extra 0.5 GB for saved games)
128 Graphics Card with vertex and pixel shaders 1.1 support (for example, GeForce 6600GT or Radeon X800)
DirectX 9.0c (included)
32x CD-ROM Drive