Knights of Honor
Knights of Honor is the first Empire Conquering Simulation in real-time, and your goal is simple - become the Emperor of all of Europe by fair or foul means.
Knights of Honor is an addictive strategy game that is set during the Middle Ages which features elements of all classic real-time strategy games that includes both micro and macro elements of the realm such as economy, education, religion and dominance over the region through sheer force. The game itself relies on elements such power, intelligence and influence in order to gain new territories and increase your power base through three different eras during the middle ages.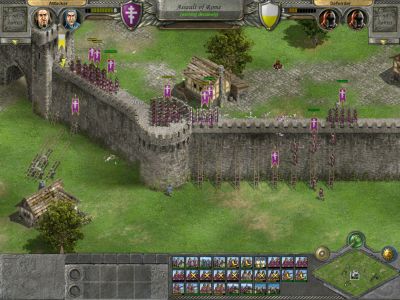 Features
Three main game views provide a platform on which to make global decisions and perform tactical actions for all aspects of: Warfare, Espionage, Religion, Diplomacy & Kingdom Management.

6 different types of Knights; some with special abilities and upgrades allowing them to achieve different objectives within the game: Marshal, Spy, Merchant, Landlord, Builder and Cleric.

Command your loyal Knights to conquer enemy kingdoms, perform devious espionage actions or rule over your own provinces in different ways.

Featuring one of the largest maps ever seen in the world of games with three historical entry periods, each with a totally different political situation and more than 100 playable kingdoms.

3 geographical regions with over 150 provinces and different architectural styles such as Western & Eastern European as well as Arabian.

More than 60 structures & upgrades that can be built to improve the production or defence capabilities of the province.

A unique battle-system with tactical elements and more than 50 different types of military units and siege weaponry at the players disposal.

9 different types of battle including: Town Assault, Camp Assault, Open Battlefield and River Crossing.
There are two main gameplay modes in Knights of Honor that include Europe (campaign) or instant action. These two modes also happen to be quite distinct as instant action allows you to get straight into the action of the title where you must give orders to your units in order to win a variety of different skirmishes and battles that is similar to many action based RTS games. With this option, the camera zooms right into the action of the battle, giving you a feeling of a general on the field which is a novel idea.
Although the main mode of play is Europe that is the campaign mode but before you engage on this, you must first select the era and country that you wish to pursue to victory. As mentioned earlier, this can be achieved through a variety of different ways such as traditional warfare or more subtle aspects such as trading or using spies to overthrow the government.
Interesting enough, your main units in the game are knights which all have different abilities that includes professions such as builders, clerics, landlords, merchants or spies. These units are recruited by marshals who are the most important unit in the game who also happen to be your brain trust. The RPG aspect of marshals also come into play as each battle that they are victories in, their abilities and experiences increases so they can upgrade their statistics.
An entertaining way of dispatching enemy marshals is to send your spies into enemy territories in order for them assassinate. However, be warned because if you fail, you may have doomed not only yourself but your loyal follows.
The combat system of the game allows for two options, either player controlled or computer controlled but with that said, it is much enjoyable being on the field, rather than let the computer do all the work for you. When the gamer controls the units (ala instant action mode), it's very similar to games such as Age of Empires or Warcraft in how the player controls the units.
As with all good RTS games, your town also allows your community to grow and give you all the power needed to expand your power base. These towns must also be protected from enemy spies and of course enemy troops. The micro and macro management of Knights of Honor is much more intense than most RTS games on the market with all the shadow dealings and aspects of your economy that truly gives an interesting twist on the genre.
Graphically, Knights of Honor is rather impressive on the PC that contains high resolution graphics with a great deal of attention to detail. Musically, Knights of Honor features a medieval sounding soundtrack with all the shouts and sounds of ancient battles being simulated on your computer to help immerse you into this entertaining universe.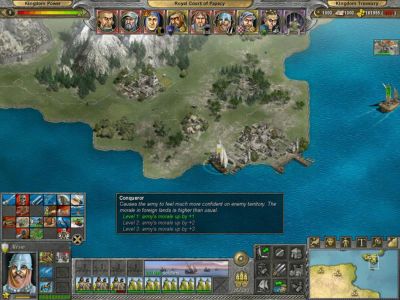 In conclusion, Knights of Honor is a very interesting RTS title that goes beyond the stock standard civilization type games that is guaranteed to give lovers of the genre something extremely entertaining to play. You can master the title on just combat alone but its those other subtleties that make the game fun.
Buy online from www.auran.com for only $29.95AUD