PC Games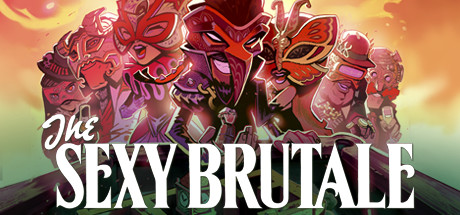 Published on May 10th, 2017 | by Paul Stuart
The Sexy Brutale PC Review
Summary: The Sexy Brutale is a stellar mind bender, one of the best mystery themed, puzzle titles in years.
Poor Lafcadio Boone. An old priest stuck in a creepy mansion turned casino -The Sexy Brutale' -and in a day that keeps repeating itself. The worst part? The staff is hell-bent on killing all casino guests in the most nefarious ways possible, individuals clueless to their demise also trapped inside devilish masks.
In essence, The Sexy Brutale is what the classic board game Clue aspires to be, only so much better. To succeed, Boone must observe (without being seen), eavesdrop, and navigate finite timeframes to prevent murders from happening and save the guests. The grateful and alive guests bestow Boone their former masks, ones packing additional skills to help Boone be a better sleuth.
The time mechanic in Sexy Brutale is genius. So many things happen all at once, all interrelated but also distinct enough to require additional observation. Boone will literally spend days trying to decipher the formula of a specific casino area and guest's death, only to discover the real answer lies somewhere else yet undiscovered. Then he starts the day anew to hopefully uncover the next nugget of information to ultimately aid him in problem solving. The catch? The parts Boone's now ignoring will continue to unfold without him. Thus, there's a lot of timeframe juggling, fast feet, and even quicker mind racking to keep everything organized.
All the little things along the way are done so darn well. Footprints emerge as individuals enter and leave a room. Icons appear where voices are coming from. Distant sounds pop as bad events unfold. Guest masks move about or turn grey (if they die). Boone can also collect individual cards to open up tidbits on casino places. The Sexy Brutale is truly alive.
As a stickler for user interface, I was skeptical to see a title simultaneously released on consoles and Steam. The latter usually requires far too much mouse movement to make anything work, let alone a stealth oriented puzzler. The Sexy Brutale, however, requires literally controller face buttons, a bumper button, and a map to make all the magic happen. And it does so incredibly well. This leaves Boone left figuring out mysteries versus how to engage with them against a ticking game clock.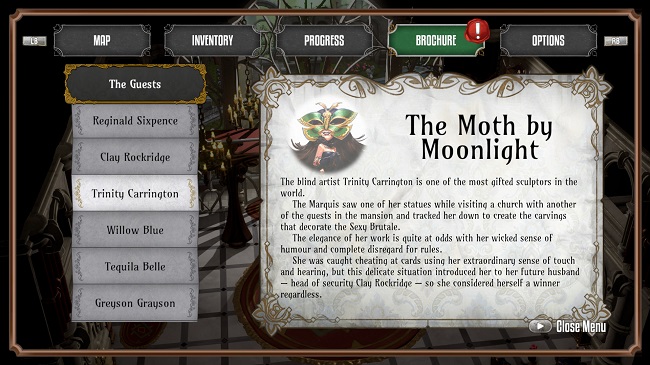 Last but anything but least is The Sexy Brutale's presentation values. The graphics are simply gorgeous, chibi styled character models and environments that are both adorable and magnificent. Half the fun is finding new casino nooks to explore, interacting with room elements. The soundtrack bops along in catchy and character interactive jazzy fashion, the audio-visual combo a wonderful marriage. In sum, The Sexy Brutale looks great, sounds great, and plays great.
I do have some small criticisms, however. The Sexy Brutale's Groundhog Day mechanic is clever but a bit flawed. Solving mysteries can equate to guessing which path to follow versus logical problem solving. This is especially evident when saving a pair of guests at once. Still, I chock this up to so much going on simultaneously; a little bit of forced guesswork can only be expected.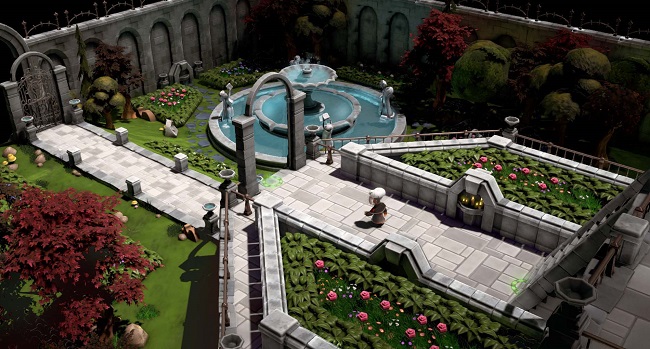 Related, Boone will fail miserably dozens of times before any true lifesaving clue emerges. This can and will frustrate players on occasion…until the glorious payoff induces amnesia of failed attempts. Finally, The Sexy Brutale is not a very long game…but one I would suspect a prime candidate for add-ons down the road.
All in all and while a bold claim, The Sexy Brutale may be the best mystery themed puzzle game in years. It's a blast to play, really makes you think, and is an audio-visual masterpiece.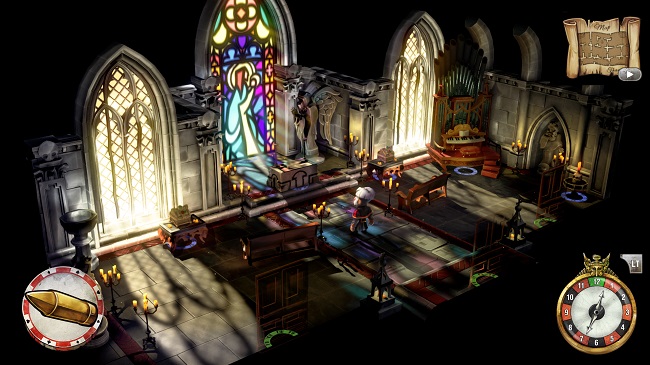 The Sexy Brutale is a stellar mind bender, one of the best mystery themed, puzzle titles in years. Behind a seemingly simple formula lies a challenging and clever game, one wrapped in beautiful graphics and a fantastic soundtrack.
Game Details
Game Title – The Sexy Brutale
Primary Format – Steam (Reviewed), PS4, XBOX One
Game Genre – Puzzle, Mystery
Game Developer –  Cavalier Game Studios
Game Publisher – Tequila Works