Naval War: Arctic Circle
Paradox Interactive's Naval War: Arctic Circle offers strategy fans a hardcore experience, simulating a great deal of factors in real-life naval combat accurately. The story pits NATO vs Russia and its allies, unfolding through cut scenes between missions. It is sort of a near-future tale of two superpowers struggling over resources, and feels quite real. Players can play from either perspective in two separate campaigns, creating additional replay value. This is a plus for hardcore strategy buffs, as you are able to enjoy the strategic elements of the battles from either side with different tools at your command in each.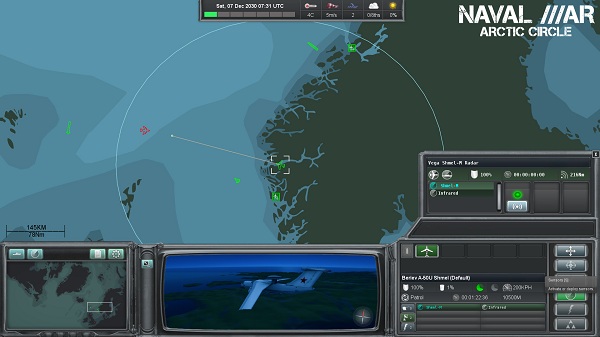 Paradox has taken great measures to ensure a realistic game world here, with everything from weather effects to real and experimental units of the surface, subsurface, and aerial types. The game world is a realistic map of the entire North Atlantic Ocean, a total of 35 million square kilometers. Modern long-range precision weaponry is included, making for naval battles that were never possible before the present day. With all of this detail and accuracy, you can probably guess that this game isn't user-friendly, arcade action. You'd be right.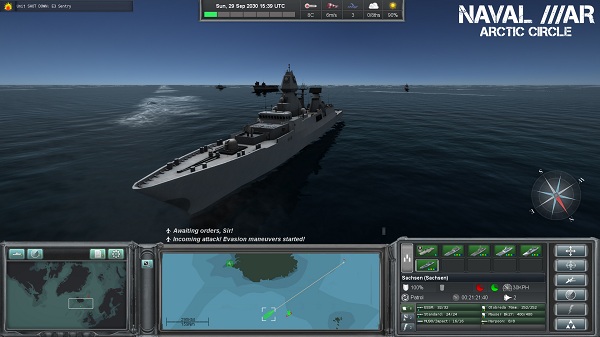 When you see Arctic Circle described as an RTS, the comparison in your mind shouldn't be to games like Starcraft for Age of Empires. Arctic Circle is a hardcore simulation at heart, providing players with a way to simulate commanding a fleet of naval war machines. This experience is even better if you've got friends with a similar interest - multiplayer is provided in both LAN and internet forms. Like many hardcore strategy games of this type, Arctic Circle features a time bar which can be used to speed up the game, as everything is run at real-time speed by default. Clearly, you don't want to order a ship to move across the ocean and then sit and wait for it to happen in real time.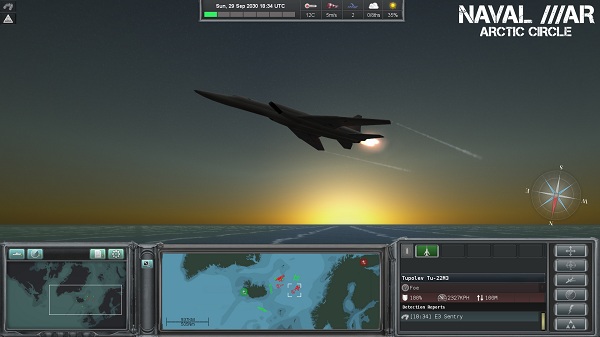 Graphically, Naval War: Arctic Circle is very attractive. Expect simple (yet elegant) top-down maps of the oceanic battlefield as well as nifty 3D representations of the units commanded (which can be turned off if your system's specs aren't quite up to par). The sound is quite sufficient, if not particularly amazing. Controls are what you would expect from simulation games of this type - lots of stuff to do, and most of it will be done by clicking through endless menus with your mouse. Complicated stuff at first, but you'll quickly get used to it. Players who are not accustomed to these types of games may find it difficult to get started, though.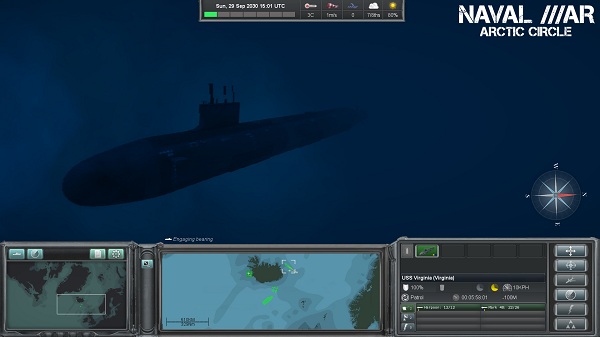 Overall, Naval War: Arctic Circle offers a great simulation experience for military buffs and fans of the genre. Be warned: it's not everyone's cup of tea. But if it is, you may just find Arctic Circle a must-have for your collection. With the low price point, you cannot miss.
- Josh Waters