Game Tycoon 1.5
So ok, someone lost a bet right? Maybe something got lost in the translation I'm not sure. But Game Tycoon 1.5 seems to want so desperately to give gamers a peek at what it's like to be in the gaming industry. Only in a real pithy fun kind of way. One can look and speculate at the intentions till the next OS of Windows comes home. Unfortunately Game Tycoon 1.5 ends up being worse than a train wreck involving a train car full of cadavers and various other aborted illegal experiments of some mad scientist. My point being the game fails to even amuse at the lowest level.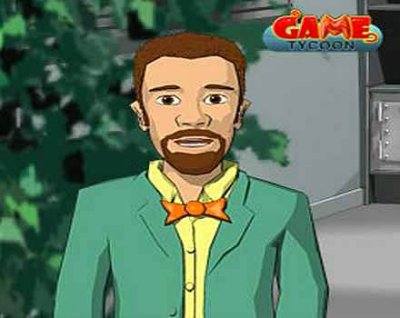 It seems to be based on a fun premise that could lead into some possible adventure.maybe. But going from one building to another and making a purchase of a gaming license here and a game engine there and hiring on designers from a close by collage just don't add up to much on the fun factor list.

This game is supposedly about the game industry, and what it takes to come up with a successful product. It centers around three characters that discover the computer and the huge potential to hit it big in the gaming industry. Soon a maze of investors, banks, magazines, and retailers as well as distributors and manufacturers as well as the press are all looking to them for the next big thing in gaming to come along.

You have to go through several steps in the process of game making, and you hire on different people to assist in achieving the goal. However, who you hire determines how high of quality the work is, and their workplaces can vary. So, you could pop out a lot of games, but not have them do very well because your employees had very low quality ratings.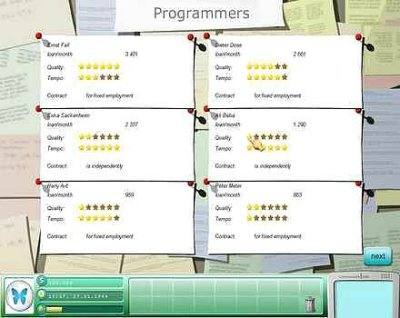 The graphics are simple and remind me a lot of leisure suite Larry style of graphics. Simple side scrolling and walking the characters from one gaming area to the next and that's about it. The environments pretty much follow the same style. Nothing special here but it gets the job done.

Sound tends to be a problem at times as there is no way to control or tweak the volume of voice over or environmental. Some sounds all but drown out the voice overs in the tutorial. This all but makes the tutorial pretty much useless at certain points. It's a game of making sure certain steps are followed to get a game into production or even designed for the matter of that, so there are times that you may just end up totally lost making it even less fun than it already is. Most of the sounds are just out right obnoxious. I actually think this game was a clever ploy from some one who is really against gaming, if you play this game as your first experience you may walk away wondering what the big deal is and maybe never pick up another game again.
I digress a little bit. I have to remind myself not to be so harsh and do a review on what the game represents, in over all time a gamer will spend with it. In this case not long at all.

Have Fun Play Games
Kick Back Play Games

Edwin Millheim
Shael Millheim