The Walking Dead
(PC STEAM Download - Also available on XBox 360, PS3 & Mac)
Bringing a bit of horror, a heap full of character and story, TellTale Games The Walking Dead hits across several platforms. As we starting looking this over, Andrew Bistak our fearless leader Editor in Chief made an interesting and amusing point just before Donna and I took on this review. The Walking Dead has been refused classification in Australia via Xbox Live; however it's available by STEAM. Looking into this further, it was not that they had been REFUSED classification….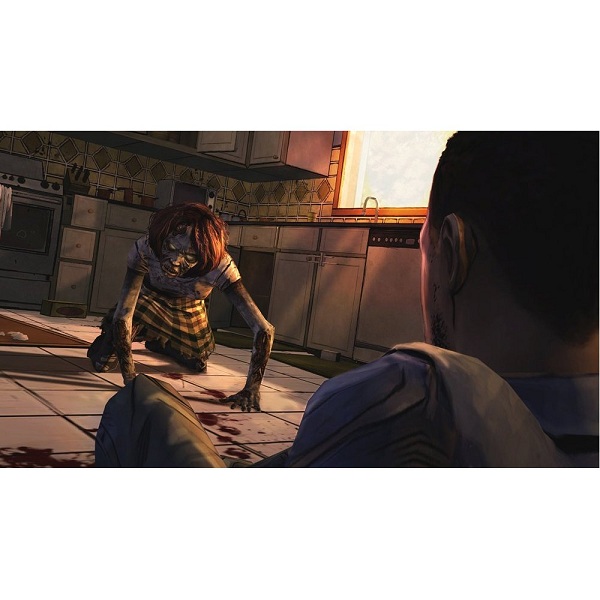 On the official forums someone asked about the game being released in Australia, someone identified on the boards as a TellTale Employee replied to this. "Sorry, but due to the OFLC ratings laws in Australia and New Zealand, and the fact that this is a mature game, we do not currently have plans to release the game there on consoles." You can see that here:
http://www.telltalegames.com/forums/showthread.php?p=602568#post602568
You can get it on STEAM though. (Go figure). Other places reported the same comments, but we will be bringing you more on this.

As we dug deeper another person posting identified themselves as the Producer (Unconfirmed as to if this was really him.) for the game had a full explanation regarding the game on consoles and Australia and New Zealand. Though the information stated at this time has not been fully confirmed from Telltale.
There is a lot more to it and that story will be updated as soon as Telltale gets back to us with something more official.

Now let's shamble on into the meat of the review of this truly surprisingly interesting game shall we?

This review was done using the PC STEAM version of the game, this review like the game itself will be reviewed in chapters; each chapter of the episodic game will get its own review. Two United States Impulse Gamers took it for a test drive, one Season pass was purchased, and the other was sent over by TellTale Games.

When it first came across my desk that TellTale games was taking on Robert Kirkman's The Walking Dead…I have to admit my first thoughts where gloom and doom. While I liked and enjoyed the Back to the Future Episodic game I was not overly thrilled with the Jurassic Park jaunt. It had its moments, but somehow it just did not endear me to the point of really enjoying it.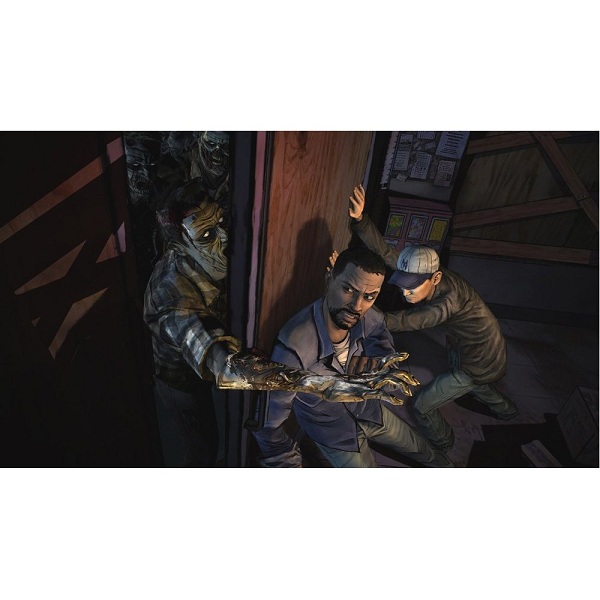 TellTale game somehow have made flying rainbow monkeys fly from their nether regions here. (That's an odd way of saying…Wow; they have really pulled this first episode off.)

If you have purchased the season pass you will be getting all of the episodes of The Walking Dead game. If using places like STEAM as the new episodes are available over the coming months updates will automatically be downloaded and applied via the Steam client, which will allow new episodes to appear in the in-game menu.
The Walking Dead is a five-part game series set in the same universe as Robert Kirkman's comic book series and not connected to the TV show. Folks that enjoy the show and or the comics will see a couple of familiar characters and even have some interactions. In this interactive Story experience, gamers play as Lee Everett. Lee is a convicted criminal who is given a backhanded second chance at life in a world dominated by The Walking Dead. The episode, which this review is on, is of course episode 1. The episodes are as follows:

Episode 1 – A New Day
Episode 2 – Starved for Help
Episode 3 – Long Road Ahead
Episode 4 – Around Every Corner
Episode 5 – No Time Left

While it's not anything that is going to break gaming records, the game kept me engaged in the quaintly cliché story. That is the first part of a decent experience, keeping the consumer engaged, entertained, invested in the characters and the story. The Walking Dead has always been about people, not the gory death or the hideous zombie. At its core the Comic, The Show, and this Interactive Story Game of The Walking Dead has always primarily been a focus on the human condition. This is what can be lightning in a bottle for this game title.
It's those things that make us all human, no matter what walks of life we come from. We all search for purpose and gratification, we have that sense of curiosity, and we have to face the inevitability of isolation and the ever present fear of death. It is here TellTale games makes a huge stride and brings this successful formula into the story. With the world gone crazy with a Zombie apocalypse there are so many choices to make at nerve racking times. It can be hard to tell exactly who is more of a monster. The Zombies or the Humans.

Donna Millheim, the United States Photographer and videographer for Impulse Gamer, also tested the game out using an AlienWare Lap Top computer, while I used a desk top computer to test it out. The game kept Donna's interest as well; in fact so much so that she played this first episode through before I did and she is waiting for more.

This is far removed from any Zombie type games you may have played before. There's no running and gunning here. Never fear, there are plenty of nail bighting incidents that will have you squirming in your seat as you play. I call this more of an interactive game because you will be deciding on a lot of choices, and dialogue.
The point and click aspects are here, just like other Telltale Games, along with timed events. As you play through each environment, there are interaction points. These points of the game either move the story along or are key points to surviving in deadly situations. Dialogue choices come up and there is a bar graph that grows smaller within a few seconds, so there is often a rushed feel to things to move things along, even when the situation does not seem to call for fast thinking, so in this way the game design makes the choice to keep things moving and not bog down too much in dialogue choices.

As noted, interaction and dialogue play a big part of the adventure. There can be far reaching repercussions on how you react or what you say to other characters. The other characters remember responses and will react to your character in different ways depending on how you handle a situation or what you choose to say. Telltale games says this will carry over into the other chapters as they release as well.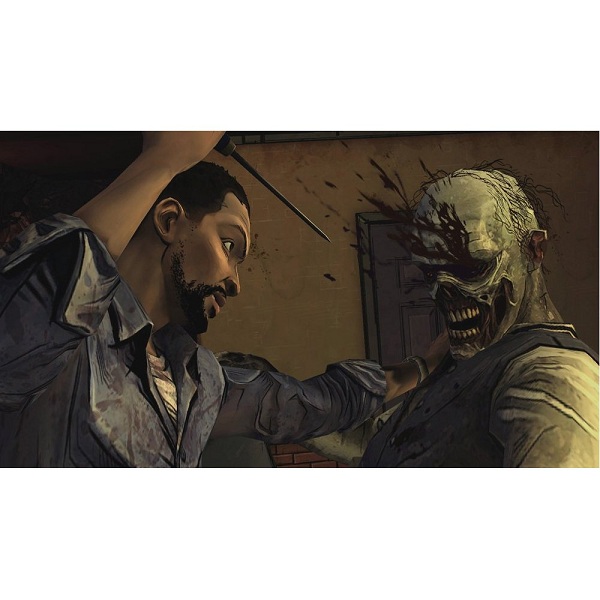 It can be a bit odd in the dialogue at times. After explaining that the girl that was with me is not my daughter, the scene played on and characters referred to her as my daughter still. This is not jarring enough to kill the story. It's Just an oddity.

At the main menu when killed or starting up the game episode, there is a choice to rewind back to a checkpoint. This way the player can move along from that point and maybe make different choices along the way to see how things play out for them.

There are times when the player has to make a choice, and that choice will decide on who lives and who may die in the group.

The art graphic style is on the gritty side, stark comic book style art with heavy line drawings of characters and environments and a few muddy textures throughout lends itself well to the source material. Giving the adventure a look all its own.

While it does have a comic books feel, it does not lose any of the bloody violent moments that take place in this sort of story line. Thankfully the story and game does not go out of the way to show gore just for the sake of going there. It's logically part of the story and the action is part of the narrative.

The controls are simple as simple can get, point and click with once in a while having to hit a certain keyboard key. But outside of the interactive story you're on, there won't be much deeper game play here. No exploring areas, no more freedom than what is at hand in each scene of the adventure.

As long as you know you're going into an interactive story experience, you won't be let down. Because it is that well done.

The Walking Dead on the other hand does not try to be anything else than what it is. In this it does very well. Telltell games has come out of the gate strong with this title, can they keep it up with the other episodes that will make this complete adventure in the end? If they can, Telltale Games may have found lightning in a bottle here, in its simplest form.

Have fun play games
Edwin Millheim