If the name seems familiar, it should. This game is based on the famous murder mystery by Agatha Christie and follows the storyline along that railway. You play the role in this story of Antoinette Marceau who is not a character in the book, but one made for the game. It works pretty well and the integration is reasonably seamless. I think that fans of the game will forgive the addition of the extra character in order to help the story along.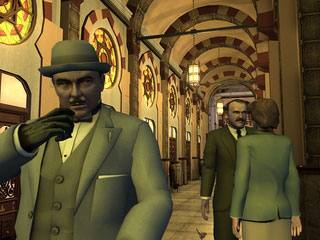 You need to work out how the all the little clues and other bits and pieces as they are fed to you by characters or bits of the game that you observe. Poirot is out for the count on this one so itís up to you oh sleuth of the computer world.
The game is fairly slow paced however and if you are wanting something a bit faster than I think at times that you might be frustrated. The title is heavily story driven and you will need to wade through a lot of it in order to get the clues that you need to progress. It is slow and cumbersome at times when you add to that the fact you must explore everywhere almost painfully and gather items that might lead to you working out the mystery of who dunnit.
There are a small number of cars to comb your way through, about 5 in all and rather than having to wade your way through them all if you thought you forgot something up the other end of the train you can use the menu to zap your way from one end to the other. This is a neat feature that does speed up the whole process.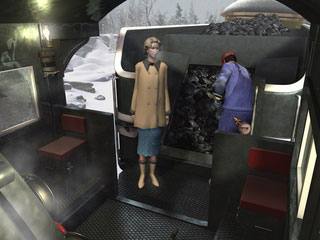 During the game you will have to make sure that you check in with Poirot and heíll get you going on little tasks that will help you get through it all. The details in the game look quite nice although some of the characters are a little bit jerky and movies are pixelated at times. Itís the train itself that is the star of the show in the looks department.
This is a game that whilst well put together will test your patience at times with how slow it is. If you are a fan then you will be stoked as it is very faithful to the story and the introduction of Antoinette is very well integrated. Iíd say that you might want to rent this one first.