PC Games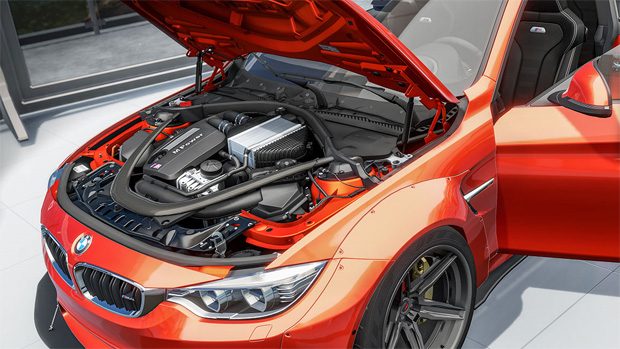 Published on October 1st, 2016 | by James Wright
Forza Horizon 3 Review
Summary: Forza Horizon 3 is perfect in every sense! It's the racer that keeps on giving on so many levels!
The world's biggest virtual car festival returns on Xbox One and Windows 10 with Forza Horizon 3 that takes place on the diverse and beautiful lands of Australia as you can drive over 350 of the world's greatest cars in some truly spectacular ways with stunning graphical advancements and an amazing soundtrack with its in-built radio stations that almost makes it like you are inside these vehicles.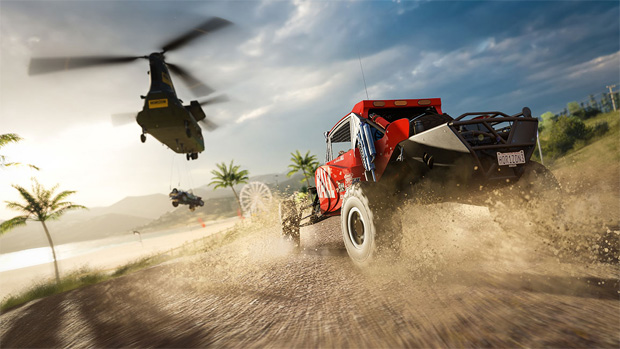 It's also the largest open-world of the Forza series that adds new gameplay options, tweaked racing mechanics and the ability to personalise your very own driving experience which makes this a true festival of cars. The game even allows you to be the 'boss' of the Horizon Festival in order to help with events and bring in the fans but thankfully it's not a management sim because Forza is all about the driving.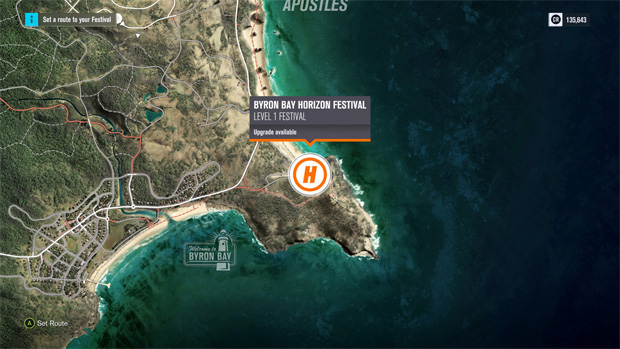 Now when it comes to gameplay, developers Playground Games should be commended on how these cars controls because every vehicle handles slightly differently and you can actually feel the difference between on-road and off-road vehicles. Add in real-world physics, especially with the challenges plus the races and at times, driving in Forza Horizon can be a challenge but thankfully that's in a good way.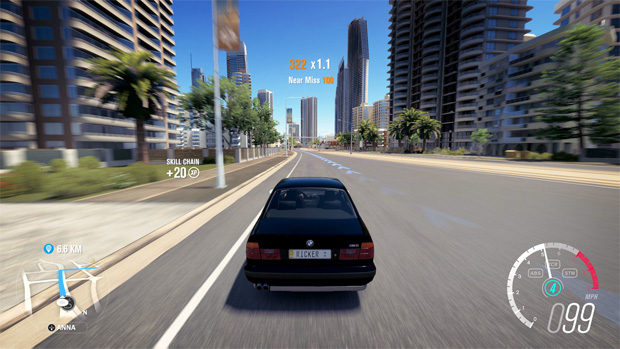 So while I was driving through the streets of Byron Bay or racing down the Great Ocean Road or going off the beaten track in Coober Pedy, the diversity of the areas that can you visit truly reflect Australia and really freshen up this fun driving game that feels like you're actually there. Furthermore, there's quite a few gameplay modes like classics such as point to point and speed traps and a really fun drift zone plus some spectacular Hollywood (or even Mad Max) style of jumps.
We're talking arcade racing here with a touch of simulator thrown into the mix. Given that, the game is a mix between racing RPG as you do get credits to upgrade but you're also awarded experience points to assist you as a driver with some very cool bonuses to be found along the way. The single-player mode of Forza works well and the AI is very realistic without them being overtly challenging.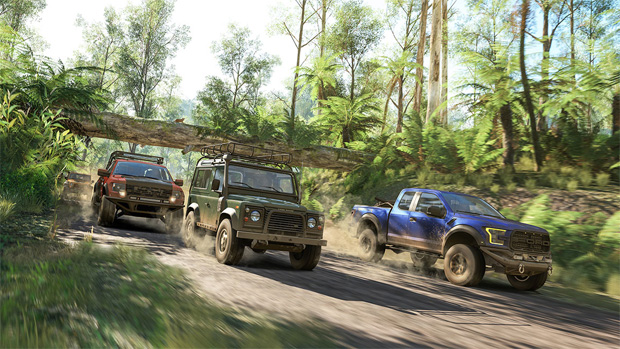 There's even a Halo Warthog available to the player which was so much fun racing it around the Australian outback and through the streets of the Gold Coast. Given that and being Australian, the creators really capture the look and feel of Australia, however knowing where everything is located did make me chuckle a little in terms of how close things were in the game but then again it would be quite boring driving from one end of Australia to the other in real-time.
With well-over 350 vehicles included in Forza Horizon 3, there's definitely a vehicle for everyone and if you're a supercar fan, you'll be pleased to know there are over 30 Ferrari's available that include the 1948 166MM Barchetta to the 2016 Ferrari FXX K. There's also 15 Lamborghini's available, including two models from 2016 that include the Aventador LP750-4 SV and Centenario LP 770-4.
However Forza is not just about supercars and its diverse line-up include classics like the 1973 Holden HQ Monaro GTS 350 to even a Hummer or to something more modest, the 2011 Subaru WRX STI . Add in the ability to customise your car from appearance to performance, including purchasing new cars thanks to the in-game credits you earn and this game is going to keep car lovers busy for some time.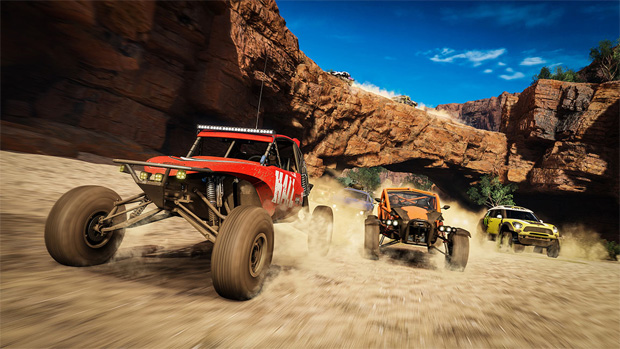 Apart from the various single-player events, the game boasts fun multiplayer aspects that allows for up to 12-players to drive around in free roam or events plus the ability to play with up to four friends in a co-op mode which is really fun. Meeting up with others on the game was an easy experience, including matchmaking and you can even create clubs plus you have access to leaderboards for those competitive players.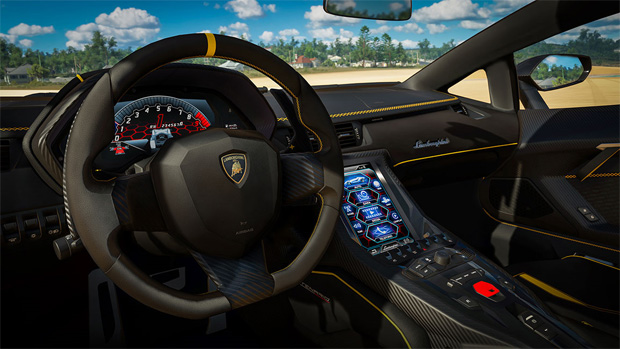 Another cool aspect is that the game is XBox Play Anywhere compatible which allows you to play the game on both Xbox One and a Windows 10 PC's which increases the scope of the title, especially as only one purchase is needed. In terms of areas to explore, the game throws in around 100 tracks and over 200 events which is insane. For me however, I stuck with the Season Plan which does allow you to explore all the element of Forza before experimenting with other options in this truly outstanding racing game on the Xbox One.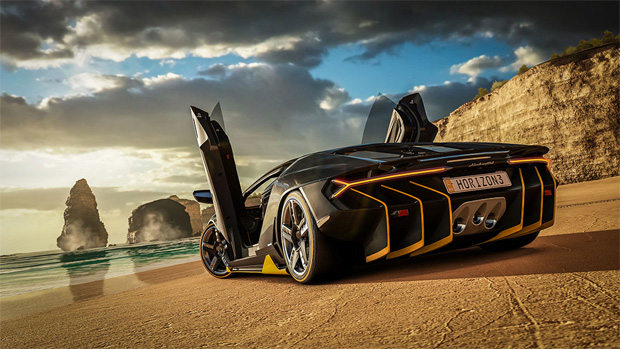 Graphics & Audio
Graphically, Forza Horizon 3 is probably one of the most detailed and colourful racing games to date and they've successfully recreated the familiarity of certain areas such as the 12 Apostles from the Great Ocean Road in Victoria to the skyscrapers of Surfer's Paradise in Queensland. It not only looks like you are there but also feels like you are there, especially when matched with the realistic lighting and weather effects. To assist with the overall realism of the game, besides all the debris and dirt that may flick up is the speed of the car themselves which actually feel like you're in a car, especially going at high speeds. Another great feature is that you can share your photos and movies with others and there are some truly glorious images out there.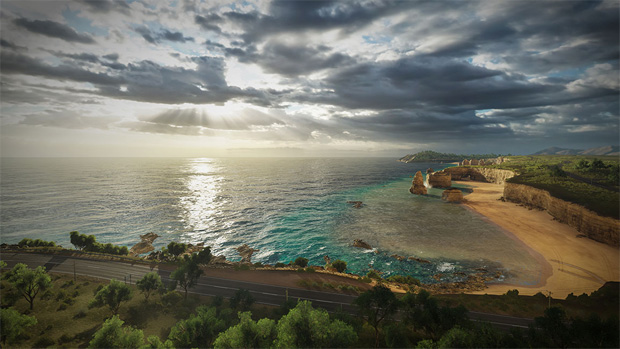 However the world of Forza Horizon 3 is not just static and is quite dynamic with all things happening in the background such as kangaroos, people, other drivers or just the dirt being flicked up by the car you're driving, it just feels right. Then you have the cars themselves and wow, do they look like their real-world counterparts! The modelling of the cars is perfect, especially the virtual shiny metal that encases them. Needless to say if you have a 4K TV, you'll be experience some truly stunning graphics, particularly the sky, sun and foliage. Add in all the sights and sounds of racing plus a pumping soundtrack, including the ability to create your own and you have everything you need for not only a gorgeous looking game but one that sounds perfect as well!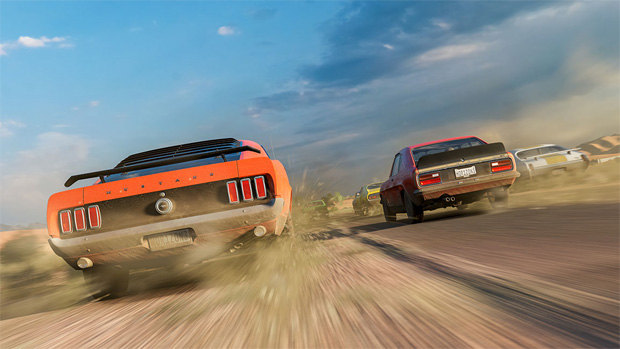 Final Thoughts?
Forza Horizon 3 is not just a racing game but it's an experience and Playground Games have for now delivered the perfect car game for Xbox One and Windows 10 PC's. It's graphically amazing, boasts perfect in-game mechanics and overall, the single-player and multiplayer components work on all levels! Yes, it's pretty much perfect with a great open-world illusion set in beautiful Australia and the only thing is missing, is that smell of rubber!
Highly Recommended!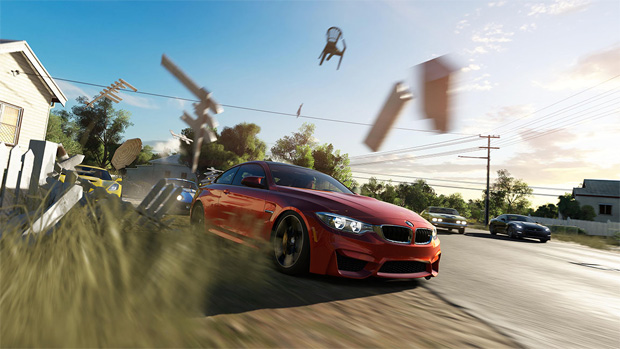 Key Features
Explore the Horizon Festival's Largest Open World in an incredible selection of over 350 of the world's greatest cars all in stunning ForzaVista™ detail.
Be the Boss of Your Horizon Festival. With the new Horizon Blueprint feature, you have the power to create and instantly share your custom gameplay. You can even hire friends to star in your festival and win you more fans. If they're not winning you fans, fire them!
Discover Thrilling New Driving Gameplay like Danger Sign Jumps, Convoys, Drift Zones, and Showcase events that pit you and against a fleet of speedboats, a giant zeppelin, and more.
Personalize Everything. Select your own driver character, customize your cars, create vanity license plates – even choose your own horn sound. Drive to the music you love choosing from eight diverse radio stations, or create a custom station using your own music collection.
Start an Online Co-op Driving Adventure. In addition to 12-player online free roam and multiplayer racing, all-new 4-player online co-op allows you and your friends to enjoy the variety, competition, and rewards of a Horizon campaign together for the first time.
Game Details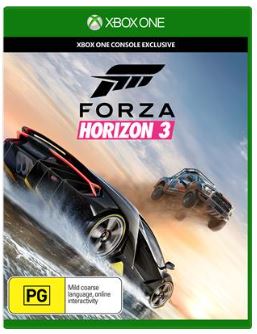 Primary Format – Games – Xbox One
Game Genre – Racing
Rating – PG
Game Developer – Playground Games
Game Publisher – Microsoft Studios