This family friend game revolves around Lex, a Bookworm who has the ability to create words (thanks to the player) in order to battle monsters and solve puzzles. Lex's main goal is to save the beautiful oracle Cassandra in this almost "Scrabblesq" game set in wondrous and rich fantasy universe.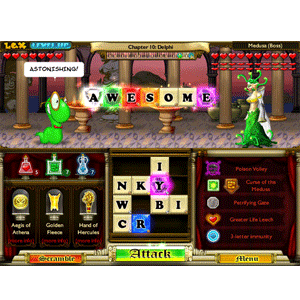 Although the title has no age restrictions, it also makes a great compendium for adults who wish to increase their children's vocabulary and for adults, it's a great brain game.

Key Features

* Three storybooks teeming with over 150 uniquely animated enemies!
* Increase your word power with fantastic gems, potions and treasures!
* Three ecstatic mini-games: Word Master, Letter Rip and Link Ní Spell!
* Special timed Arena mode for super speedy spellers!
* Stupendous chromed-out graphics and astonishing special effects!
* Stunning sound fx and music!
* Spell, excel and make your mark in the glittering Hall of Fame!

The installation of Bookworm Adventures was quite simple and it simply auto-installed once the CD was detected by computer. The program works on a variety of operating systems that include Windows 98, ME, 2000, XP and Vista.
Best of all, the specifications of the title are quite small as it only requires a Pentium II 700Mhz or greater which means this can run on a variety of computers, both modern and older.

Once installed, we were greeted to a user-friendly interface that offers a few different gaming modes plus some great mini-games to start your word creation. The gameplay of Bookworm Adventures features a variety of different gameplay modes where you battle other enemies in an attempt to create words or just play solo.
The easiest way to think of it is to lay all your scrabble letters in a grid in order to create words, however there are some rules that effect gameplay. Needless to say, it does make you think and is quite addictive.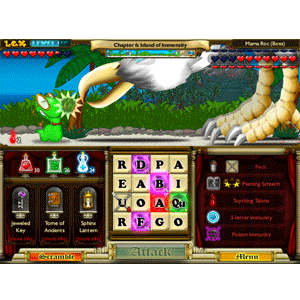 Graphically, the title has a true Saturday morning animation feel to it with colourful characters and even some great special effects that go hand-in-hand with the gameplay. The sound effects also match the title that at the end of the day suits the genre perfectly. The soundtrack is brilliant!

In conclusion, Bookworm Adventures is a great title for those gamers who wish to challenge their vocabulary or for those looking for a great "brain trainer" and even parents who wish to assist in their children's learning. The game definitely makes you think and with over 150 different challenges to defeat, this game will keep you entertained for quite some time.