Luna online provides an alternative version of the MMORPG and with it comes anime-like, cutesy style characters, families and an emphasis on character development and social interaction. So how does it fare and does it provide a viable alternative to people looking to spend their MMORPG time.
Luna online is an MMORPG created by Korean developers EYA Interactive. I believe it currently is in the open-beta state. First things first, installation. It must be said that I had a lot of problems getting this to run. It interfered with McAfee Antivirus and GameGuard would detect many of my applications and thereby, refuse to run. After sorting out these problems (by disabling McAfee and stopping the detected programs), I was in business. I still cannot get it going full-screen at 1680x1050 though.

Luna offers 2 races to choose from (Human and Elves) and three different classes (Fighter, Mage, Rogue). From here, you can customise your look with the classic oversized heads and eyes and spikey hair. The range is not substantial and in the first day or so, you will no doubt bump into someone who looks just like you, which is annoying. You are then thrown into the world. Luna offers a tutorial, which popups up now and again, to ease you into its world. The world is a bright, colourful fantasy world with the usual MMO and RPG bells and whistles. I won't go too much into that, but emphasise the interesting aspects of Luna Online.

Leveling allows you to add to your statistics and as you gain experience, you can learn new skills. As you progress and reach certain levels, you are able to select Jobs. For example, early on as a Fighter, you can choose to go down the Warrior or Guard path. (Either as a heavy 2H damage dealer or a 1H/shield type character). These jobs also affect what active and passive skills you can learn. Subsequent jobs do not need a prerequisite job and this means you can have a hybrid character, if you so wish. You also have item customisations through Enchanting and Reinforcing as well as the creation of the weapons and armor through Construction.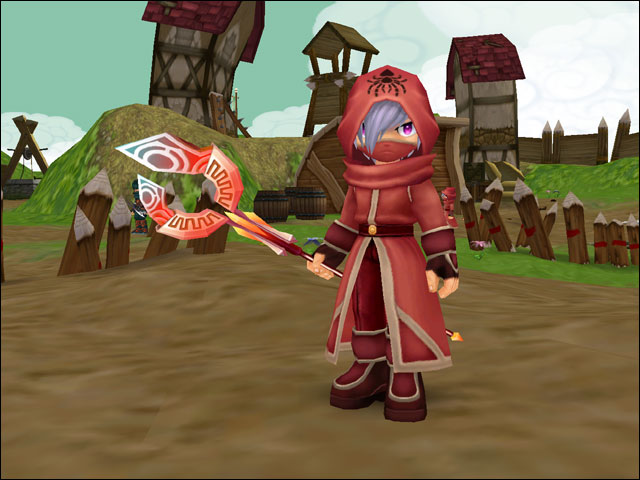 On a slightly more bizarre level, Luna also provides dating - yes, dating. At the start of your early adventures, you'll fill out a form for your likes and dislikes, and apparently, Luna provides Dating Dungeons, which are only available for you and a compatible dating partner. As a party leader, you can teleport your date into the instance where valuable treasures can drop. You and your lover can only do it 3 times a day (the instance).

The interface is cute and small, but I always had the opinion that things were a bit cramped and it wasn't as user friendly as it could be. The graphics themselves were functional, being bright and cheery, the music a up-beat sugary song but for people who are used to the more realistic MMORPGs, they could get tired of the sickly sweetness of it all. Even the mobs have little speech bubbles (complaining about their life or commenting on some mundane aspect of their existence). The camera is the familiar over the shoulder, third person, viewpoint. The camera is adjustable and users point-and-click to move with only minimal path-finding troubles. Another niggle is that going from one map to another invokes a few seconds loading screen, breaking the flow.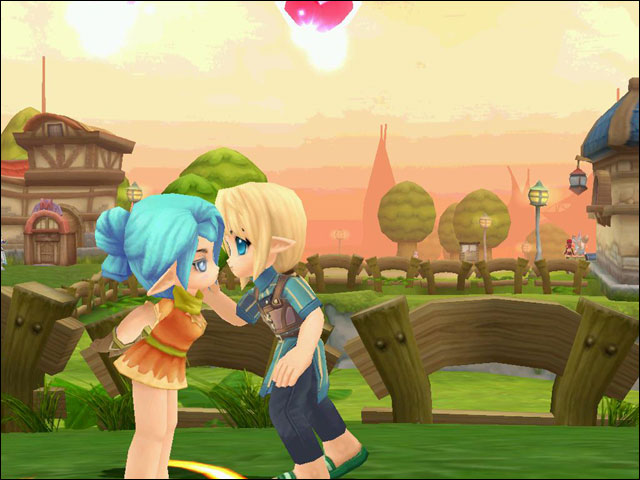 There are other diversions too, like creating a family. A family has ranks like "father" and "mother" and are able to do family things together (like construct a vehicle and help each other in battle). As family members go into battle, they have stronger effects on each other due to their relationship (similar to the date,as previously described). A family can also own a home, known as a farm, where they can store items (like in a common bank) or grow plants (which can be used, when mature).

All in all, Luna online provides a good diversion from WOWing. It still is in open-beta, but it still is one fun game. If you are into a bit more of a community-style MMO to fit in with your grinding and don't mind the cutesy environs, give it a try.