Chaos League, although not the latest offering from gaming giant Auran, is sure to be a classic which combines a variety of different genres into one exciting game which features elements of real-time strategy, role-playing and sports. With that said, Chaos League is not your stock standard sports game because in this game, the rules have been thrown out and almost anything goes. Set in an ancient fantasy world of sword & sorcery, the title contains dozens and dozens of different units and spells. With all these aspects, Chaos League could be considered a cross between Warcraft meets Fifa Soccer.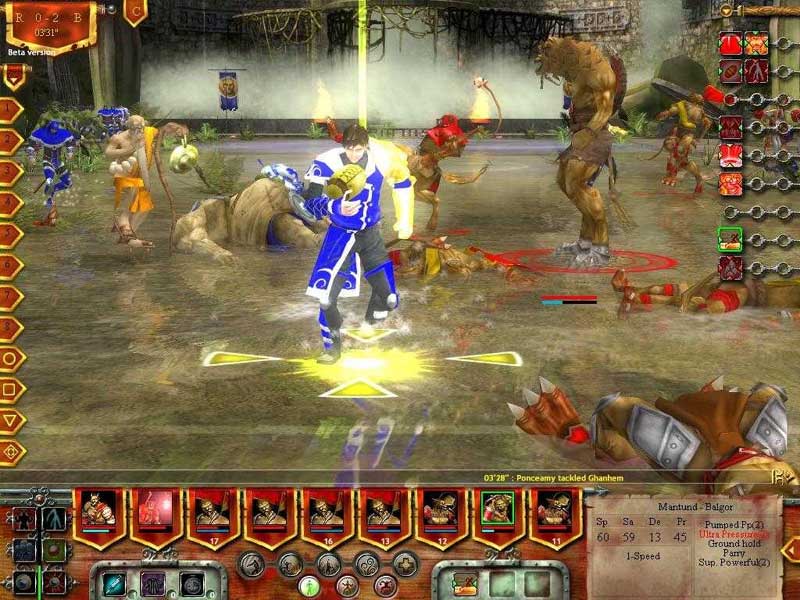 Features:
10 races covering 70 different types of players, including monsters and star players. Each race has its own style of play and its own strategy for moving up the championship ladder. Each match takes place on different pitches with their own special atmosphere.

170 spells and skills to improve your players or to unsettle the opposing team during a match.

A slightly unusual atmosphere with doping, corruption, pre-match hooliganism, trap-setting and working the spectators during a match.

A solo mode with tutorials and a Quick Match mode with 80 teams.

A career mode which implies, over and above playing matches, the creation and management of a team during a championship or a cup. Beyond the classic game-play of trading players, hiring star players, pop-pom girls or a physio, the successful management of a team hinges on the individual progress of a player through the aggregation of his various experience.

A multi-player mode via LAN or Internet. Possibility for one-off matches, knock-out competitions or League Tables.

A replay mode that allows you to go over your matches whenever you want to analyse the relative strengths and weaknesses of your opponents.

Some skills and magic require a certain amount of experience by the on-screen creature before they are fully effective. This means that their success rate depends on how competent "it" is.

Skills work in passive mode. That is to say they are used automatically. They can bring certain advantages in such areas as combat & player physique.

Magic must be applied actively during a game. Requiring more micro-management than for "skills", it sometimes procures a decisive advantage.

Each spell has a precise use, power and time-limit. Some magic is defensive, designed to protect your players. Other spells are designed for attack and can be used to destroy opponents.
The gameplay of Chaos League focuses around an elite team of 9 that is a futuristic version of soccer where your team must fight their way through a plethora of obstacles in order to retrieve the ball. Although in hind sight, this sounds easier than said as your players face just about every imaginable aspect of brutality ever faced. As your team progresses through the Chaos League, their challenges become more difficult but their focus is for the ultimate trophy that will lead them to not only victory but also fortune and glory.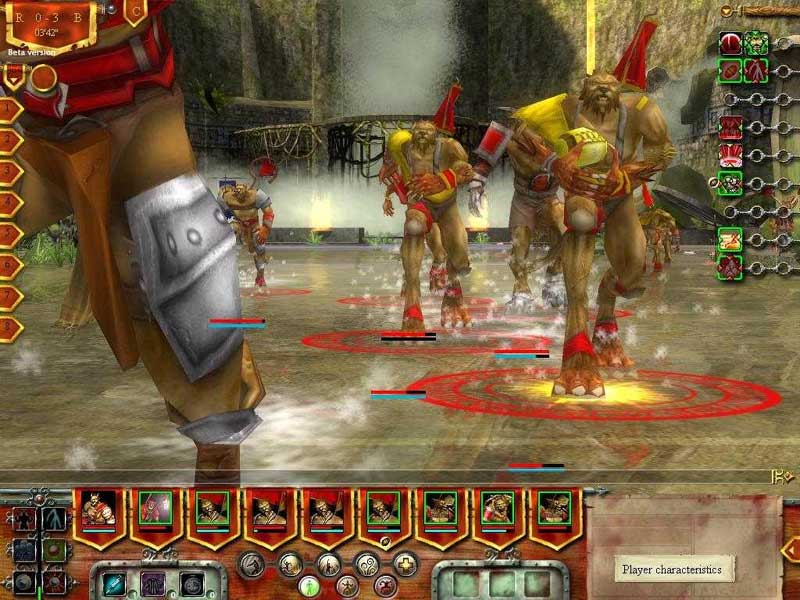 The interface of Chaos league is rather straight forward with the main screen being divided into four screens with the main screen displaying the main gaming environment (the battlefield), the bottom pane displaying your team members and the right pane for various spells, weapons and statistics.
Gruesome battles with swords and sorcery make the battles one of the most entertaining aspects of the game and with a limited number of players on your team, they are quite easy to manage without worrying about 50 to 100 different units. This really helps with the sport aspect of the title. Needless to say the spells are quite impressive in the title and virtually contain just about everything from all your good Dungeons and Dragons spell books.
What really makes this sport game different than sport games of today is the real-time strategy aspect that forces the gamer to use a variety of different tactics and strategies in order to create the right moves to beat their fierce opponents. Add in some great RPG statistics and you have one interesting game that will not only give players hours upon hours of fun but some great replay value with different gaming modes. Career modes to multiplayer options, Chaos League is definitely worth a game to check out.
Graphically, Chaos League has dated rather well compared to the games of today and really immerses the player into this interesting universe with professionally designed characters, realistic texture details and detailed gaming environments. Match that with the sounds and music from the world of Chaos League and everything meshes together perfectly.
In conclusion, Chaos League is an addictive game that comes at an affordable price which features state of the art graphics, addictive and easy to master gameplay and great realistic and brutal sounding sound effects that will call to the inner animal within us all. Chaos League is worth every cent and then some! What you waiting for? Go get some brutality!