PC Games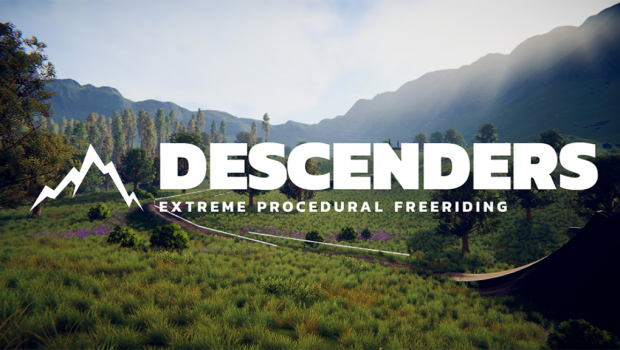 Published on February 16th, 2018 | by Hugh Mitchell
Descenders (Early Access) PC Review
Summary: Descenders is an exhilirating downhill mountain biking game with responsive controls, interesting progression mechanics and a fantastic sense of speed.
Do you remember the stupefying boom of extreme sports games in the early 00's, spurred on by the Tony Hawks Pro Skater sensation? It seemed like almost every action sport from wakeboarding to Razor Scooters was given it's own score-based, professionally-endorsed, B-grade game in the hopes of cashing in on the X-games craze. Yet as with most video game crazes, the market quickly became saturated and consumers lost interest in extreme sports games, salting the earth for future surfing, inline skating and BMX games. I wasn't expecting to ever be interested in a score-based bike game again, but then I played Descenders.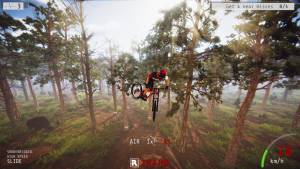 Descenders is a modernised, downhill mountain-biking game with procedurally generated tracks and an emphasis on tricks, speed and asynchronous social features. Developed by Ragesquid (creators of 2015's 2D racer, Action Henk), the game was recently released through Steam's Early Access program, yet the current build of the game is looking more than promising.
I say this because the controls and movement feels fantastic. Using a gamepad, the right trigger is used to pedal and left trigger to brake, while the left and right stick control body movement. Simply turning and leaning is controlled with the left stick and the right stick can be flicked down then up to do a 'bunny-hop' or flicked to the side to skid out the back of the bike. It all feels very light and agile, which makes the game feel more 'arcade' than 'simulation', yet it results in a fun, fluid and responsive control scheme.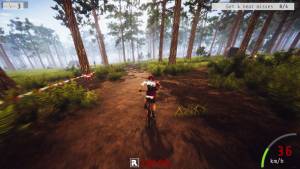 Currently the only game mode available (aside from a practice area) is a single-player, stage-based, survival mode of sorts with some clever Spelunky-esque rogue-like elements thrown in. This mode challenges you to complete a string of procedurally-generated tracks (including one 'Boss Jump' track) with just four lives, scoring 'Rep' along the way to unlock new gear for your rider and a place among the global leaderboards. Completing these tracks unlocks another set of tracks in a new environment, with unique obstacles and challenges to go along with it. Lose all four lives and you start all over again.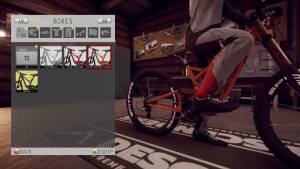 It's a fascinating system that offers a tonne of replayability and a significant challenge, as the later environments produce some seriously tough tracks. Thankfully, beating the 'Boss Jump' at the end of each environment three separate times in a session allows you to begin a new run from the end of that 'Boss Jump' stage, which gives you a tangible goal to work towards as you're learning the game and alleviates the feeling of grinding through the same early tracks time and again.
You can also score an extra life by completing a bonus objective offered before you select your next track. Between stages, you are presented a branching pathway with an option between a few different tracks with unique stats for Steepness, Stunts and Curves that feed into the algorithm to produce the next track. So for example, if the bonus objective were to land a clean double-backflip, it would be wise to select a steeper course with a high 'Stunt' stat, as you need to be going fast and get a decent launch off a ramp in order to land a clean double-backflip.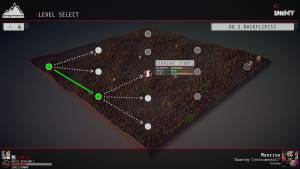 I appreciate this life-recovery mechanic as it offers some strategic risk/reward options to your progression, however it also highlights an issue with the procedural generation aspect of the game. When you begin a new run or start a new environment, you'll be given a random bonus objective and dropped onto a randomly generated course. If your objective is to score 8 seconds of airtime yet your course has very low 'Steep' and 'Stunts' stats, bad luck – it's almost impossible to achieve this objective. Admittedly this is a rather minor problem that seems like it could easily be fixed in a later version, yet it is one of the more glaring issues that I encountered with the game.
As crucial as the control and movement is to making a downhill mountain biking experience feel fun and authentic, it's just as important that the visual design conveys the sense of speed and freedom that attracts people to the sport in the first place – and Descenders understands this very well. In terms of pure texture and design, Descenders looks just fine. If you're standing still and analysing the surrounding landscape details, ground textun look a little muddy and the character models look rather standard – but once you start peddling downhill, that all changes.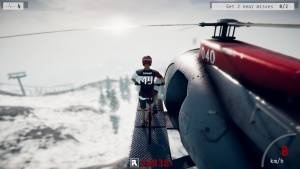 The one word summary of how Descenders looks in motion would be 'thres carilling'. The game expertly utilises motion blur, depth of field adjustments, screen shake and a bevy of other effects to create a white-knuckle experience that games rarely achieve. Barrelling down a muddy track at 70km/h through a forest of pine trees as the sun sets over a huge plywood ramp is exhilarating, and more importantly it's a feeling that didn't diminish after numerous hours of racing through the same forest and hitting the same ramps. A quick tip if you're looking to get that intense adrenaline rush: crank the blur up to maximum and play the game in first person perspective. Landing a double backflip will leave you breathless.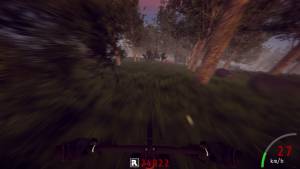 Final thoughts?
I'm really enjoying Descenders, even in its Early Access state. Its agile control scheme and incredible sense of speed make the game fun to play for five minutes or five hours. Yet what keeps me coming back is the uniquely challenging single player mode with its branching progression mechanics. Throw in a bevy of unlockable gear to glam up your rider, plus the allure of ranking amongst the elite in the global leaderboard and you've got a seriously compelling sports game. I'd like to see some more modes (perhaps a multiplayer racing or score-attack mode?), more environments and more challenges from the game's final release, but until then there are enough gnarly berms and sick jumps to keep me coming back.