Believe it or not, not all American's are totally engrossed with all the politics that lead up to the final vote for the President of the United States. In fact it can be a down right bore in seeing the candidates spin the words trying to ensnare voters, only to have their convictions be nothing more than smoke and mirrors in the end. I know, do not get me started! So when I had the chance to take a look at the game by Stardock called The Political Machine 2008, I really was not expecting too much. Well here I am yet again pleasantly surprised by a game. Political Machine 2008 actually makes politics both amusing and addictive as your candidate moves across the United States trying to get voters on their side and secure those oh so important votes to become the President.
So ok, the first thing that stands out is that the characters are kind of little- big head dolls of some real world characters. Yup even Barack Obama is in the game. These parody representations along with the animations that take place on screen from every choice you make in the Presidential Campaign are amusing enough to keep you interested. I cannot explain it, or pin point it precisely but from some macabre way, I just could not stop playing the darn game. It grows on you, and each time you win over a state you just want to see the map of the United States Of America all turn into your candidates color. The Color designating you have won that state over, while if it changes to your opponents color that means he or she has won that state over.

As a player your not just limited to real world people, the game allows you to create your own character. Selecting your name and where you stand on various issues such as gun control, U.S Security among others and then customize your own little dude or dudette.
Once you did all that you are then ready to try out the games various modes. For those with little patience and just wanting to jump in with political words blazing there is a quick play option. The quick play drops you in the middle of a presidential race from America History. A few more scenarios here would have been nice and not wasted a whimsy on a quick game on, an Alien planet. What the heck? I know it's a game and I know that it's for fun….but I really have to question that choice.

In campaign mode is where the game really get's my interest up. It is here where the player must beat out several other AI opponents all modeled from the real world, so even with the parody look of the game, having real world opponents tends to make it that much more interesting.

Each race for President is 41 turns, breaking down into one week of a general election. During this time the player can travel around the country represented by a board game map. Here is where the player has to dig in and try to win over the voters. Give speeches, run ads on TV, radio and in the newspapers. Running out of money? Build a campaign head quarters in the state and try to raise funds for your campaign.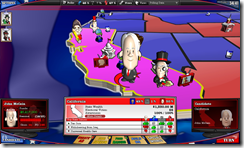 During game play there are various charts and statistics that can be pulled up that give information about a state and some of the voter groups. This in itself makes the game a rather interesting strategy style game. In the end, to get the big prize and move into the big house, spreading the word on what your presidential hopeful stands for is the big key here. Use all the states to work those voters and win them over to your side.

The game designers even made sure not to ignore the multiplayer aspects that can give more of a thrill in a game by going against a thinking opponent. There is a play by email option or connect with a pal/mate and see who becomes The President!
It's a good thing that the game concept and cartoon parody graphics and other designs of the game carry it. Because the sound is pretty much forgettable at best and annoying at the worst of times. Vast amounts of money did not go into music or sound FX for the game. Sorry folks, I really don't mean to be rude. Even with the sound short comings Political Machine 2008 by Stardock is worth more than a passing glance. It's just plain casual fun thinly disguised as a strategy game.

Have fun, play games
Edwin Millheim
Impulse Gamer United States