PC Games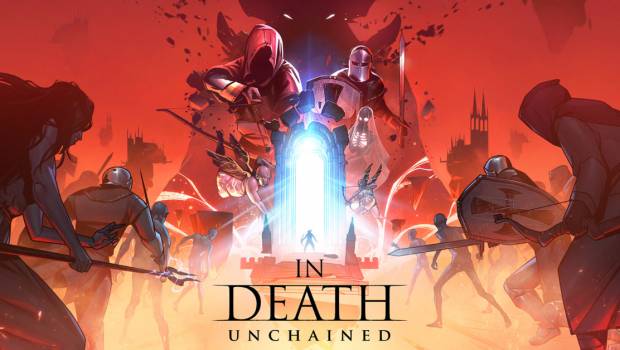 Published on August 8th, 2020 | by Paul Stuart
In Death: Unchained Quest Review
Summary: A terrific re-telling of the roguelite - while a bit flawed - is a perfect example of VR's potential...and flaws.
Typically not a fan of rougelites (dungeon crawlers with random generated levels, difficulty match to player experience level), In Death: Unchained changed this perception. Perhaps all that was needed was to experience the genre in something a bit more immersive.
Don't get me wrong: I understand the allure of surprise and increasing challenge that defines rougelites. (I guess that's what we also call 'parenting' (sigh).) But most roguelites fail to keep my interest after a few dozen plays, as there seemingly little incentive to exponentially return for more. A grinder…I am not.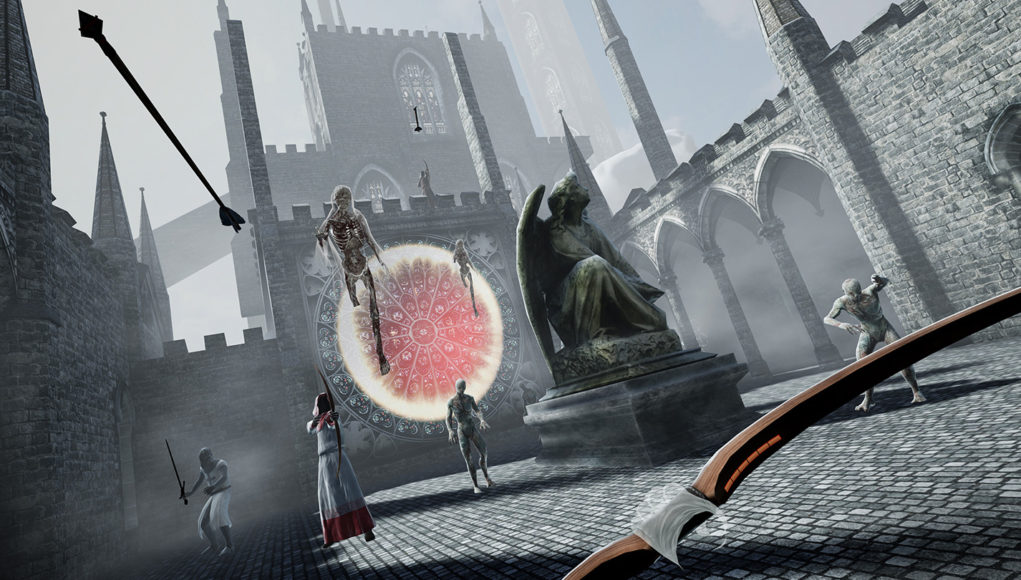 In all honesty, In Death: Unchained does little in re-defining the roguelite. Moreover – and being a Quest title – graphics are muddy, audio is good but not great, and gameplay pretty basic. Movement is also noticeably difficult, as both arrow aim (where fired arrow transports player to landing location) and free motion (via right analog stick) options never truly work as expected. Finally, enemies are varied, but not so diverse to elicit a 'wow' factor upon new interactions.
What truly stands out in In Death: Unchained is its execution. There's something amazing about a roguelite in virtual space, where battles are won and lost via actual physical quick decisions. The game's bow and arrow mechanic works wonderfully, so much so expect to test your shoulder strength in making the magic happen. Mechanic physics are also amazingly on point: the terrific power and distance chess match against enemy archers is always fun. Once the crossbow unlocked (100 methodical kills later), play options open exponentially. At this point, In Death: Unchained's difficulty is sufficiently ramped up to compensate for quicker fire and heavier damage potential.
Note there no melee possibility in In Death: Unchained. The best up-close defense is to flail your shield around, then run for the hills via quick arrow movement teleport escape. Thus, if archery games aren't your thing, In Death: Unchained will get old fast. Also – and speaking of teleport – In Death: Unchained allows players to launch themselves to wherever the movement arrow lands. This can lead to being attached to sides of buildings waaaaay up high and/or other unrealistic but interesting level nooks and crannies. This dynamic provides both a unique opportunity to snipe enemies below…also a very real possibility of getting VR sick (guilty!) from an awkward vantage/height point.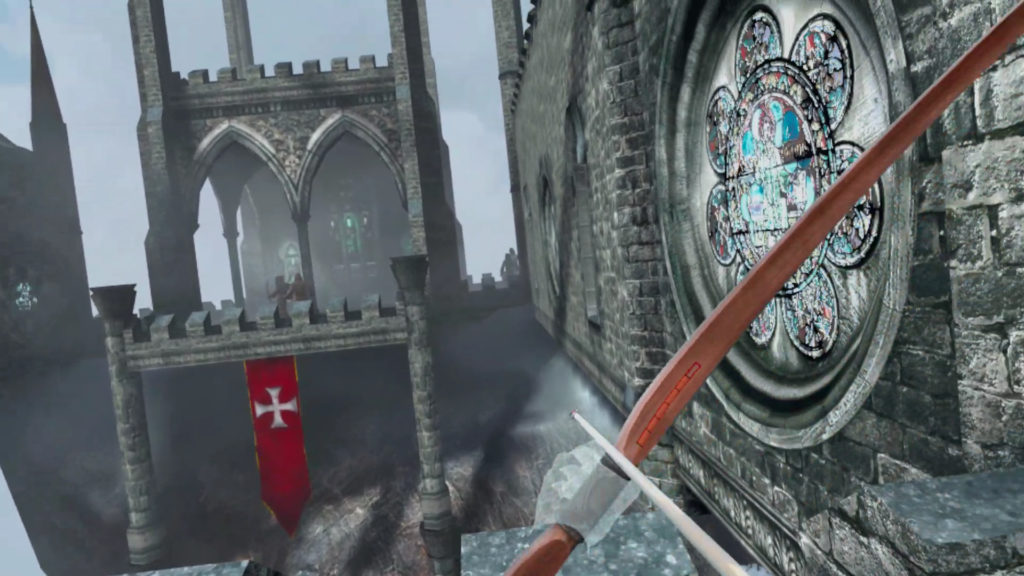 Furthermore, level design – while random – can be quite confusing. Even with a helpful guide light at the tip of cross/bow, it's too easy to get lost. Yes, levels are randomized, but environments can and arguably should be a lot more varied. Oodles of fog, stone, stairs…to no where.
Despite these flaws, In Death: Unchained is the rare game that keeps you coming back for more. As it ramps up in difficulty, expect to die often. Thankfully, the game rewards for every playthrough. As the kills pile up, so do the unlockables…and there dozens upon dozens of them. Level up, open up new enemies to conquer and parts to play. Therefore, a Quest owner can easily put dozens of hours into In Death: Unchained and still find reasons to come back. Very few VR titles – if any – can make this claim. Sure, it isn't as pretty on the Quest as it is on other platforms. But the quick load and 360 degree, no wires more than compensates.
Why do we play VR? For immersion, escapism, and a desire to break the wall between interface and human experience. In Death: Unchained checks all these boxes, warts and all.
Final Thoughts:
In Death: Unchained is the roguelite fans or even non-fans of the genre need to play. While it won't blow anyone away in technical features, its robust gameplay, awesome physics and sneaky depth make it an outstanding Quest library addition.