Unstoppable Gorg
You may not have heard of Finnish developer Futuremark, and that wouldn't be surprising. Known mostly for their benchmark applications, the company's game development arm has only previously released "Shattered Horizon", a first-person shooter that was well regarded by critics. In that game, Futuremark sought to revolutionize first-person shooters with the development of a non-gravity environment. With this new title, Futuremark looks to create a smaller-budget game that likewise applies a gameplay twist to its genre.
The main innovation that Unstoppable Gorg brings to the table is the ability to move your defense units. You might think that would make the whole experience too easy, but there's a catch - defense units(in this case satellites) must be set up at specific points along a circular orbital route around your base, and you can only move them along that orbital route... and any other units you've set up along that route move with it. In this way, moving one of your satellites is like sliding an entire line of units around on the map, and you must plan your strategies accordingly.
Unstoppable Gorg has a decent amount of polish, employing a pulpy 50's sci-fi flavor that makes an already addictive tower defense model even more enjoyable. The menus flow smoothly, the effects are sufficient, and the system requirements are quite reasonable. There's nothing to complain about here.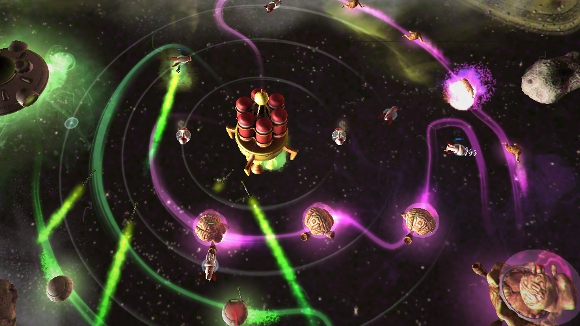 A number of game modes are available, from Story Mode to Arcade (never ending waves of aliens) and Challenge Mode, where missions with special restrictions and altered gameplay mechanics can be found. There is no form of multiplayer, however, which would have been a nice touch. Unstoppable Gorg offers several difficulty levels, allowing you to work your way into this surprisingly complex system at your own pace. This also adds a nice degree of replay value. Like most games in the genre, you will start out with only the most basic attack unit, but more become available at a steady pace as you progress through the storyline.
Speaking of the storyline, it's totally in line with the theme - retro and cheesy. The short cut scenes between levels are always worth watching and go just to the edge of absurdity without going overboard. Appropriate music accentuates these tidbits as well as the levels and menus, thankfully without becoming too repetitive.
Unstoppable Gorg is one of those games that keep my faith in indie development high. Sure, there are a lot of losers out there being developed every day, but there are still plenty of nuggets to be found, games where the design team has clearly put forth the effort to make something worth playing. The tower defense genre has been growing strong and if you're addicted, I suggest you check out Unstoppable Gorg on Steam and give it a try.
- Josh Waters