British. Humor. Lots and lots of British humor. In a nutshell, that is the way Time Gentlemen, Please! can be explained. The game has relatively simple graphics and color schemes, and the music is also simplistic and not overwhelming in the slightest bit. The music actually doesnít have much to overwhelm, because all of the dialogue must be read for yourself, so no clashing of the voices and music here! However, you must sift through many jokes in just about every dialogue session to read what you really need. Now, I donít mind British humor one bit, but when you beat a dead cat so much that you canít recognize that little ball of fur anymore as it blows away in the wind, thatís a bit much.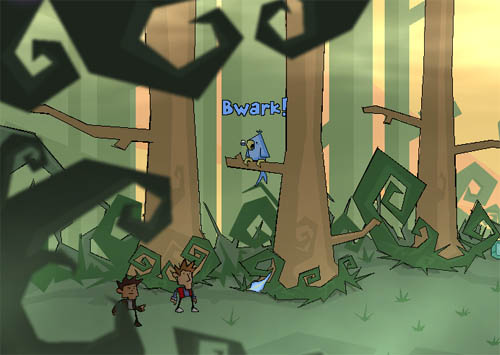 I donít know if I have A.D.D., or itís just because Iím American, but I got extremely impatient with this game right from the get-go. The heroes of the story, Dan and Ben are very likable, and some of us at Impulse Gamer can see how this quarky game's look and feel, as well as the characters, can grow on you.

On top of the slow-to-the-point dialogue in most places, the characters take forever to just walk across a room to get a clue. The game is a sequel to Been There, Dan That!, where evil versions of the main characters pretty much take over the world in the future. So the characters you play, Dan and Ben, are of course trying to stop all of the bad stuff from happening in the first place.

So it's a jaunt through time working the cerebral cortex and firing a few synaptic nerves to solve puzzles and wade through what can be termed an interactive picture book.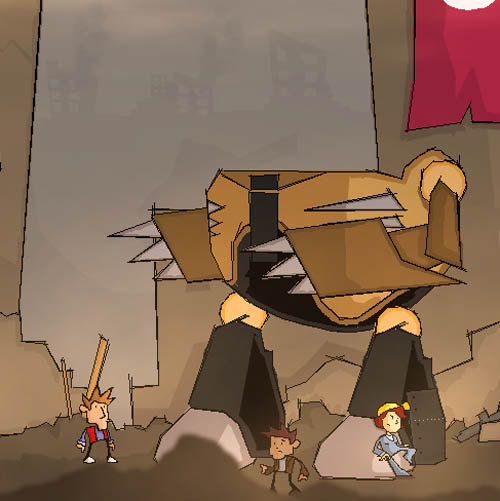 On some good notes (No, Iím not going to bash this game the whole time!), even though there isnít dialogue, it kind of lets the playerís imagination go off into what they think these characters sound like. Maybe the humor would have sold a bit better if there were voices, but it just didnít happen.

The style of the game itself is very cartoonish, so anyone who loves cartoon-type animation may enjoy it. The game mechanics are relatively simple; you point and click. Right-clicking switches actions you can do (examining something, using Dan for tasks, walking, using an item), and left click is, of course, using whatever youíve just chosen. It is also pretty easy to tell whether or not you can use something in the room youíre in, or if thereís a useful clue somewhere; rolling the mouse over something you can use or examine will highlight your action icon red.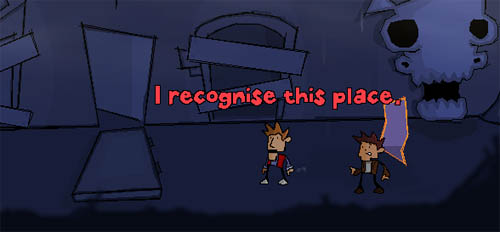 Enough about game mechanics! One thing that I did find humorous was a lovely little scene where Hitler is standing on a robot and there areÖ no, I wonít ruin it all for you. Youíll just have to play the game yourself to find out! As I have said before, it isnít exactly my cup of tea (with lemon and honey in it, hot enough to where I can barely stand it! AnywaysÖ), but this game is sure to delight some old-school gamers out there.

Check out the demo of this and other offerings from Zombie Cow Studios here: http://www.zombie-cow.com/?page_id=12
Sit back, relax, let's play!

Shael Millheim