My Horse Gang is the latest game from Mindscape which follows the adventures of Caroline, Phillip an Chris who have been invited to the famous hose show called "Arena Caballo" by Anne, a young and talented horse rider.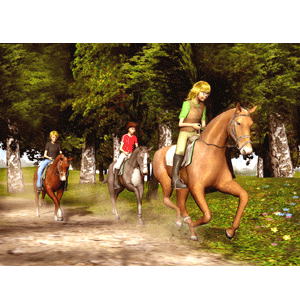 Once the excitement and amazement of this prestigious competitions wears down, our trio of adventurers notices that something is not what it seems at this event and now the players must work together in order to assist Anne solve the mystery.

The game is your classic point and click adventure game where players must use a variety of objects and clues to uncover a variety of missions in order to see whether the accident that befell Anne was an accident or sabotage from another entrant.

The installation of My Horse Gang requires a medium to high end computer due to the graphics interface which is quite impressive. It also requires a GeForce FT AGP or Radeon ATI 0900 XT AVGP video card or higher. The installation process was flawless and it automatically installed once the CD was detected which was a brief process.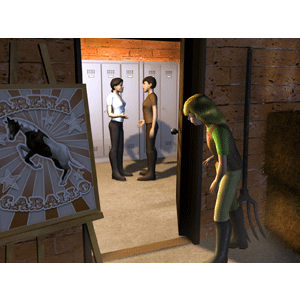 Once installed, we were greeted to a well presented game that contains some quite extraordinary graphics. As we are onto graphics, the game engine is brilliant and is quite detailed with realistic looking characters and detailed backgrounds.

Although reminiscent of the old point and click adventure games from Sierra, the title is truly a 21st century game with inspiring 3D graphics that go hand in hand with the gameplay. The sound effects and musical score also suits the genre perfectly and will assist in you in becoming immersed in this challenging yet entertaining game for girls of all ages.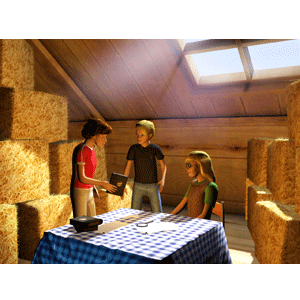 In its essence My Horse Gang allows to gamer to explore rich and diverse environment and even perform in some interesting mini-games. Looking for clues and trying to match these up to together is what makes My Horse Gang such as entertaining title that will not only test your children's skills but assist in developing some great computer skills.

The puzzles although not too challenging can easily be solved and best of all, the story line of this title is truly interactive with the player and goes a long way in making this one of the better girl games of 2008. Check it out!

PC System Requirements

* Windows® 2000/XP or Vista
* 2.5 GHz Pentium® processor
* 256 MB free hard disk space
* 1 GB RAM
* GeForce 6800 GT AGP/Radon Ati 0900 XT AGP video card with 128 MB RAM or equivalent
* 20X CD-ROM drive
* Mouse