Dogfight 1942
City Interactive's first entry into the air combat genre is Dogfight 1942, which, as its name suggests, features dogfight-style combat during the WWII era. One of the first distinctions to make with these sorts of games is whether the simulation is more "hardcore" or more user friendly, and Dogfight 1942 very clearly falls into the 2nd category. Picking up and playing this game couldn't possibly be easier.
Of course, there are extremes on either side of the spectrum. Dogfight 1942 is not only on the easier, arcade side of the spectrum, it's exploring new dimensions of low difficulty. It can sometimes be more amusing to try to die than to try to win, and generally speaking I've found that only crashing your plane is effective.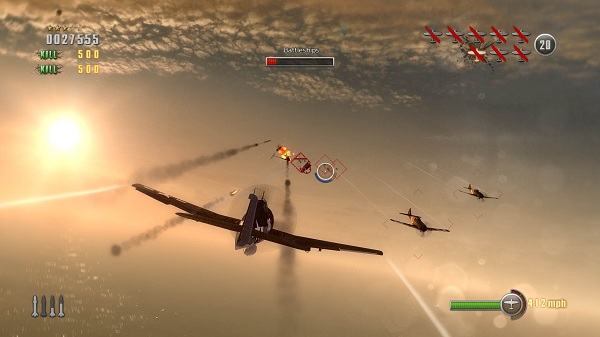 That's really getting the bad out of the way first, though. The controls are pretty tight, the sound is engaging and does a decent job of putting you in the experience, and the voice acting is even fairly clever at times, a step up from much of this game's peers. To top it off, the graphics are rather nice and in game effects are pretty cool.
The game features a wide variety of useable planes, each with a fair amount of distinction from one another thanks to differences in available weaponry and a nicely slimmed-down and simplified statistics system. There's also a nice little bit of customization allowed, which is honestly a cool touch.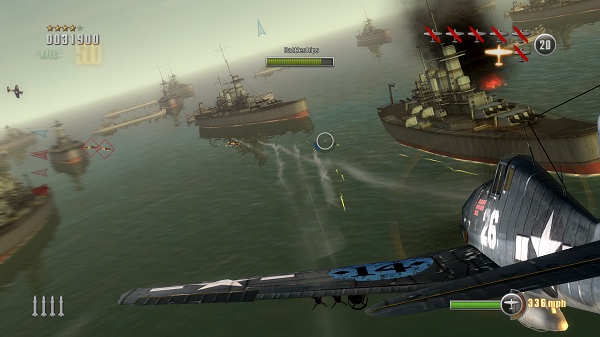 I want to like Dogfight 1942, because overall it's a fun game that has potential. The problem is that most players don't want training wheels, certainly not training wheels this big. There's such a savage little thrill in firing a rocket straight ahead, timed perfectly to intercept an enemy zero, and seeing the resulting explosion like a glass backboard shattering after a particularly nasty slam dunk. That thrill is fleeting, though, and a game with no difficulty has the most limited replay value of all. If you want a fun little air combat game with a good variety of content and easy control, but don't mind a lack of difficulty, this game's right for you. Otherwise, maybe stick to some of the more established air combat franchises.
- Josh Waters