In this modern world of gaming, everything is generally quite fast and action packed. Whether I'm leading an army on an alien planet or driving the latest sports car on some tropical road, every now and then I need to have a break.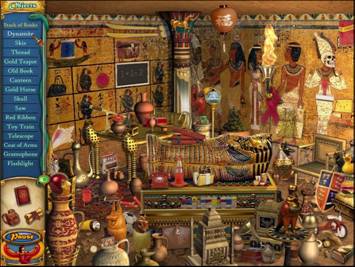 This is where the hidden object games come into play and unlike the above mentioned adrenaline pumping games, these games are more cerebral and quite relaxed. The premise is easy, find certain objects in a heavily crowded room, sometimes with a timer and then a few mini-games and you have a thinking man's game.
Ancient Mysteries King Tut's Tomb follows this premise and boasts 50+ levels as you take control of John Carter, an archaeologist who is attempting to find the cause of Kin Tutankhamen's short lived reign.
There is some artistic liberty that is used in this game because along the way, you will need to uncover the traps set by an ancient secret organisation in order to protect the Pharaoh, whether in the afterlife or why his reign was cut short.
Unlike hidden object games on mobile phones, this one actually has an interesting story and thanks to its exotic location and story, not to mention impressive graphics, it does make for an enjoyable experience.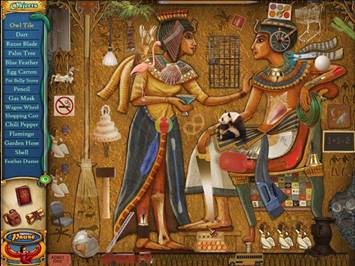 With 10 different acts or "levels", there are 50 locations that you need to explore and by finding the hidden items, you are awarded points. Between each level there are some mini-games that are generally puzzles but it does help break up all the clicking. If you do get stuck on a location, you can spend your points on hints but generally, most are relatively easy to find.
Graphically, the game is oozing with Ancient Egyptian references and does mirror the real-world Egyptian artefacts. With its painted style of backgrounds, sometimes the objects are staring you right in the face but for the majority, most stand out once you have deciphered the clue.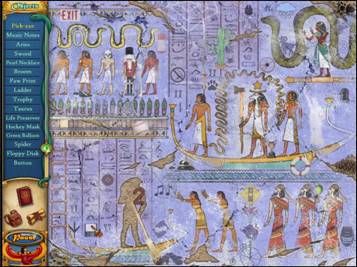 As there is no timer in this game, most veterans of hidden object games will be able to finish this game in no time and if you do, there is a free game inside called Little Shop Road Trip... another hidden object game. However for the price and considering the content, it's a well made game that is unfortunately a little too short.
System Requirements
Windows® XP, Vista and Windows® 7 compatible

Pentium IV 1.2 Ghz processor or faster

256 MB RAM

800 x 600 minimum screen resolution

Sound Card Recommended

Direct X 9.0c

150 MB Hard Drive Space