The Asskickers, the debut title of indie French developer Ago Games, is a side scrolling beat-'em-up which will appeal in particular to gamers nostalgic for the early 90's. Similar in scope to games like The Ninja Warriors, Executioners, and Teenage Mutant Ninja Turtles, The Asskickers is about one thing and one thing only - kicking ass. And while this game does try very hard to stick to the classic beat-'em-up style, a few upgrades are present - such as an array of achievements (I counted 31 of them), extra modes, HD hand-drawn graphics and 5 languages to select from.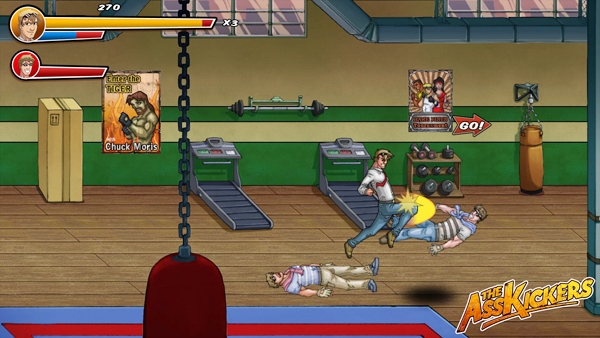 Not that the storyline written in those languages is to be stressed. Like the games that The Asskickers idolizes, the story is really just used to give us a reason for kicking everyone's ass. Playing off of this gaming stereotype, Ago games has created a story that is irreverent, silly, and relentlessly cliché. The translation of the tale to English is occasionally awkward but for the most part sufficient, especially since this game doesn't focus on story. Some of the humor might just have you attacking the desk with your forehead, but this is all part of the fun.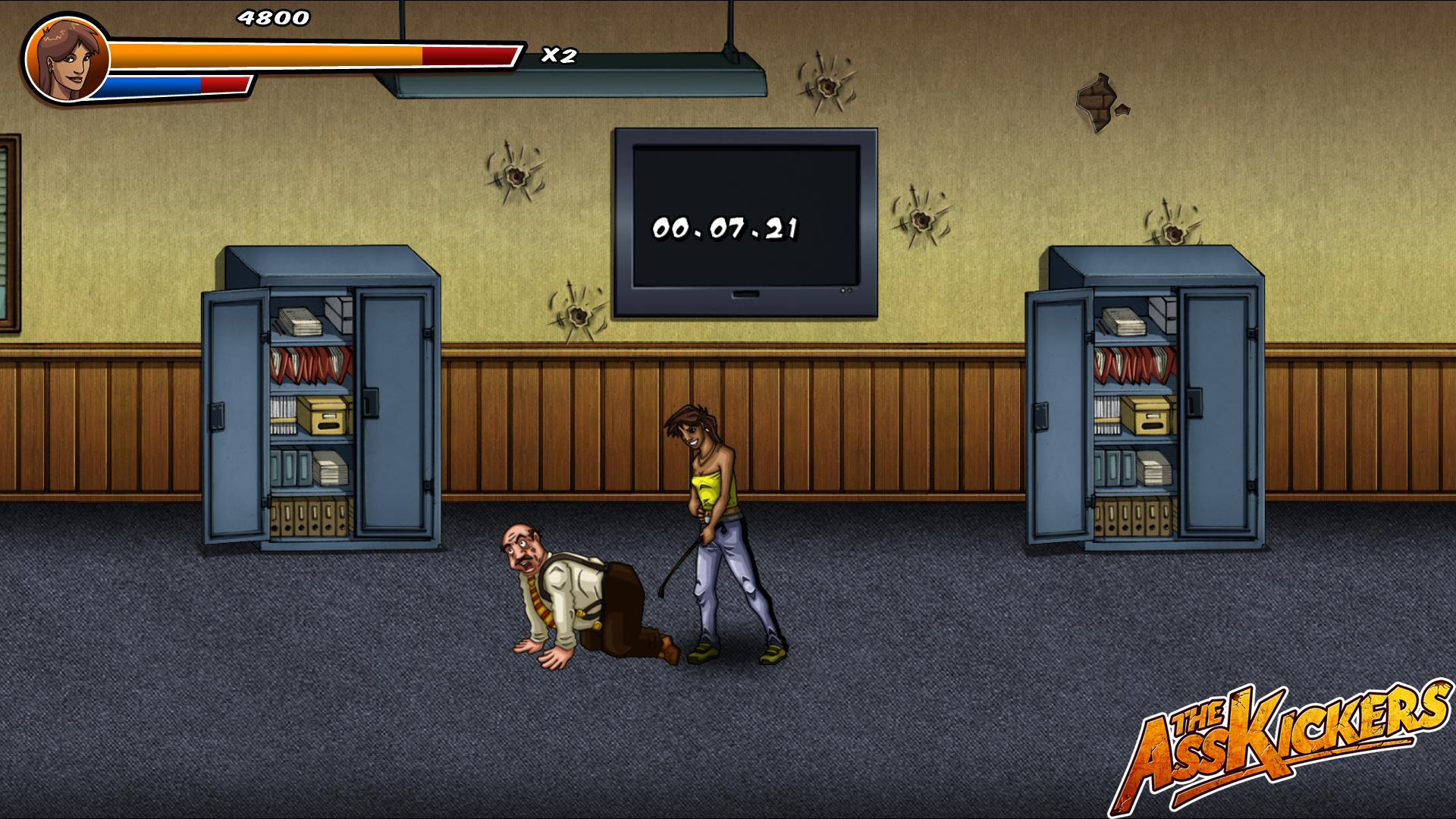 Any beat-'em-up game worth its salt counts co-operative play as a strong point, and The Asskickers is no exception. Thankfully, controllers are supported but if you don't have a gamepad for your PC, you and your buddy will be sharing a keyboard. There is no Local Network or Online Multiplayer support. This is just one of many ways that The Asskickers could have introduced some form of innovation to the genre but did not. The story mode offers 4 difficulty levels - Easy, Normal, Hard, and Hardcore. The easy and normal difficulties are for having fun and kicking ass, while the hard and hardcore settings appeal to The Asskickers' throwback demographic by emulating arcade action with limited lives and continues. Playing Co-op makes the game significantly easier, so it is probably most fun on the hard and hardcore settings.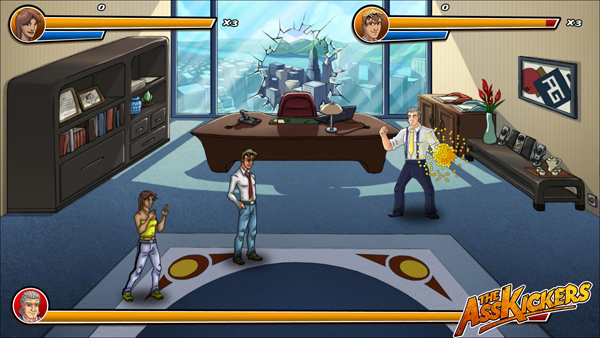 The AI is unfortunately very simple. Old beat-'em-up stereotypes are everywhere. Enemies that try to circle around you and grapple you, never attacking until they are eventually successful? Check. Female enemies that have only a lightning-quick jump kick attack and spam it at you non-stop? Check. Armored foes that must be defeated with one particular strategy and punish you if you mess it up? Check. In fact, The Asskickers utilizes these AI strategies less effectively than most games of the genre.

The developer touts "HD hand-drawn graphics" as being a strong point. The visual style reminds me of Beavis and Butthead. The visuals are interesting, but not particularly stylized and "visual effects" are unheard of. Such a dedication to a cartoony hand-drawn style is admirable in a way; I just wish that the style was more interesting to begin with.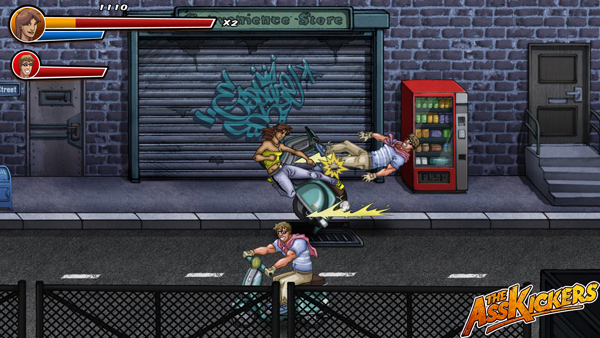 The music and sound effects are very standard, and by that I mean standard for the mid-nineties. A few grunts, some repetitive action music, and that's it. Enough to meet the requirements to be a "finished product" but not a whole lot of finish on that product. The controls are simple and provide little variations in your moves, just a jump button, and attack button, and an item button. The game also occasionally fails to allow you to attack while jumping, or turn around quickly and jump at the same time, causing some frustration at key points when your skill is most necessary. Again, this just reflects a failure to advance the genre.

Being available for 15 dollars makes The Asskickers something of a budget title even in the indie market, but not a competitively priced one. This game largely accomplishes what it set out to do, but without a great deal of innovation, I can't say that it even really successfully competes with the genre's classics. If you're a beat-'em-up collector then this is a must have. If you're nostalgic for old action games but want something you haven't tried, then this may be for you too. Maybe if this budget title were offered for 5 dollars, more gamers might be interested in putting on their asskicking shoes. For now though, I can't offer much of a recommendation.