Virtual Villagers Double Pack
Virtual Villages: A New Home & Virtual Villages 2: The Lost Children
This double pack contains both addictively entertaining casual games, Virtual Villagers: A New Home and Virtual Villagers 2: The Lost Children. As the first game has been out for awhile, this review will focus on the sequel which is far superior than the original.
Virtual Villagers 2: The Lost Children targets both casual and mainstream gamers in this sequel that resumes from the original game, Virtual Villagers: A New Home. At its core, the game is a real-time "Sim" strategy which involves micromanaging a village as they perform their everyday activities and of course advance their lives and the group in the grand scheme of things. The catch behind the latest game is that our friendly villagers have discovered a colony of children on the other side of the village and to compound the situation, they are stuck. It's now up to the gamer to rectify the situation to not only help the villagers survive but advance them in order to rectify their situation through research.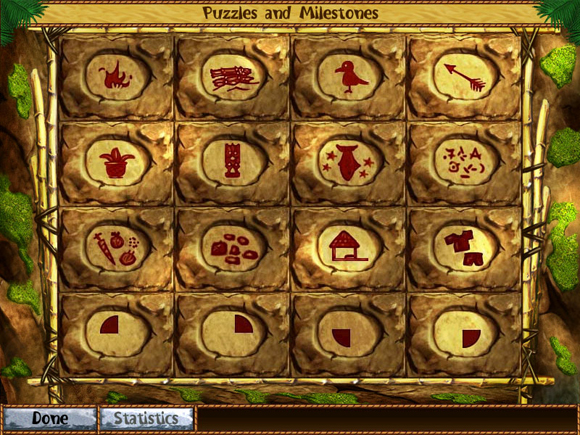 The game uses the classic "Sims" archetype with elements of real-time strategy as they gather resources, build and become more civilized. On the PC, the game contains an easy to use interface and controlling the villagers is as simple as selecting them with the mouse. The graphics do look quite cartoony at times, however it suits the premise well and is a little more laid back than those serious sim and RTS games. The gaming environment is well detailed and successfully incorporates the gameplay into the title. I must admit that as the villagers grow from baby to adult and eventually die, it does create your own little world like Sea Monkey's and these little people also breed new villagers. Quite cool and cute!
The main theme in the game is to advance your villagers and also gather food to ensure that your people survive. There are a few puzzles along the way such as finding special artefacts or researching new things for your villagers like as medicine or engineering which does break up the micromanagement aspect of the game. And yes, there are some interesting puzzles!
By researching new technology, this allows your villagers to continue down a relatively easy tech tree and adds to what they can perform. Once you have a handle on gathering food by turning the villagers into farmers, you then need to change your tact by creating builders and scientists for researching and to better the village. This will help the village grow and expand and as you are their virtual god, keeping them alive and healthy is another spanner thrown into the mix. Of course, a good healthcare system… actually a hospital helps in this process of keeping these pesky villagers fit and health.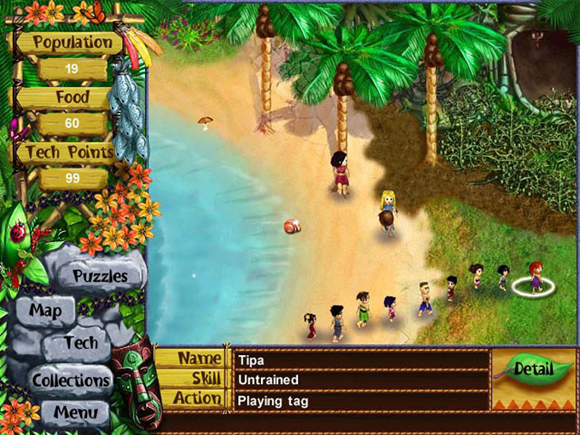 Another key aspect of the game is that the game uses real-time to push things along which means, the game needs to be running quite a bit in order to successfully complete the title. This aspect is similar to certain games on Facebook but the beauty of the game is that once you have setup your village, they become autonomous and you walk off, make a cup of coffee or even dinner. You do however, still need to manage your villagers every now and then though. The game is quite time consuming if you're into real-time sims but if this is your cup of tea, than the developers have definitely hit the spot. In terms of difficulty, I would classify this game as easy to medium, so kids and casual gamers will have no problems at all with it.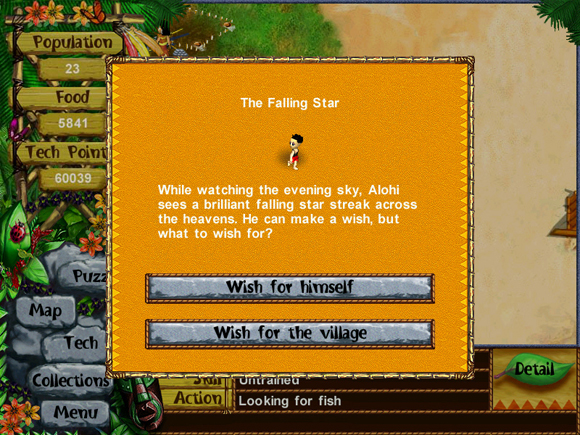 In conclusion, Virtual Villagers 2: The Lost Children is a decent sequel to the original game that tweaks the gameplay and adds a few new elements to keep the franchise fresh and interesting. This game will appeal to those people who like "Sim" type strategies, especially ones of life and death. With colourful and competent graphics, fun little sound effects and an ambient soundtrack, let's get those Sea Monkey's… err… villagers building, breeding and bettering themselves all in the name of real-time gameplay. It may feel a little shareware at times but it actually works and for two games for the price of one... this is a bargain to be had!