Cogs can best be described as kind of cyber punk style meets Leonardo Da vinci. Looks simple enough at first, but you soon find there is some real brain benders involved. Which is a good thing really, the game assists in working the brain and your spatial awareness as well as problem solving skills, particularly the relationship between objects and each other. On first viewing this game may be passed off as a casual game, in some respects it is, the premise is simple enough and harkens a bit back to an older game "The Incredible Machine". Cogs, its exercise for the brain while having some fun. What more can you ask for?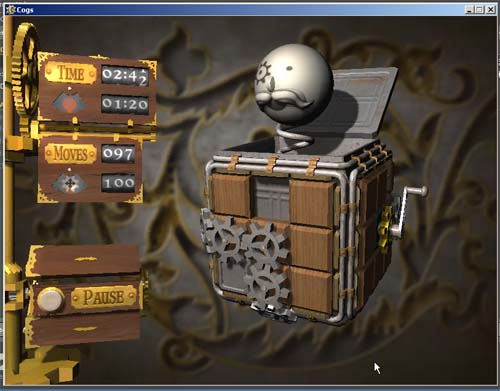 This brain teasing game has players building machines by sliding tiles around in a confined play area, the end goal is to move gears or direct events to move and or cause an effect at one side of the playing area or the other. There are around 50 levels and 3 different game modes. As with many games out there, there is kind of a reward system to some degree for finishing a puzzle, you unlock the next level of puzzles only as you progress. The speed that you finish the puzzle sometimes plays a factor, so getting it solved fast and to the point is a goal and theme for the game.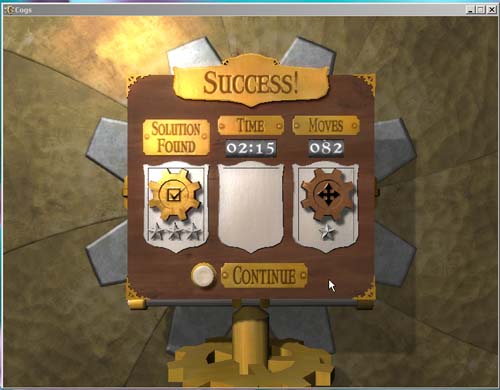 System requirements or very forgiving unless you have an old Tandy 1000 machine, and if so you're a freak, sorry.

OS: Microsoft Windows XP or Vista
Processor: 1.5 GHz CPU or better
Memory: 512 MB RAM
Graphics: DirectX 9 compatible 64 MB graphics card with hardware transform and lighting (T&L)
DirectX®: DirectX 9.0c or later
Hard Drive: 120 MB Free Space
Sound: DirectX compatible sound card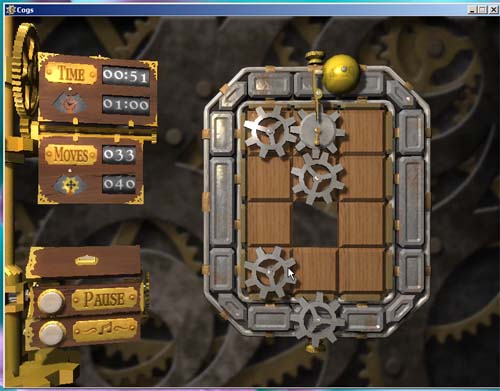 The game modes to test your skills are; Inventor Mode: Here the player starts with simple puzzles, parts used for the puzzles are introduced here such gears, pipes, balloons, chimes, hammers, wheels, props, and more.

Time Challenge Mode: Finishing a puzzle in Inventor Mode, unlocks it for this mode. Only in Time Challenge, as the name states.. the player only has 30 seconds to clear the puzzle.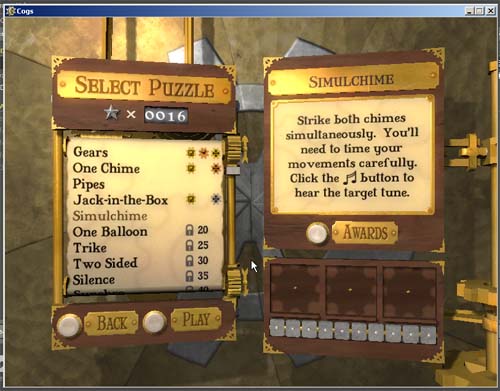 Move Challenge Mode: this mode allows the player to slow down and plan out the moves. What can possibly be brain challenging about that? Well diabolically, the player only gets ten moves to solve the puzzle!

Cogs, check it out on STEAM. Have fun, play games.
Edwin Millheim