QuickCraft's Dinosaur activities arrives on the PC that not only serves as a tool for imaginative children but also offers some great activities that could be used for not only children at home but also child centres and holiday programs.
It's an all-in-one program!
Features of the QuickCraft Range:

- Hundreds of activities and templates
- Straightforward and simple to use
- Hours of fun and entertainment
- Educational and learning based
- Valuable resources for teachers and parents
The installation of Dinosaur Activities was a breeze and it auto installed on our test system with no prompting whatsoever and once the installation was completed, the user was greeted to an innovative user interface that could be used by a variety of different levels of computer experience.
Best of all, the system specifications are quite low and only require 128MB of RAM plus Windows 2000 and higher which means this can program will run on the majority of computers. Great news for older computers.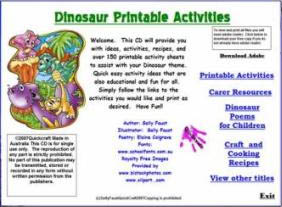 The in-game activities are quite entertaining and can easily be accessed by children and adults. Our favourite aspect of QuickCraft Dinosaur Activities was the ability to print a variety of activities for children, each with a different theme which offers hours upon hours of entertainment and learning.
The developers have also created this program to target certain attributes of children such as learning, memory and motor skills by combining it with entertainment to ensure that the title doesn't become too contrived or forced.
The activities also teach children a variety of information about these prehistoric creatures and explains it in an easy and understandable format plus some great pictures to really immerse them in the world of dinosaurs and the like.

In conclusion, Dinosaur Activities is a fun learning tool for younger children and it also assists in their education by teaching them a variety of skills and historical facts. Easy to use, great printable activities, this is one program that we could recommended to all parents.

System Requirements
- Operating System Microsoft Windows 2000/XP/VISTA
- Memory (RAM) 128MB
- CD-ROM CD-ROM Drive