It's finally here... the game that lets players become mighty heroes of cultures long gone such as the mighty Norse or the deadly Aztecs. Depending on which culture you chose, your character must come to the aid of their God in order to discover the dark threat that endangers the very pantheon of gods itself.
Travel to amazing gaming environments that have been painstakingly created in this amazing universe that combines the genres of fighting, RPG and adventure.
Before engaging in the gaming environment, the player must select their character which include Norse, Greek, Egyptian and Greek. To add some versatility into the mix, each of these cultures has both a female and male character and you can either select melee combat (e.g. fighting) or magical.
The main villain behind Loki is the Egyptian God of evil, Seth... the same god who killed Osiris and scattered his remains throughout the land. Seth has nefariously decided to challenge the various four pantheons of gods for his own malicious schemes but fortunately for the gods, your character has come to the rescue in classic heroic mythology.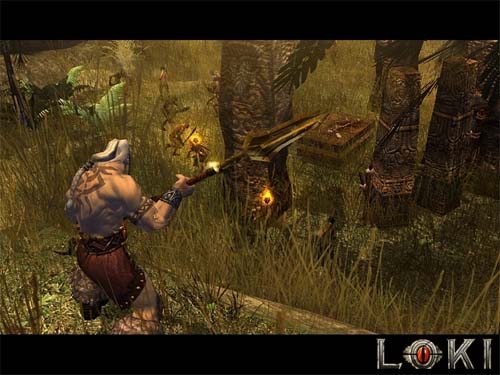 The game itself is extremely reminiscent of Diablo, however from a third person perspective. The gamer must complete a variety of quests as they slowly progress through the game. Fortunately for your hero, he or she has access to a variety of weaponry and magical objects to ensure that they have sufficient fire power against the 100 or so monsters that they face.
What really sets Loki apart from other similar games is the combat system which is actually quite sturdy and innovative as you battle your way through a plethora of enemies. As per usual, the fighters can take more damage than the mages in the title but if you want real raw firepower, then you will definitely want to play one of the magic users.
The only drawback of Loki is the sometimes lackluster storyline which lost me on a few occasions, however the challenge of taking down the god of evil Seth, was more than enough inspiration for this gamer.
Graphically, there is little to complain about Loki, however I would recommend a high-end computer if you wish to see all the bells and whistles of the game. The characters are professionally created and the background environments are outstanding. To complete the graphics, the title contains a great ambient sounding musical score with some extremely violent and brutal sound effects.
In conclusion, Loki was a fun game to play that features your traditional RPG fighting game environment and to quote an old saying, if it ain't broke, don't fix it... is a true analogy for this genre. A sturdy and entertaining game with great graphics and a good gaming engine.