PC Games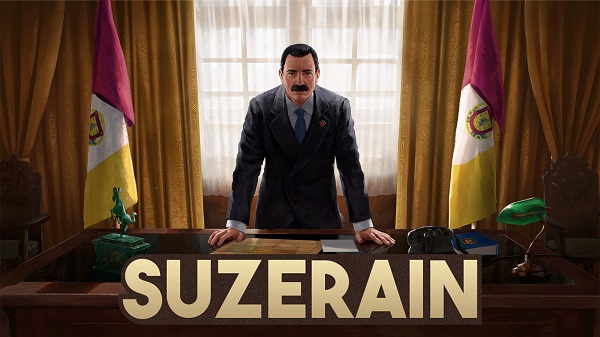 Published on December 23rd, 2020 | by Scott De Lacy
Suzerain – PC Review
From the desk of the President…
Suzerain is a narrative story-based strategy game that has you, Anton Rayne take up the highest office in Sordland, the Presidency.
The story takes place beginning from the 1920's through to the cold wear era, where there is a demand for great revolutions and change in Sordland; all of which takes place during the context of the rise and fall of communism and threat of nuclear war.
Rayne follows the shadow of the former great military leader, President Sol, the founder of the modern constitution, whom single handedly brought about an end to civil war and rescued Sordland form the brink of complete ruin.
From the moment Rayne takes the oath, he is challenged by his political rivals and undermined by his most closest advisers.
Of course who is on Rayne's side and who is not, depends upon the political decisions and leanings at the start and throughout the game, as the factions can shift and change.
Rayne must make important decisions that may cross political lines, morality, criminality and corruption. Each decision has consequences, both positive and negative, but a decision must always be made.
Rayne must hold onto his power in order to bring his country into the future.
Play style
Suezerain is textual-based, played from the desk of the presidency; while overlooking the interactive map of Sordland, each town and city has alerts and actions that are triggered based on player decisions.
Rayne meets with his cabinet and ministers and through conversation and responses, direct his team on policy decisions in a simulated text-based meeting room, which takes place from multiple locations on the map.
Regardless of the meeting type,and number of attendees, the layout and display is the same.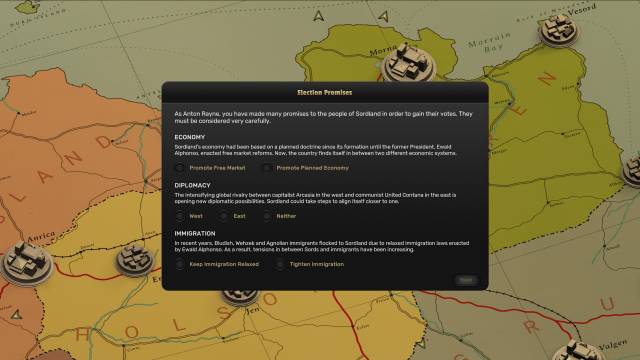 There are no saves or restores, the game is ongoing and any decision made is final, such as life.
All interactions with the cabinet are point-and-click based, from a multiple choice selection. Suzerain is simple and easy to play for anyone at their own pace.
Graphics
As a text-base game, there are limited graphics in Suzerain, which take the form of short animation silhouettes, country flags and character portraits of Rayne's family, ministers and some notable personalities and world leaders.
Everything that is presented in the game is done really well and is completely polished. Unfortunately, the visual appeal of the game is lower than it should be, as everything that could have been done was not.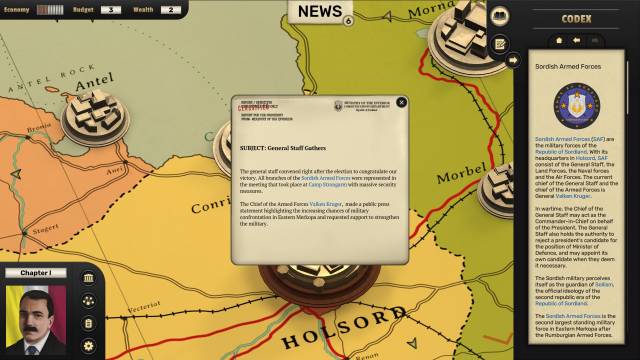 Suzerain would be far more appealing with a bit more thought into the dialogue interface; for example, a table with the characters sitting around it, speaking with speech bubbles and a few key scenes with accompanying location images would have given the game a further level of buy-in and engagement, whilst also breaking up the textual monotony.
President Rayne: The play-through
Suzerain offers multiple back-stories for Anton Rayne, which include his place of birth, education and younger political temperament, which all influence the story throughout the game. In this play-through, Rayne grew up in a middle income family in the more populated city and had a undistinguished military career and studied at university with high marks.
The constant reading is at times arduous and straining, with almost nothing to break up this pattern; With that being said, the story is compelling enough to drive a constant interest despite this.
There was a constant ever present drive and sense of urgency that kept propelling the story and the game along, making it difficult to find a gap in the story to take a break or even stop playing for the night.
With a solid 3-5 days of casual play time for the story, this game certainty has a lot of story and a lot of reading involved.
There was a level of uncertainty at some critical junctures in the story, which led to questioning at times as to whether the successes or failures were predetermined or as a result of decisions made. The ending especially felt as though it ended 'too soon' but was not by any means rushed as there was a strong sense of achievement nonetheless.
Final thoughts
As far as text-based games go, Suzerain is a strong title and fundamentally interesting and re-playable.
There is a deeper insight that this game offers in the political parallels between current events including Covid 19 and the current machinations of socialist agendas. In fact it is eerie that there are a lot of similarities from the story that which is based on events of the past, that seem to echo the current global situation in 2020.
Although obviously not designed as such, this does add a tremendous amount of value to the game even if by happenstance.
Suzerain would have benefited from the additional graphical flourish to really push the game up a level or two, but it is still a strong contender and will stand on its own. Well worth a play.
By the way, Suzerain comes from Suzerainty. Sordland however, is not a real place anywhere that we know about!
Summary: Live out your socialist, capitalist and other ideologies as the president of Sordland, whilst those who oppose plot and scheme against you; sit back and watch the consequences unfold as the story of Anton Rayne takes hold.