PC Games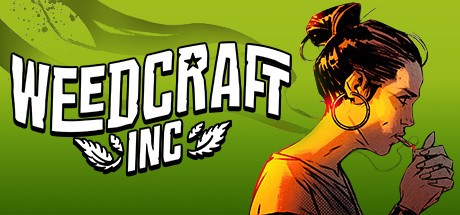 Published on April 22nd, 2019 | by Lyla Saudi
Weedcraft Inc Review
Summary: A busy management sim requiring wheeling and dealing
Weedcraft Inc. is a management simulation game built around the creation of a weed empire in the United States. Like the tycoon styled games before it, you will balance money, resources, locations and equipment to build your fortune. Starting out from one of 2 scenarios; as a college dropout who has to make do after his father's death, or an ex-con making a new life, you can immediately cast yourself as a dealer of either 'good' or 'bad' intent. Do you aim to build a legal business supplying aid to the sick and helpless, or do you wish to rule with fear and take advantage of the vagrants of the city?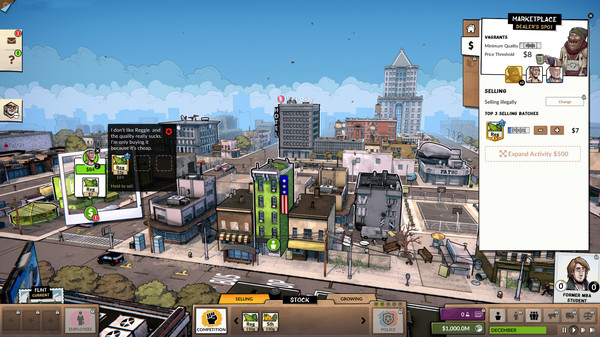 The goal of the game is to build your weed empire. From humble beginnings of dealing from your apartment, you will have the opportunity to build a distribution network spanning multiple cities. While you begin with a focus on the micro; planting, cultivating and selling your crop, as you evolve through the game and your reach expands you will be more concerned with distribution methods, police raids, greasy politicians and rival growers. This evolution provides a nice depth to the game and some longevity in its playability.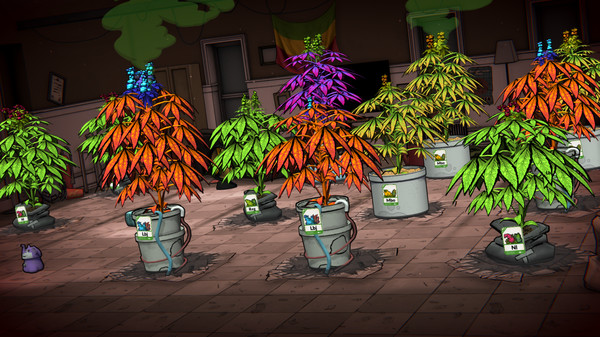 The game is not an easy one, with success requiring a great deal of time, attention and trial and error. This experience is far from the days of old economic management games where collecting simple resources allowed you to build bigger 'things'. Instead you are constantly balancing multiple demands, all of which are in conflict with one another. Do I invest in a shopfront to decrease the police attention, which will also decrease my sales? Do I increase my price to deal with the demands of my staff at the risk of upsetting my customers? Or do I increase the quality of my product by perfecting soil content or spend time working with or against rival dealers?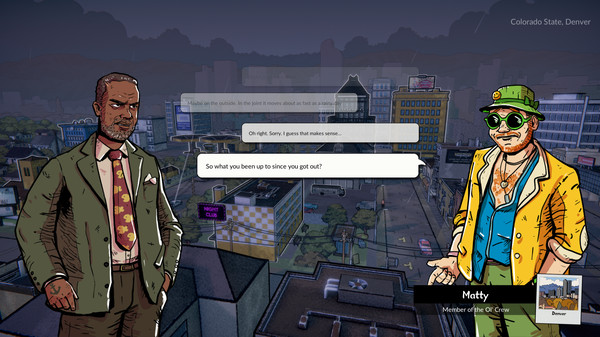 The tutorials and guides provide some help, but with so many things to do, I found myself so busy trying to balance the competing demands I wasn't able to invest the required time to understand the mechanics. While the game has a satisfying quality as you expand your business and watch the automation take place, this will be a long time coming. With the variety of options, buttons, and relatively quick timing, you will find yourself spending a lot of the early goings working out which screens you need to spend your time on, and which 'mini-games' are the most effective. As with all games of this style you can cripple yourself early with some bad decisions (which you didn't know were bad decisions at the time), requiring a restart and redo, having learnt from your mistakes. There is definitely a grinding element to this game, which some will feel is extremely rewarding and others will feel makes the experience quite painful. 
With a catchy backing track to play to, the stylish cartoon art style alludes to the 'cool' feel of the topic area. The icons are functional, and the feel of the game is well polished. However, I have never appreciated games with alternating dialogue boxes and 'multiple choice' options which pretend to be conversations. There is a frustratingly large amount of this in the game, especially as your empire expands. And although this exposes you to a large variety of characters; politicians, police, and a variety of customers, they are all fairly stereotypical and add little to the experience.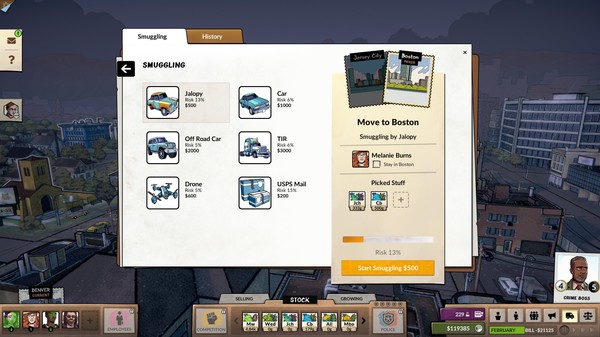 But make no mistake, this is a very detailed management sim crammed full of options and information. You can design your own blends, hire and train staff, manage relationships with a variety of stakeholders, expand across the neighborhoods, and even start lobbying for legalization of your products. This game has a large variety of sub settings that a management simulation fan could get lost in, however, I would suggest a fan of the 'topic area' would have more fun with this game due to the level of detail, attention and time required to succeed.
Final thoughts?
Weedcraft Inc. is a good looking, multi-layered and detailed management simulation game. Given the length of time required to be successful, and relatively monotonous 'mini-games' I think you would need to be a fan of either the 'theme', or tycoon style games to get the most out of the experience. 
Game Details
Title: Weedcraft Inc.
Publisher: Devolver Digital
Developer: Vile Monarch
Genre: Simulation, Strategy
Platform: PC – Steam
Release Date: April 2019