Vampires have once again come into popularity, thanks to Twilight, a romantic vampire series that revolves around 100-year old vampire Edward Cullen and his human lover, Bella Swan. The series is definitely targeted at the female market and for tweens, teens and even adults and strangely enough, this series has reached extreme heights of popularity.
Although author Stephanie Meyer is on a winning streak with her series, I was a little bemused that Scene It? would attempt to create a trivia game on this universe as it's relatively quite small compared to other series such as Harry Potter or Star Wars. However, in order to appreciate this game, you really need to be an aficionado of the franchise but thankfully, I had my 16-year old niece available who unfortunately is a Twilight fan. A big thanks!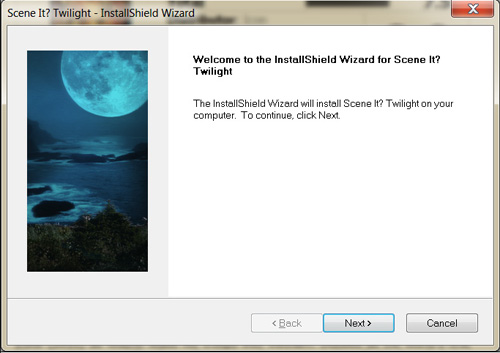 The installation process is a series of next next nexts! Quite Easy!
At itís core, Scene It? Twilight is a trivia game that is similar to Buzz! which allows you to compete in a variety of questions in order to become the Twilight quiz champion. A question is asked and there is a list of multiple choice answers and hopefully by selecting the correct answer, your points will start to accumulate, unless someone you run out of time. The game supports two modes of play from traditional to flexi and before engaging in the questions, you need to select your Twilight character... oh Bella!
Unfortunately I was getting my educated ass handed to me by my niece and her friend, they were in Twilight heaven, even though I was hoping something heavy would fall on my head to end this nightmare. After several hours of play and then some the next day, I did start to notice that some of the questions did start coming up again which unfortunately is the limitation of using a rather new franchise. Perhaps if they did something like Scene It? Comics or Scene It? Cartoons, the questions would be more diverse and interesting.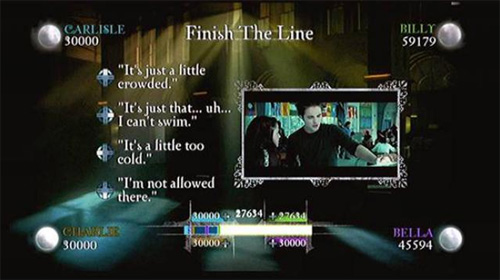 Apart from questions, the game uses video and audio to assist with the questions, however more often than not, itís more text than graphics. The interface is oozing with Twilight references as is the moody music and I do commend the developers for successfully moving the franchise to this format but as for a gaming soul, it is severely lacking substance like Vampires!
At a recommended retail price of around $29.95AUD, Twilight: Scene It? is a little expensive for genre orientated trivia game and even though I would rate this game a 4, my niece and her friend gave it a strong 8. And yes, beauty is in the eye of the beholder, so we all have to agree to disagree that the game is a 6. Even if youíre a fan of Twilight and if I was, I would be hoping on more graphical content for the game because it is a little lacklustre in this arena.
Definitely a rent before a buy! Oh... it would probably be more fun on the Wii too!