The latest version of Hoyle Casino Games arrives for 2080 that allows gamers to experience the world of casino gambling with a wide array of games from poker to roulette. Definitely a title for lovers of casino games!
The different types of casino games in Hoyle Casino Games 2008 is amazing and include diverse titles such as Baccarat, Caribbean Stud, Craps, Slot Machines, Video Blackjack and Royal Match 21 to name a few of the titles. There are also a variety of different casino style tournaments that allow the gamer to either win big, lose it all or come out even.
This new edition features a great face creator that allows you to create a variety of different avatars for your casino experience, adding a sense of uniqueness to the title.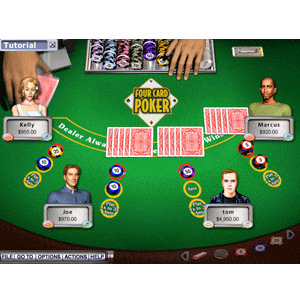 The graphics are not bad but the title does have a dated feel to it but I'm guessing it's very difficult to successfully recreate the casino world but Hoyle Casino Games does a good job. The sound effects are a little sparse at the best of times too.
The best part of Hoyle Casino Games is that you can play a variety of different poker games and where the title does come into its own are the realistic games that use real-world odds at how well you will play and win. With that said, the AI of the title can be extremely harsh and unforgiving but that's the world of Casinos.
In conclusion, Hoyle Casino Games 2008 is an interesting title but feels a little "lacking" when compared to other Hoyle game titles but if you're after a great casino emulator than this might be the title for you. Still worth the price though!

Features
Over 500 classic games including all the favourites!

In-Game Tutorials – learn to play with easy tips and hints

Compete with 12 virtual opponents with adjustable skill levels and "attitudes"

The Face Creator Tool allows you to create your own character

Earn HOYLE® Bucks to unlock new features!

Customisable game variations, card backs, backgrounds and music

Official HOYLE® Rulebook and Strategy Guide included! (PDF)

PC/MAC compatible and on DVD for the first time!

BONUS 5 new Video Poker Machines and 5 new Multi-Payline Slot Machines!

Updated interface, new music and new game lobby