Mystery P.I. Vegas Heist

Before epic games such as Gears of War or Need for Speed were the most anticipated games of the year, there was a simpler time in the world of gaming, a golden age. This age was all about arcade and puzzle games with the PC leading the forefront of shareware that created a wealth of memorable games such as Dig Dug or Jewels.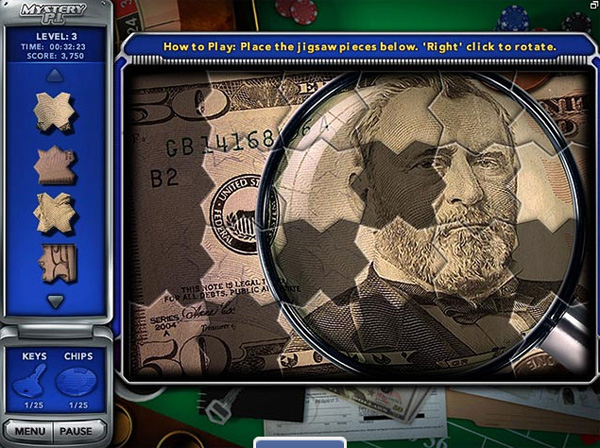 Thankfully this genre is not lost and Popcap have revolutionised many of these older ideas by creating a 21st century twist on them and of course fuelling the titles available for both casual and hardcore gamers. These games are also available as demos which allow the player to have a look and if they enjoy them, purchase them quite affordably. From Tiki's to Unicorns and lottery tickets, puzzle games contain a wealth of different themes and Mystery P.I. Vegas Heist once again makes puzzling fun.

Based on the original game, Mystery P.I. The Lottery Ticket, this current instalment once again returns the player as a private investigator as they need to solve a variety of puzzles in order to solve who robbed a Las Vegas casino of a whopping four billion dollars. The incentive to this gumshoe detective is easy, solve the case and get awarded $50 million dollars for your troubles. Unlike games such as Peggle or Zuma's Revenge which are standard arcade puzzle games, Mystery P.I. Vegas Heist is an adventure puzzle game that is quite reminiscent of those classic point and click games.

In terms of gameplay, the player must investigate a variety of locales for clues such as finding X number of items in a room and although the clues are given the player, sometimes you need to stop thinking literally to discover what you're looking for. For example, a word may not a physical object but the actual word itself. Once you have solved all the puzzles, you then proceed to the next level of the game and as you proceed, the clues do become more and more difficult to spot. It's kind of like Where's Wally but when all the items start merging together, the gameplay sometimes becomes frustrating.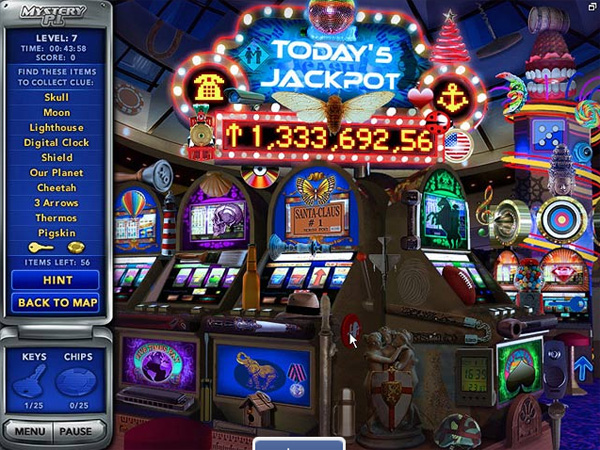 To make things a little bit more challenging, you only have a set number of searches to click on the items that you are looking for and if you do get stuck, there is a hint option, however this also counts as one of your searches. The better you perform, the more points your character is awarded which is another goal in Mystery P.I.: Vegas Heist. As a break, the game offers some mini-games between levels such as word searches and jigsaws that are linked back the main story which helps spruce things up, especially if you've been straining your eyes to find those sometimes allusive clues.

Graphically, Mystery P.I.: Vegas Heist is a little dated on the PC but the environments are well drawn and the developers have done exceptionally well in hiding those clues. The soundtrack is quite ambient as are the sound effects which may not make you jump out of your seat but it does create a peaceful gaming environment.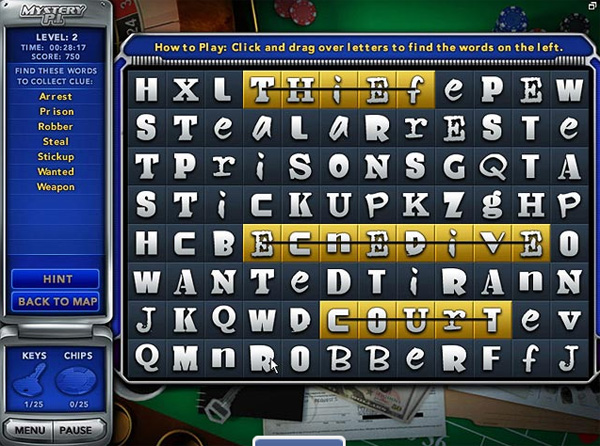 At the end of the day, the Mystery P.I. series from Popcap targets a different casual gamer that probably uses a different part of the brain than say, something like Peggle. For me, the game was something different, rather than blasting aliens away or racing around at insane speeds. Mystery P.I.: Vegas Heist is more a surreal and subdued gaming experience that is perfect when you want some R&R and ironically this seek and find game does just that!