Those whacky developers from Popcap have struck gold again with latest instalment from the Zuma saga, Zuma's Revenge that gives casual games and hardcore gamers, a whole new experience! That's right! It's Zuma's Revenge! It's bigger and better due to the exclamation mark!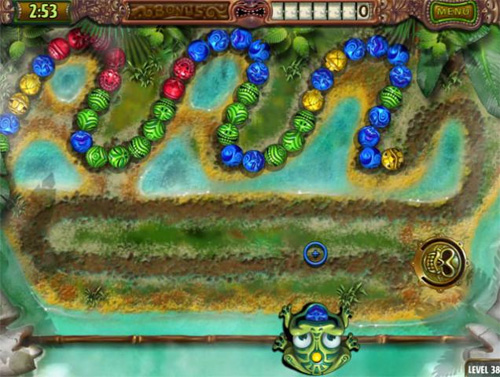 Kidding aside, in Zuma's Revenge, players are once again thrown into the mythical world of the Polynesian mythos of Tiki's as gamers play a deadly game of mix and match in order to stop the onslaught of stone balls rolling towards you. It's frogger with a colourful purpose.
Features
Take on the tikis in four game modes: Adventure, Challenge, Iron Frog and Heroic Frog

Score explosive power-ups including three new shots

Explore new gameplay like lily-pad hopping, slide-aiming, and more

Enjoy amazing graphics and effects and save your stats in the Tiki Temple!
At it's addictive gaming heart, Zuma's Revenge is your classic puzzle game that has the player matching certain coloured stone balls in order to blast them into the ether. Basically you control a psychedelic frog who has the ability to shoot coloured stone spheres from its mouth and if you match three or more colours, than these spheres disappear.
However if the balls continue all the way around the snake-like maze until it gets to the skull, than it's game over Zuma fan. Although a complete left out of centre version of Tetris, Zuma's Revenge contains four game modes that include Adventure, Challenge, Iron Frog and Heroic Frog which all put a new spin on the franchise.
If you do complete the game in Adventure mode, it unlocks Iron Frog which offers another 10 bonus levels to the player which are extremely tricky and quite frustrating. Finally, there's Heroic Frog that ups the ante of the Adventure mode by making things even more difficult and there's definitely no potty breaks then.
The power-ups from the original game are still part of Zuma's Revenge but the developers have added some cool new ones such as lasers to destroy the balls and bombs to destroy certain coloured balls. It's these little power-ups that make the game so entertainingly fun.
However, strategy is needed to play the game well and there are some tricky moments as well, such as the boss battles that may even stun the seasoned Zuma player. Of course, it's easy to see why games like Zuma's Revenge have stormed the casual game market not because of its addictive nature but because it's so accessible by ALL people.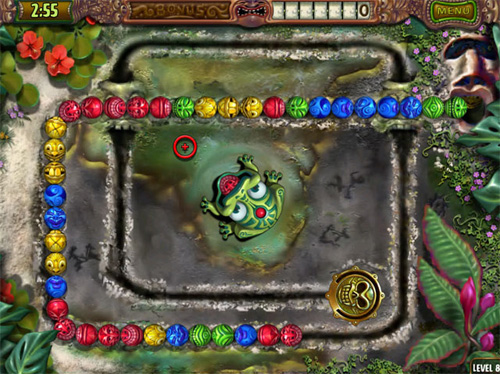 Graphically, the game is quite colourful and there are a few special effects thrown in for good measures which looks great. he title even supports high definition resolutions now of 1920x1200 that looks exceptionally sharp on our BENQ screen. The soundtrack is quite ambient but suits the gameplay perfectly as do the sound effects.
If you have played the original, the game is almost a copy of the Zuma, however if you're a fan and want something a little different, or if you're after a good puzzle game, than Zuma's Revenge is the perfect indulgence to both casual and hardcore gamers! Go Puzzle Games!