So you like the dinos eh? Well so do I, and Paraworld serves them up in spades. Welcome to a new type of RTS where you get to open up cans of whup ass whilst astride a reptilian behemoth and fight other monsters.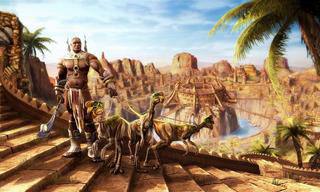 This game hearkens me back to Dinotopia, do you remember that series where the dinosaurs and humans were living together? Well itís sort of the same thing but you get to take control of war units and get them to plod through the world battling each other.
This is a world however that goes beyond Dinotopia and is one of the wackiest things you could possibly imagine as it is filled with such an unlikely characters that most of the time you will just be shaking your head in disbelief as you encounter ninjas, norse Vikings and all other sorts of nonsense. Cast that aside fair gamer you will be too engrossed in what you are doing to really care.
As you can imagine, combat on dinosaur is slow going and one of the only gripes I had with the game is how long it would take to get from one area to the next. The graphics look great and totally will immerse you in the lush gameworld. The title is open ended to some extent and there are side quests to the main combat that can be undertaken, so there is a bit of choice to it all.
The game is moved along with a narrative that is pretty simplistic that all gamers will be able to ďgetĒ and run with. The audio is pretty cheesy and hammed up however there is a fantastic music score that fills your speakers and perfectly suits what you are doing at the time. As the game progresses, you will earn points or skulls in this game that will allow you to promote your dino units and power them up with new skills.
The whole idea to the game is that there are a series of parallel worlds that your team of heroes are aware of. They have been stranded on a world that is not their own and they must make alliances and battle their way back to our Earth and of course get the bad guy that stranded them in the first place. Thatís it in a nutshell. Wacky crazy stuff!
Otherwise the game does follow a pretty standard RTS format. You control units, build them up and then move them out. The controls are pretty easy to learn and overall you can control battles with ease from any location. The game world is populated with some interesting plotlines and kooky folk/creatures.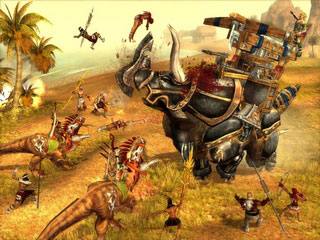 AI in game will present different challenges that you have to be aware of and the difficulty level will jump up and down depending on what faction you are fighting at the time. Itís fun to figure out the best way to get the best of the enemy and the constant demands on your defences will drain all your resources and make sure that you really have to keep an eye on what is being used as you battle and develop your forces.
All things said and done, Paraworld is a nice take on an established genre. Itís not earthshaking and itís been done over and over, however it is a solid enough game that you will happily play all the way through to the end. The title does support multiplayer, however it was the single player game that I enjoyed the most.
So, Iíd give this one the thumbs up. If you like RTS with a twist and enjoy battling dinosaurs, Vikings and ninjas simultaneously, then this is a winner for you sir!