Diner Dash is an internet online phenomenon that revolves around Flo, a former stockbroker who is attempting to turn her diner into a fully fledged five-star restaurant.
The game is now available for both the PC and the Mac which features the same addictive gameplay and throws a variety of different challenges at the player as they attempt to perform the miracle of transforming their restaurant.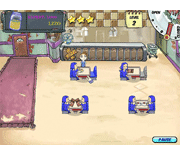 The game contains over 50 different and unique levels with two modes of play that include "Career" and "Endless" shift for some truly addictive puzzles and some frustrating times, however at the end of the day, the simplicity of the game makes this a perfect game.
You begin the game with Flo and she must needs to run her entire restaurant which means you need to seat your customers, take their orders, prepare and deliver the food with a variety of other interesting restaurant challenges.

You also need to be aware of the different customers that frequent your restaurant and this effects your gameplay and increases the challenges of this point and click title.
Customers are probably the most difficult part of Diner Dash as like a Sims game, you need to ensure that they are serviced and receive their correct orders, this can be tricky at the best of times, especially as you progress through the game.
Fortunately our little miracle worker Flo has a few tricks up her sleeves that can assist with aggressive customers such as organizing music or even giving them freebies to claim them down.

The more professional the service your customers receive, the more tips your restaurant will receive and will assist you in completing all the various challenges and go up in the restaurant world.
There are various different restaurants that you run which make for some varied and interesting gameplay and keeps the game fresh and unique. The learning curve of Diner Dash is relatively low with most gamers being able to master the basics in a short but best of all, this title can be played by everyone and anyone.

Graphically the title is rather simplistic and contains a very bright colour palette which goes hand-in-hand with the gameplay and almost has a Saturday morning cartoon feel to it.
Even better, the system specifications are quite low on both the PC and Mac which means this title can be played on a variety of machines from both low to high-end systems. The title contains some great sound effects and an interesting musical score that actually assists in immersing you into this exciting and addictive title.

In conclusion, this game is the perfect in a world full of first person shooters, racing games and the like which gives the industry a breathe of fresh air and offers the gamer not a unique experience but an old fashioned fun puzzle game that can be played over and over again.
Cute graphics, great sound effects and highly addictive yet sometimes frustratingly annoying gameplay, Diner Dash is the perfect break from a world of repetition.

System Requirements

PC :

Pentium III 600 MHz processor
Windows 98/2000/ME/XP
128 MB free RAM
43 MB free hard drive space
16-bit DirectX-compatible video card
DirectX-compatible sound card
8x CD-ROM drive
Mouse

Mac :

400 MHz PowerPC® G4 processor
Mac OS X 10.2 or later
128 MB free RAM
43 MB free hard disk space
16-bit colour video card
8X CD-ROM drive
Mouse