Dino Horde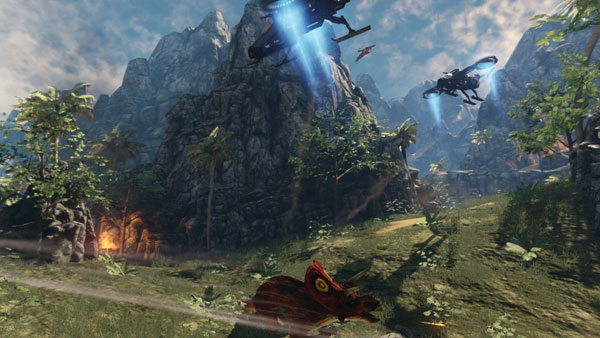 Is it a rerelease? A sequel? A patch? Players of the original Dino Beatdown seem to be feuding endlessly about what to call Orion: Dino Horde. According to developer Spiral Game Studios, Dino Horde is what they always intended Dino Beatdown to be - they're ready to accept the disappointing reputation of the original incarnation, and in a gesture of good will, Dino Horde is offered free as an upgrade to customers who purchased Beatdown. For those who haven't, the price is still reasonable... but gamers can't survive on savings alone, so it's time to subject Orion: Dino Horde to the full inspection.
The main idea of this game is the ability to play as either dinosaurs or humans in an island atmosphere, just like your favorite 90's movie that has never had a worthwhile officially licensed game. Unfortunately, that curse may extend even to this game. Dino Horde's look is moving in the right direction, but it never feels like a finished product. This goes deeper than just a lack of polish, and DH ends up feeling, well... rudderless.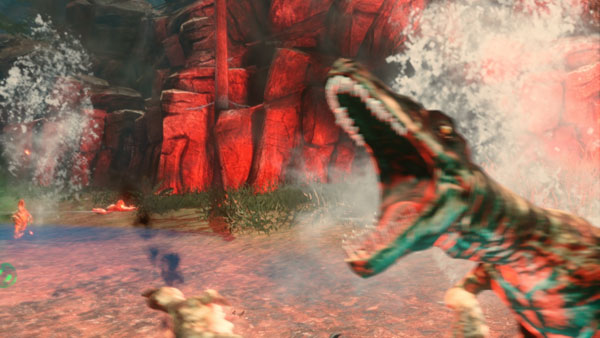 A number of game modes are available, including Survival (fight tons of AI dinos), Rocketeer (jetpacks and grenade launchers), Dude Huge (King of the Hill), and Ninja (Stealth, Sniping, and Mobility). In the end, however, none of them really answer the question: "Why are there dinosaurs in this game at all?" The monstrous creatures seem to exist almost as an afterthought - in games with new players, everyone seems to be preoccupied trying to kill them off, even when the mode is Human vs. Human. As the players get more skilled, the dinos are really more of a nuisance to be done away with while duking it out with the far more dangerous human opponents. In the game modes that are centered around fighting dinosaurs, it's just constant shooting until the big sucker comes down. There don't seem to be particular tactics for bringing them down quickly and skillfully, it's just a matter of shooting until it's over. Bummer, man.
It takes a while to come to this conclusion - especially because there is no tutorial or support for new players at all, you really have to try things in order to figure them out. Much of it is self-explanatory, but this really contributes to the dinky and generally unprofessional look of Dino Horde. An impressive array of achievements is available, but the majority will likely only be reached by players who give this game far more time than it deserves. There is buyable DLC in the form of attire - Unfortunately, apart from a few hats and taunts these are just different colors of outfits, which even the original Halo offered free of charge (and in far better variety). The high point of Dino Horde is probably the music, which is really quite good and provides atmosphere to an otherwise dull world.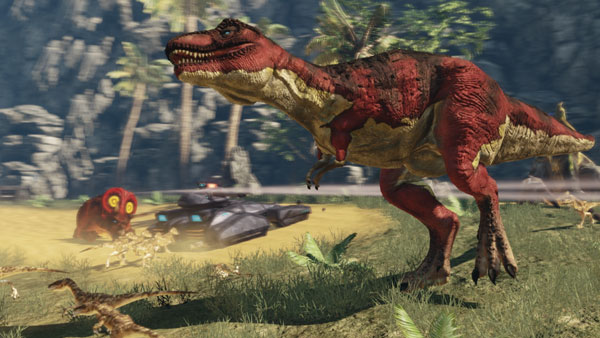 While Orion: Dino Horde has potential, it will certainly fall short of even modest expectations. If it weren't for there already being quite the track record of bad Jurassic games, I'd suggest that fighting dinosaurs has never been so dull. A shame, since it's evident that the developers put a lot of time into it... it's just too bad they didn't focus on making it fun.
- Josh Waters
Gameplay: 3
The game functions well enough, like a less polished Halo. Unfortunately, there's not a lot to do. The Ai is terrible, customization nearly nonexistent, and little more than basic game modes. Dinosaurs are barely even part of the equation.
Graphics: 6
Not bad, actually, but nothing mind blowing.
Sound: 6
Decent score that goes well with the environment, coupled with standard dino roars.
Value: 3
It's pretty cheap, that's for sure. Unfortunately, even that is more than it's worth!
Overall: 4.5
Dino Horde is not the improvement Dino Beatdown needed. If you're just dying to kill mindless dinos, though...go for it.