Creating the Heroes of Annihilated Empires, far from making a game, we build a bridge to the world of imagination living deep inside in each of us. A world that has become an arena for six great races that are ready to engage in the conflict, never seen by these lands before. While leading heroes and mighty armies to victory, bringing your people to peace and prosperity you will encounter hundreds of obstacles on your way. Mixing role-playing game with real-time strategy, we deliver you a new experience and unique gameplay, where you can feel yourself the Hero of a legendary epic tale. This time it's not about units, it's about armies with thousands of soldiers that entrust their fate in your hands. It's about responsibility taken by great leaders and future of entire races. Survival or extinction? It's all up to you to decide. [GSC Game World]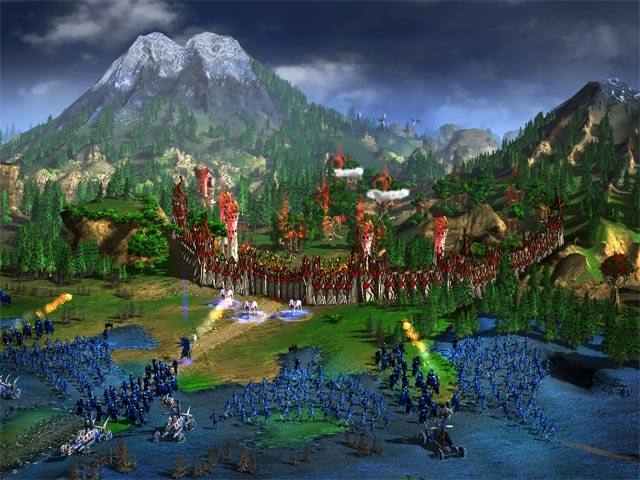 Heroes of Annihilated Empires is the exciting first chapter in a trilogy based on the popular novels by author Ilya Novak. To set the scene of this epic battle, the player is transformed into the role of an elven ranger named Elhant who unknowingly discovers that the world of the undead are about to invade the world of the living. As you fight your way through the forces of darkness, Elhant soon encounters some powerful allies who offer their allegiance in order to free the land from this scourge.

With that said, Heroes of Annihilated Empires is your classic sword and sorcery real-time strategy game that changes the genre slightly by allowing your hero characters to have the ability to level-up and also discover new items to help them in their quest for liberation.

Heroes of Annihilated Empires still offers your standard RTS template that basically has the gamer using a variety of resources in the gaming environment to create an army to challenge your opponents.

However, I must admit that the elements of the role-playing genre does make for an interesting twist in the game because players can also sell and purchase a variety of items and spell cards that can contain powerful ancient magics with the ability to summon power creatures or heal those who have almost breached the world of the dead.

The RTS side of Heroes of Annihilated Empires is phenomenal as the battles are gigantic with virtually hundreds upon hundreds of units on screen at once for battles that are extremely reminiscent of the Lord of the Rings.
The player also has the option of zooming straight into the battle or getting a bird's eye view of the action from the clouds above. Whether you're fighting, completing sub quests or micromanaging your lands through the production of homes or forts, you will also rely on fairies that are used to collect resources such as wood, iron, food and crystal in order to purchase and upgrade your buildings and units.

Apart from the campaign mode, Heroes of Annihilated Empires also offers gamers
a very entertaining skirmish mode and also an addictive multiplayer mode that
can be played either via the internet or LAN.

Although there are only three battle grounds to choose from in the multiplayer modes, they are massive and you also have the option of completing this in either RPG or RTS mode, one mode uses levelling of heroes, whereas the other is your traditional RTS style. Needless to say, this title will definitely keep you entertained once you have completed the title with the addictive multiplayer aspect of the game.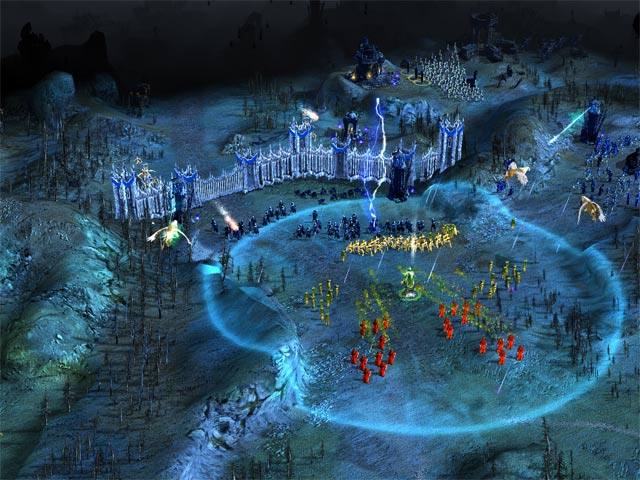 Graphically, Heroes of Annihilated Empires contains a gorgeous CGI introduction that really sets the atmosphere of the title and match that with some extraordinary high resolution graphics that go hand-in-hand with the gameplay and you have a match made in gaming heaven. All the units and backgrounds have been professionally designed and really have that otherworldly feel to them of magic and wonder.

Musically, Heroes of Annihilated Empires features a majestic sword and sorcery soundtrack and match that with a wide gamut of sound effects from the screams of battle to your heroes and it's easy to get lost in Ilya Novak's amazing universe. My only gripe with the sound effect is the sometimes over the top and extremely slow voice acting that does get a little repetitive.

In conclusion, Heroes of Annihilated Empires is a good RTS title that I would recommend to those that enjoyed the Warcraft series, although it does have a few issues here and there, a few graphically glitches, sometimes unclear mission goals, there is enough content and enjoyable gameplay to keep you busy for hours upon hours. Check it out!