Jewel Quest III
The world of gaming is quite diverse and sometimes you just want to play something relatively simple but still challenging and this is where the latest Jewel Quest III comes into the picture. Dubbed a casual game and reminiscent of other gem games before it, the player must match similar colour jewels which in turn causes the number of gems to decrease and change the colour of the board to gold. Once the entire board has been changed to gold, provided you have beaten the timer, you then proceed to the next level.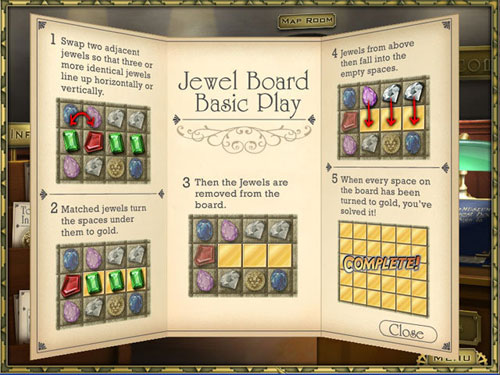 Even though the game seems quite simple by matching colours, there is some strategy involved and somewhere in our brains, this repetitive task becomes quite enjoyable which perhaps harkens back to some primeval connection within us. That is the core element of Jewel Question III but most casual games these days such as Plants vs. Zombies or Puzzle Quest now include a story which only enhances your game playing experience and Jewel Quest III is no exception to this rule.
For Jewel Quest III, the story revolves around a curator named Rupert who has been the main protagonist of the series and through his puzzling around the world, he has collected a healthy amount of artefacts along the way. Opening a museum with his wife Emma, it seems that this happy family can now move on with their life but unfortunately for Rupert, his arch-nemesis Sebastian Grenard refuses to let this rivalry go. Setting a trap in one of the artefacts for Rupert, his daughter Natalie accidentally triggers it, causing her to go blind and once again, Rupert must now don his puzzle hat (such a rip-off of Indiana Jones) and search the world for a cure.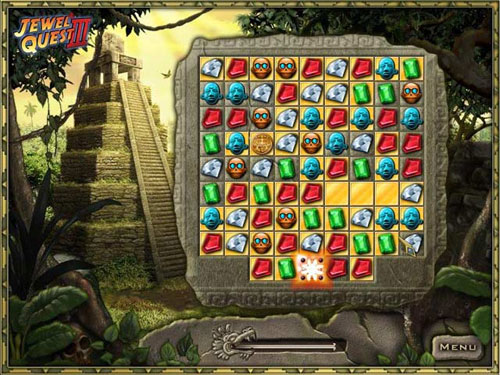 As Rupert scours the world for a cure, he will visit a variety of themed locations from South America to even Australia in Jewel Quest III which contains some great mini-games and subplots along the way. The main mode of play is of course to match three gems of the same colour, however certain levels require you to perform other tasks such as playing against others and unlocking secrets which makes this a very entertaining casual game.
It's the incorporation of a story and the specific tasks that must be performed on the jewel board which truly moves this game away from just a stock standard puzzle title. I should also add that some of the levels are quite challenging, especially when you perform certain tasks that had me replaying quite a few levels time and time again.
Even though it can be frustrating at times, once you do break through, the rewards are more than enough to keep you playing, even with that accursed timer. Another highlight of Jewel Quest III is the inclusion of online play which allows you challenge other Jewel Questers from around the globe and there are some very impressive players out there.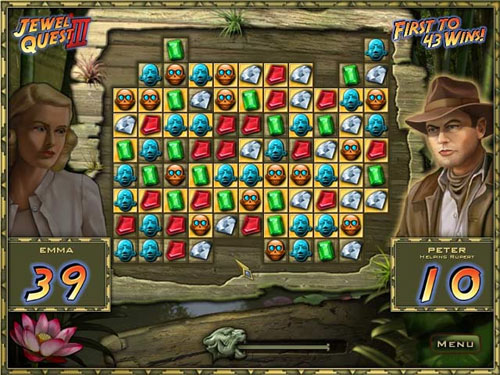 Graphically, Puzzle Quest III is interesting. It may not be the latest PlayStation 3 title or Wii arcade game but the graphics are sharp with a great colour palette and some interesting backgrounds. It is a little clichéd in this department but thankfully it helps keep things fresh and flowing. The musical score and sounds effects go hand in hand with the gameplay and it's enough to keep you glued to your PC screen.
In the end, Jewel Quest III is a thoroughly enjoyable and addictive game, albeit a frustrating one and considering the cost, it's definitely value for money. This is the new face of casual gaming and once again the developers have hit the nail on the head with a variety of different gaming modes from one off's to story and even the tournament mode for online.
Definitely one to check out!