PC Games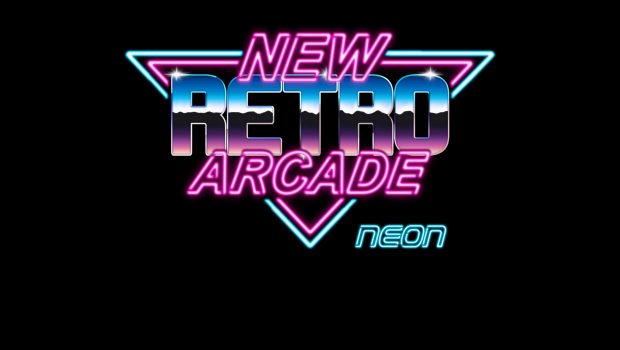 Published on August 9th, 2016 | by Chris O'Connor
New Retro Arcade Neon PC Game Review
Summary: Build your own Timezone, or Tons of Fun.
I first encountered New Retro Arcade when I had my Oculus Rift DK2 (since sold and I miss it :( ) I had seen a clip of someone using New Retro Arcade with the DK2 and it looked great so I found a demo copy and loaded it up. At the time it was possible to find some arcade roms and have them installed neatly to enhance the experience. Flash forward… as mentioned I no longer have my DK2 (I need to either win a new VR headset or come into a lot of money)… and I learnt that New Retro Arcade Neon had been released on Steam… to say I was curious as to what had happened would be an understatement (I was quite thrilled to jump back into that neon glow.)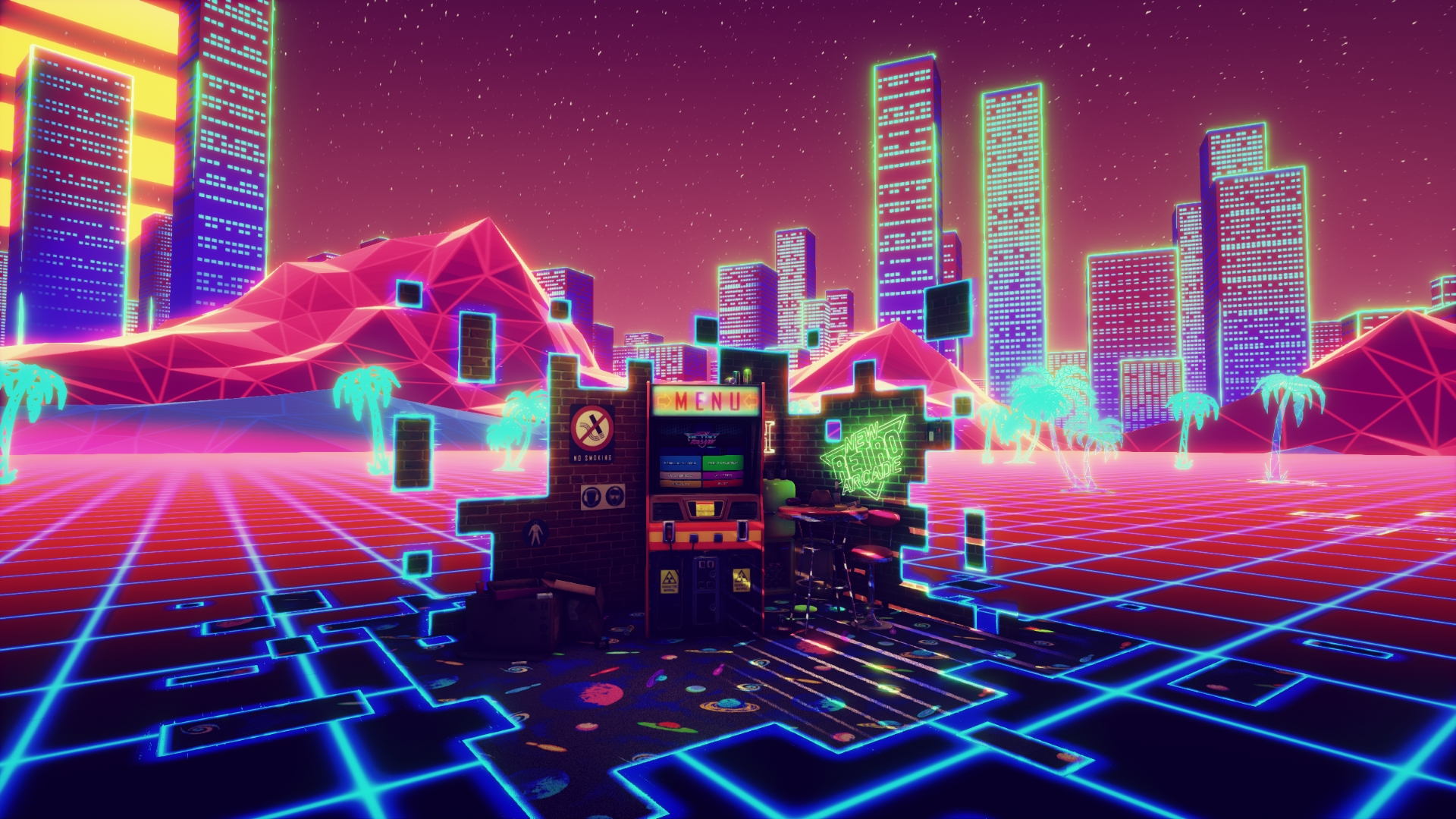 The first thing is you start in a circa 1990's "cyber lobby"… a semi wireframe landscape with a small cut away of an arcade sitting in front of you, it reminds me of I think it was a bike safety ad that used to play… that and I think a TV station ID used a similar idea. As you walk up you learn that you can grab the light gun and you make your selection, New Retro Arcade classic (the previously mentioned demo environment) or New Retro Arcade Neon… so naturally I jump into the latter.
To say this is best experienced with a VR headset is true… but it is still very enjoyable via traditional gaming methods. The main things that stand out in the New Retro Arcade Neon environment are some additions, we are no longer limited to only being able to play cassette tapes that are scattered throughout the arcade (which default to internet streamed music, but as with other elements of the experience can be customized). There are now VHS tapes… it took me a while to find it, but there is a screening room which is quite cool… you can see the DLP projector sitting in the middle and as you place your VHS tape into the VCR the lights start flickering, turn around and you can watch as the video starts "projecting" onto the screen. When you first start the videos are very basic essentially advertising for Digital Cybercherries… but again you can change what videos are shown, one of the easiest thing to feed it is Youtube clips (I ended up linking to a bunch of short CGI films). You also have some instruments you can pick up and play, the guitar and electronic drums are quite a bit of fun and a nice distraction from everything else.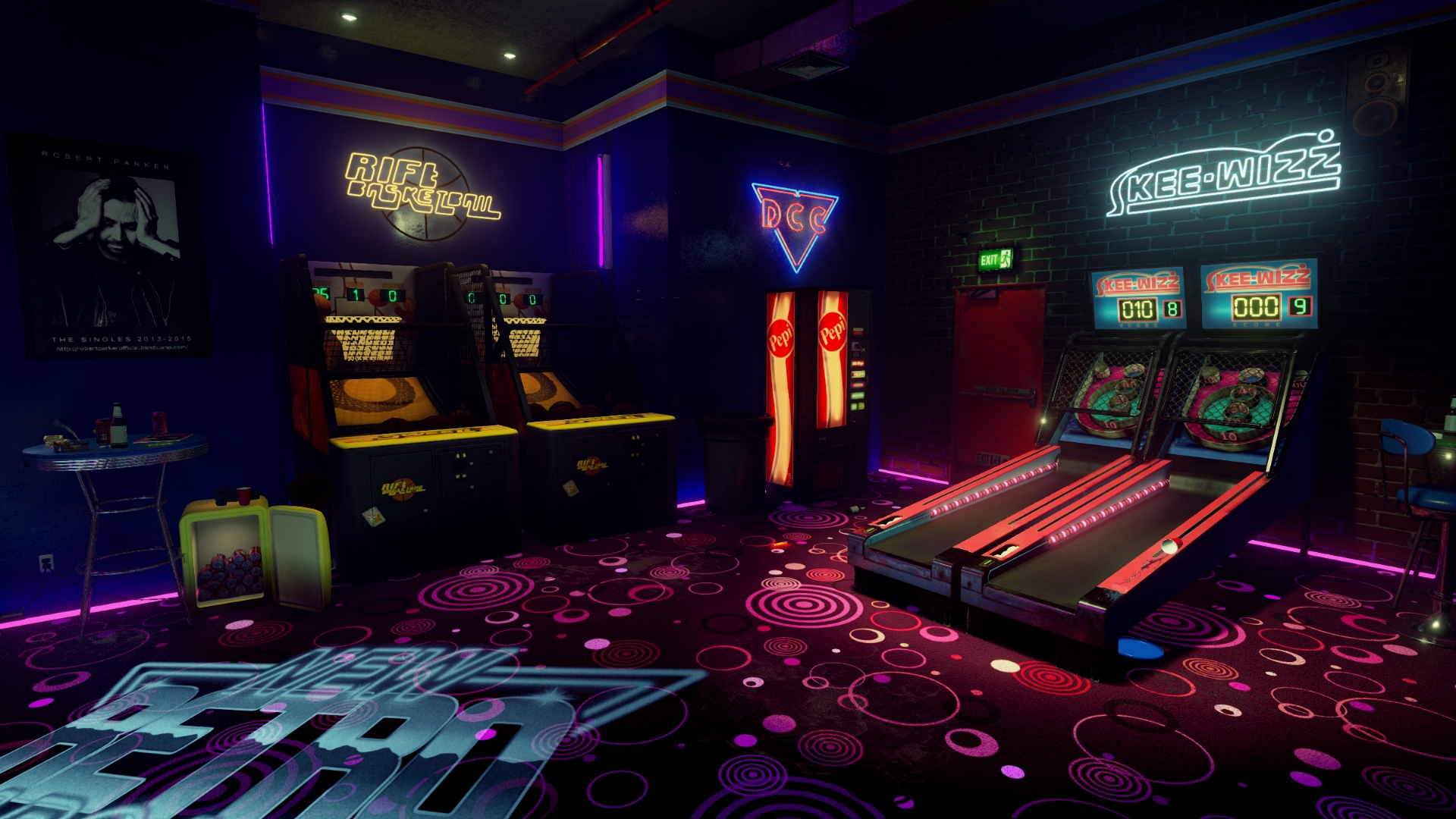 In terms of what you can play "out of the box" so to speak… well it's a little limited, but not without a lot of fun. Around the arcade you will find a number of activities, some arcade games have some original (or at least unique takes on well known games) a version of flappy bird and a zombie shooter get you started. Darts, bowling and basketball are back and if I'm not mistaken we now have the addition of a version of whack a mole, skee ball, air hockey and a punching bag skill test.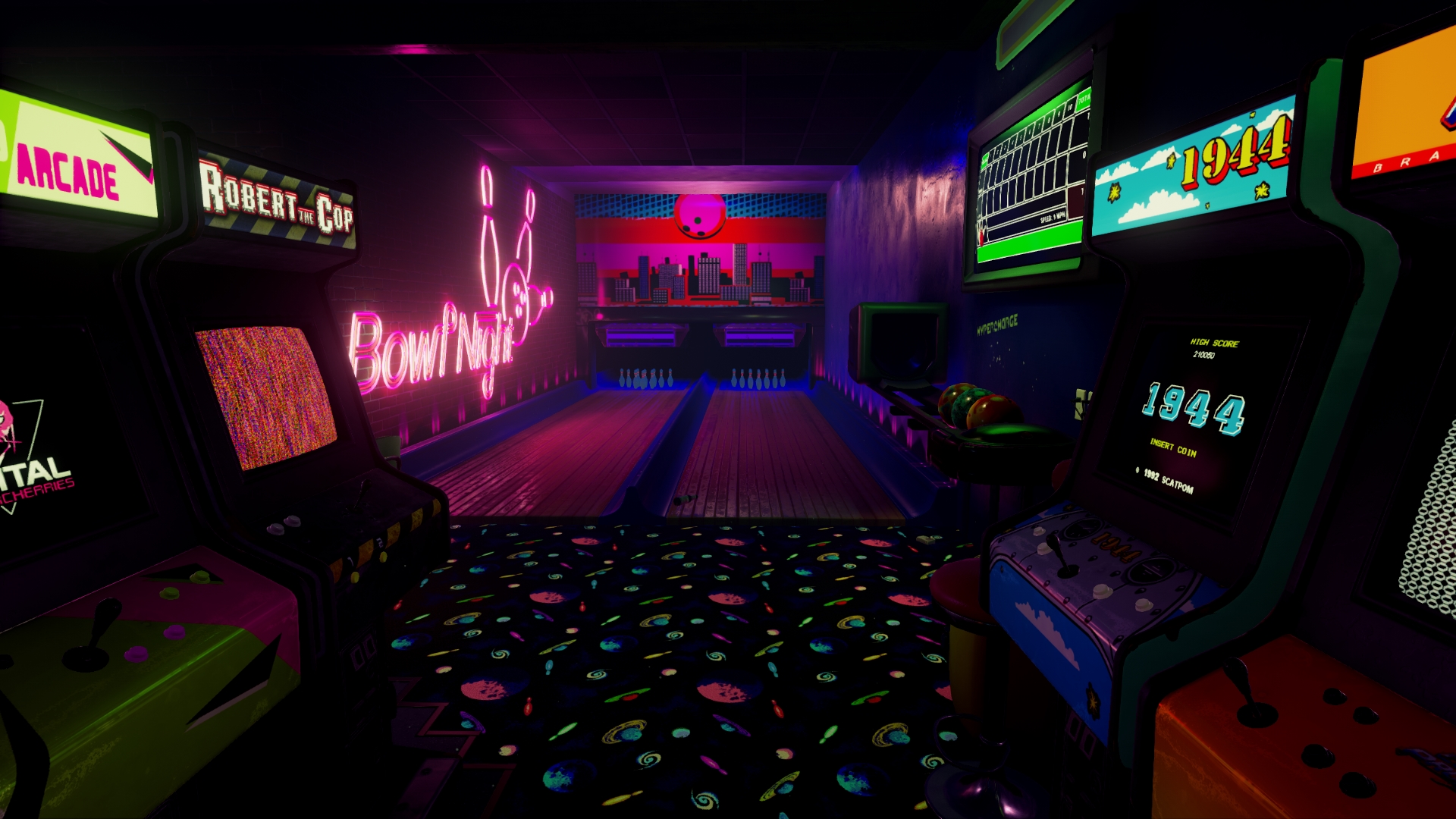 But the real strength of New Retro Arcade is essentially as a front end to arcade game roms. If you are dedicated enough you can track down not just the games (which you would have to check copyright information for as some may only be playable if you have the original hardware)… you can also get the artwork to adorn the cabinets. Again this whole experience really shines in VR but it's still a kick to walk up to an arcade cabinet and not just to play the game but to watch the joystick and buttons move as you command them.
For a long time MAME was king for Multiple Arcade Machine Emulation… but New Retro Arcade Neon has well and truly taken the crown… oh and if you want you can throw in your game boy or Super Nintendo roms as well as those systems are to be found lying around waiting to be played again.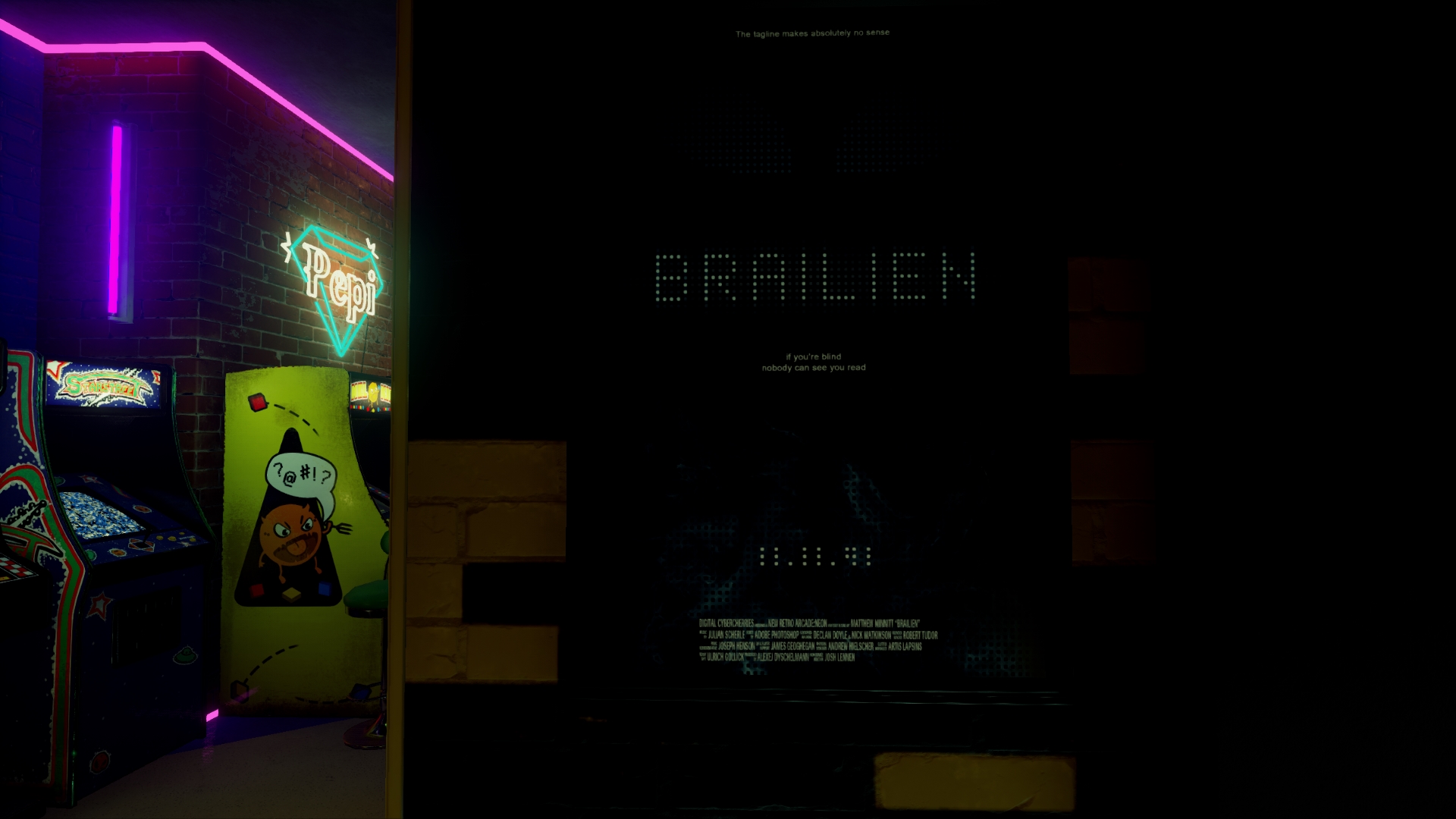 An excellent gaming experience full of nostalgia and some giggles too (read the movie posters before you think about changing them to your own… there are some nice "alternate versions" of movies).