With over 150 different card games, Hoyle Card Games 2008 once again returns for those gamers that simply cannot get enough of card games.
The current incarnation of Hoyle Card Games 2008 offers some great gameplay features such as improved artificial intelligence and improved graphics, making this one of the best in the series to date.
Mac users will be pleased to know that the PC version also supports the Mac O/S.
Features
Over 150 classic games including all the favourites!

In-Game Tutorials – learn to play with easy tips and hints

Compete with 15 virtual opponents with adjustable skill levels and "attitudes"

Use Face Creator to create the perfect player!

Earn HOYLE® Bucks to unlock new features!

Customise game variations, card backs, backgrounds and music

Official HOYLE® Rulebook and Strategy Guide included! (PDF)

PC/MAC compatible and on DVD for the first time!

BONUS 55 new solitaire games and 5 Video Poker Machine!

Updated interface, new music and new game lobby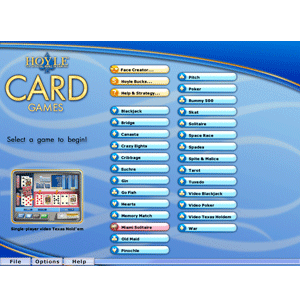 As with all Mindscape gaming products, the installation is almost not mentionable as the program simply auto-installs and in under a few minutes, the player is ready to be bedazzled by over 150 different card games.
There are also a plethora of different Solitaire games... some easy and some strangely annoyingly difficult. Crazy Eights, Hearts (my personal favourite), Texas Hold'em and Rummy 500 are just a few of the card games available in this current compilation. I applaud the developers as they have made a great interactive experience with the AI, each with different personalities and characteristics.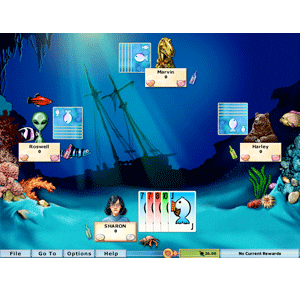 The program also allows for players to customise their characters via the "Use Face Creator" function which allows you to truly personalise your Hoyle Card Games player. The title also offers 15 virtual opponents from aliens to bears and of course... humans, ensuring that one game is never the same.
The artificial intelligence of the title has been improved since previous verstions and gamers can select the skill level and attitudes of these players, making the game much more interactive. Some of the avatars are quite amusing.
Graphically, the title is also a vast improvement over its predecessor with colourful background environments and an almost cartoon like avatar system. Match that with new music (albeit a little too elevator for my liking) and Hoyle Card Games 2008 is a well rounded game.
In conclusion, definitely a must have game for those fans of card games and with over 150 different card games, there's a game or two or ten or one hundred for gamers of all ages. Great stuff!