You gotta love "casual games" and Peggle is no exception to the rule and comes from those wonderful developers PopCap who not only make entertaining games but also damn frustrating ones. As with Bejeweled and Zuma, Peggle is a difficult game to describe due to its unique quirky nature, however if you played the classic arcade games of the 80' such as Puzzle Bobble or Breakout, than Peggle probably sits somewhere in the middle.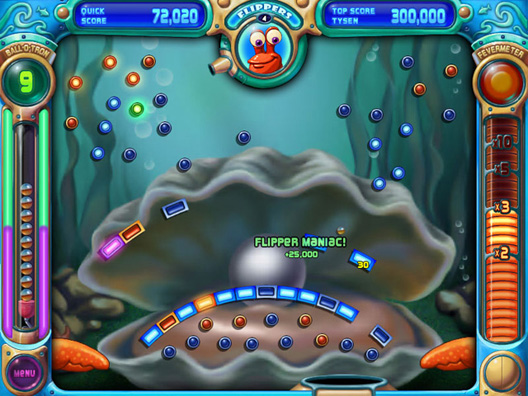 Features
Wield 10 miraculous Magic Powers!

Master 55 levels of bouncy delight!

Play friends or the computer in Duel Mode!

Conquer 75 Master challenges!

Revel in breathtaking artwork and music!

Replay and save your best shots!
The key behind Peggle is the bounce balls off various pegs in order to clear certain colours in a gaming environment that is similar to that of a pinball machine. You also have a set number of balls available and a Tetris like bucket at the bottom of the screen to catch the balls when they start coming towards you.
Sounds complex? Well... describing it is, however I recommend you download the trial from the official website at www.popcap.com/games/peggle. The goal in the Peggle is to take out the orange balls in the gaming world, however if you take out some of the blue balls as well, you will be awarded more points. Needless to say, it's quite a clever little game.
So who exactly are the Peggles? Well my dear readers, the Peggles are animals who have created these strange and mythical levels. Thankfully, these Peggles do provide some well deserved humour to the gameplay and they teach you a special power which can be used throughout the varied gaming environments. These powers help with a vast number of things and without spoiling them, they do assist in making your points go ballistic. It should be noted that the title contains a few different gameplay modes from quick games to an interesting adventure mode.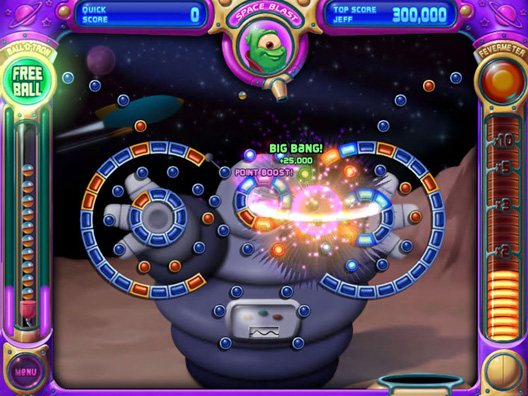 Games such as Locoroco and Patapons are not considered casual games but music is a strong part of these games and Peggle is no exception to the rule which truly utilizes sound and music into the gameplay. The developers have ensured that the sound goes hand in hand with the gameplay and when you're on a role, the sounds just keep better and louder, almost like a pinball machine. Match that with a great musical score which is quite orchestral at times and the classic score may not have you bopping but it will assist in immersing you into this addictive title.
Graphically, the title is quite colourful with "cartoon" inspired characters and even a few special effects thrown in here and there. Each of the environments that you play range from a variety of locales from underwater areas and land based which helps liven up the gameplay.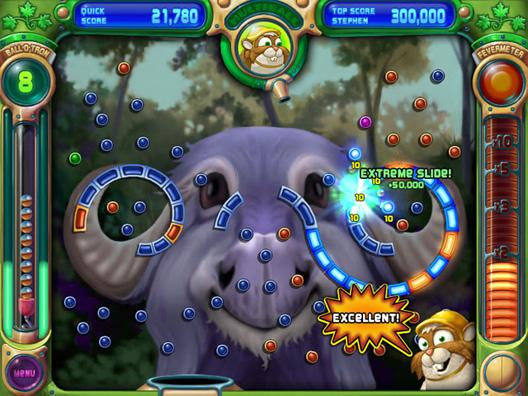 At the end of the day, Peggle is definitely a game to even play at the end of the day as it's quite addictive and games can be quite short, without giving too much time to play. It's a comforting game and an entertaining game. The gameplay is fun, however sometimes extremely frustrating, yet something about Peggle makes you come back for more and more.
Definitely one of the better casual games of 2009!