"She'll be coming around the mountain when she comes!" There can never be too many games about trains and needless to say, I'm sure all kids at one time or another had train sets and this is what Trainz Driver is all about. With that said, Trainz Driver is classified as a train simulation that transforms you into the role of a engineer/driver.
Once Trainz Driver has been installed onto your computer, the player is treated with a well made menu system that allows you access the variety of hidden nooks and crannies within the gaming world that also gives you statistical information about the trains and also a rather in-depth history.

Although the main crux of the game is to control a train in a realistic 3D gaming environment, the developers have ensured that the inexperience driver is not thrown into the deep end by allowing them to have an introductory route from one city to the next where you must control all facets of train driving such as throttle and brakes (dynamic/train) while following the speed limits in an attempt to maintain your schedule.
Call me old fashioned but blowing the train horn did bring a smile to this old gamer and really made me relive my youth with my model train. However, unlike model trains, this is as close as a person will get to controlling a fully fledged train.

The developers have ensured that front cab or "train cockpit" has been realistically modelled with a plethora of controls available to the player with the mouse and keyboard being used in conjunction to navigate the control system. The tricky aspect of Trainz Driver is keeping an eye on all the controls and also your outside environment via your mouse which does become a tad frustrating as your progress through the game.

With a rather adept control system, even the most inexperience gamer will be able to pick this title up in no time, although it may take a few days or weeks to truly master the control system. As the title is a simulator, don't expect too much excitement on your train routes for this title is all about enjoying the way you get from A to B without derailing your train and making sure that you arrive on time which is easy said than done.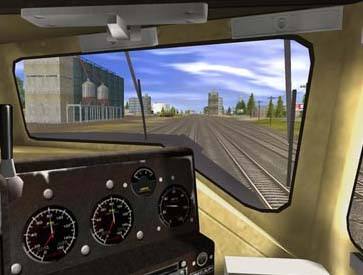 Graphically, Trainz Driver is a rather impressive looking title that features high resolution graphics, realistically modeled trains and a rather detailed background environment that is sometimes a little too sparse. As with the graphics, the sound effects are extremely realistic and feature all your whistles, horns and sounds of trains going along railroad tracks and if you have the right sound setup for computer, the neighbors may even think that a train is coming towards their house.

In conclusion, Trainz Driver is a very entertaining and enriching train simulation that is as close as you can get to driving a real train. With realistic graphics and gameplay, there's nothing more enjoyable than a quick trip to the next station. Recommended to those that love the simulation genre and more specifically, train fanatics. Great stuff!