For those of you interested in a cute and fuzzy puzzle game to pass the time at the office while the boss is away or something warm and cuddly for the kids then Glow Worm is for you. Tri Synergy and Flash Bang Studios have put this E for everyone puzzle-adventure together to help relax the mind and pass the time.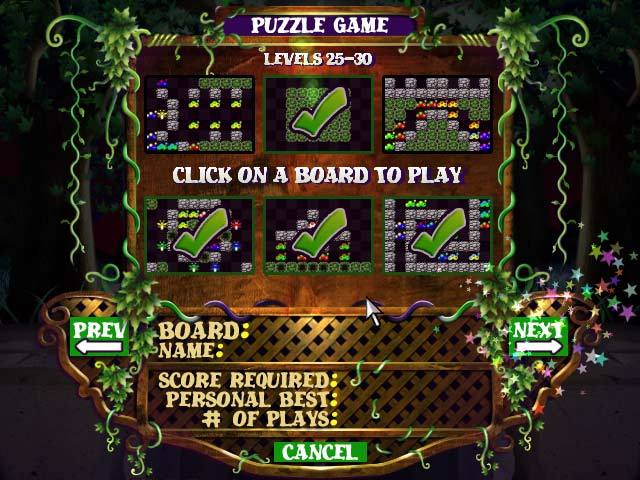 In Glow worm you play an apprentice to Magellan as you work together to free the trapped Glow Worms from the Shadow Wizard's spell. As an apprentice you seek to match up four glow worms or butterflies of the same color to get them to transform or vanish from the board. As each transformation is complete you advance you glowworm hero across the bottom of the screen to complete his task to release the other glow worms form the Shadow Wizard's spell.

This brightly colored top down puzzle game is very simple to learn but tricky to master. Lining up four glow worms in easy to do the fun kicks in when you try to set up chain reactions of the different colored glowworms and butterflies.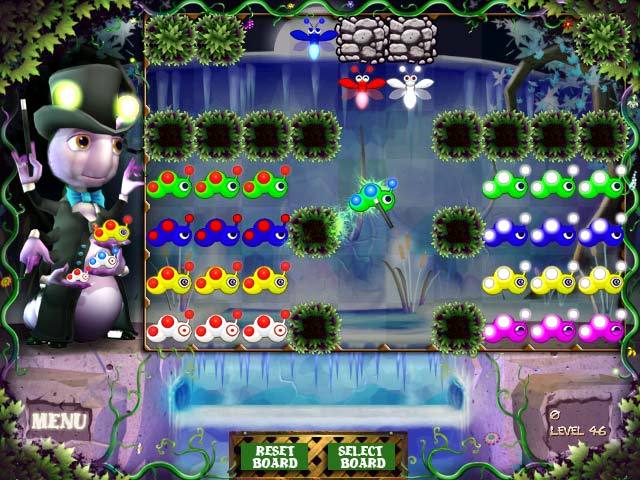 Each glow worm is one color with a set of different colored spots. The spots represent the color butterfly the glowworm will change into. The challenge is setting up a string of glow worms that will be set off in a chain reaction as they change into their butterflies. The longer the chain the more points earned. There are also different obstacles that need to be cleared such as bushes, caged glowworms and color specific bushes which can only be removed when a glowworm or butterfly of the same color changes adjacent to it. There is the infrequent snail or amulet that alters the game play by eliminating all the pieces of one color or removing all the pieces in adjacent squares but they are rare.

The two distinct varieties of the game differ by a gravity effect. In the Puzzle mode placed bugs drop to the bottom of the puzzle screen. In the adventure and classic modes players place them in the exact spot. Over all the two different modes are quite similar. Even though there are over 100 different puzzles they are all very similar in nature and not very difficult. I was able to complete most of the levels on the first try and only filled up the board with unplayable moves when I meant to do so.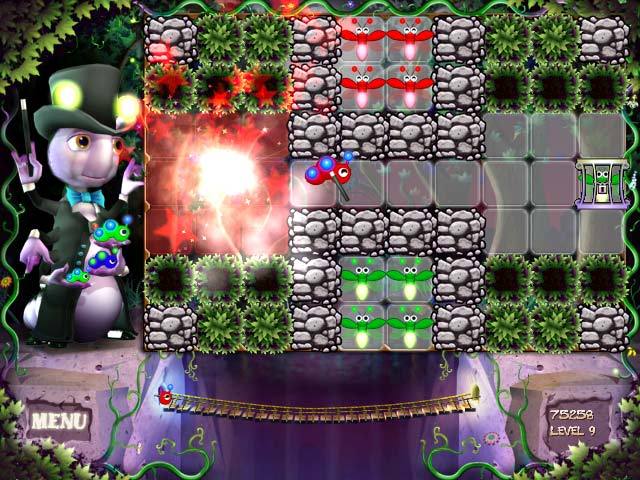 For the most part I found Glow Worms to be mildly entertaining but too easy. It became more of a challenge to try to lock up a board and therefore not be able to complete the screen. When I was able to do fill up the board the end screen would ask if I had done it on purpose. I guess the designers know how easy their game is.

Shoot on over the GreenAppleGames.com to try a free download of Glow Worm to try it out. Grab your wand and get ready for this action puzzle game. Linking up colorful glow worms the players creates magic bursts and change them into fireflies. With special effects, powerups, and over 150 levels, Glow Worm Is a fast diversion, have fun and relax in Classic mode, journey through Adventure mode, or work your brain a bit in Puzzle mode.

System Requirements

Windows 2000, 98, ME, XP
450 MHz PC or better
128 MB RAM)
DirectX Sound Card
DirectX 7 or later Video Card with 16 MB VDRAM
Mouse and Keyboard CD or DVD Drive and
30MB of HD Space

Play On! David Gadewoltz