A wildly quirky puzzle game for the PC and you can download it on Steam at a low price. This puzzle game brings a odd but amusing twist to the mine sweeper style of game. Players pilot an odd ball contraption that aids them in digging up and disposing of Moles that are running amok. The machine the players pilot, why it's called the De-Mole-isher of course. So the player who is the assistant to the scientist must hunt down very carefully through levels full of moles.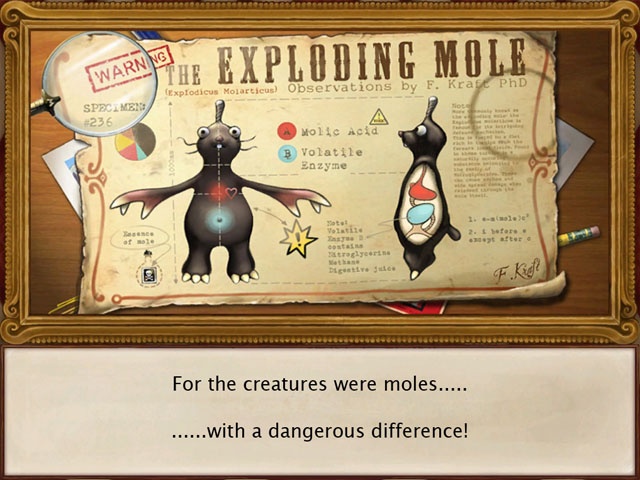 Though not just any moles mind you, these Moles, if not handled correctly, explode! So in a sense the player is navigating through a living mine field.

Gamers can follow the simple story and unravel the mystery of the rampaging moles or try their hand at time challenge type modes in the village Mole Control competition. Though the player must finish the adventure to be able to play the time attack part of the game.

The quirky adventure takes place in Molar Creek, where the citizens have ad to put up with the exploding Moles for generations. So why not make an annual Mole Control competition out of it? This year something has gone horribly wrong, the Moles are in the town itself this time.

So this is of course a casual game, players can just jump in for a level or two and then back out again much more easily than a game that invests a lot in story and huge levels. Mole Control is just right for a fast jaunt or an addictive filled game session. Over 35 levels to hunt those pesky Moles in, and five different power-ups to aid in the bombastic quest.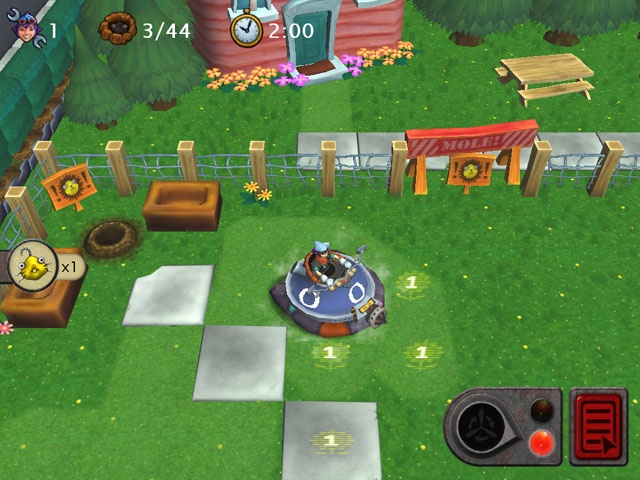 The game is simple enough and as the player moves along in the game they are taught how to play. To go Mole hunting the player moves their special contraption one square at a time. On the body of the buggy itself, there are ques to let you know there are Moles about. A number shows up on the buggy and that corresponds with how many Moles are close by. If there is a zero, then it's safe to proceed.

Progressing forward the color of the ground that the player vehicle has traversed changes color, showing the safe path that they have just went over. Plus, where a Mole, or Moles have been detected, the number symbol stays there on that square. This is of course useful to assist in triangulating the location for the moles. Players beware though, if not sure of a Moles location and they start to dig anyway... the vehicle will become damaged and there are only so many repair kits to be had on each level. Once the player is sure where a Mole target is at, use the digging tool on the wonderful vehicle and suck that mole out of the ground.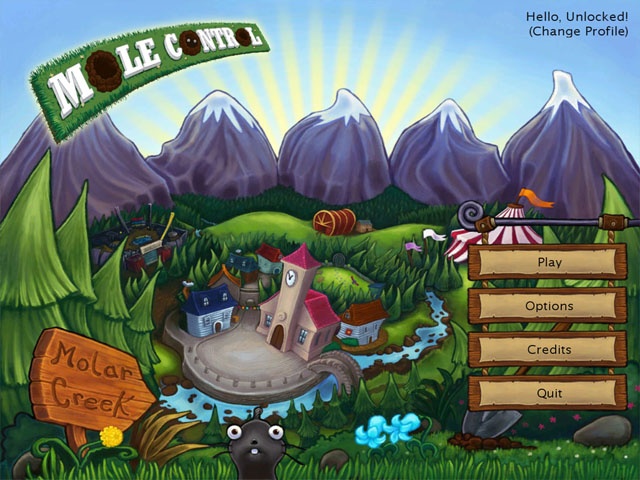 Triangulation and figuring things out comes a bit harder when there are concrete stones or slabs and even statues in the way. The slabs are safe havens for the vehicle, though other obstacles can cause the player to actually think harder to find those Moles. That's where the game actually shines really in it's level designs. So simple and yet in some cases so diabolically mind exercising. Some of the levels can be a bit long, investing about 30 minutes or more in. So if any thing, pacing may cause the game to suffer just a tad. Moving a square and a click at a time can be more than a little tedious. I would love to have seen something more dastardly in some levels where the Moles can move once in a while. Thus causing an even more fun hunt. Well, Mole Control is what it is, a fun romp in a old school style with a fresh quirky twist.

Catch Mole Control on STEAM.
Have fun, play games
Edwin Millheim
U.S Editor
Impulse Gamer